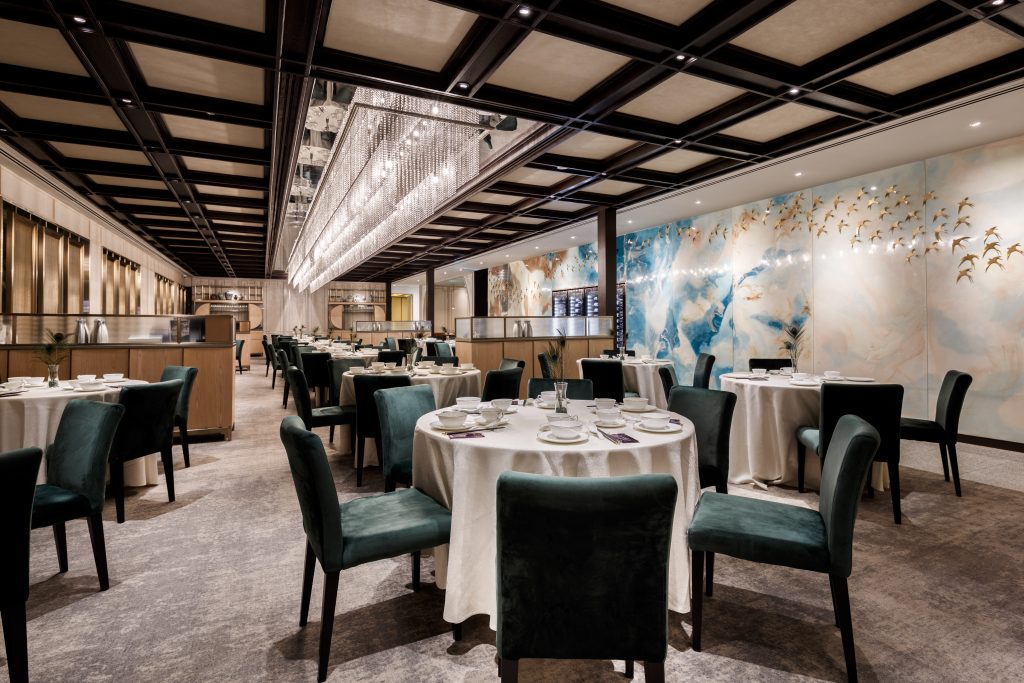 Crystal Jade Palace has re-opened its doors to present a new look and an inspired menu conjured by Chef Martin Foo, Group Executive Chef of Crystal Jade Group.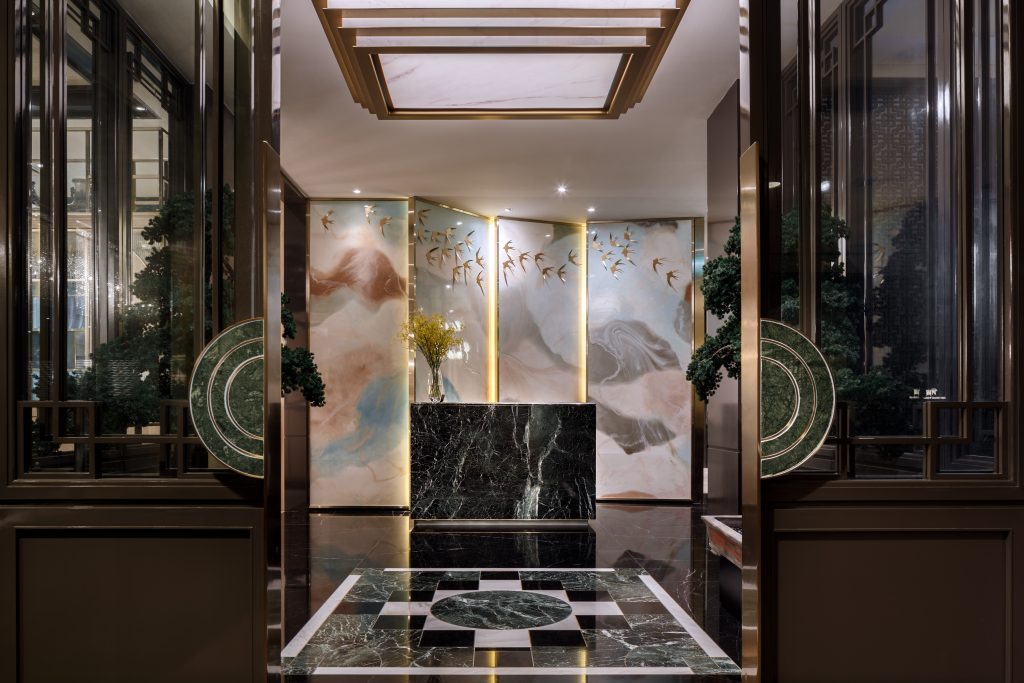 Crystal Jade, now boasts a sophisticated contemporary space that includes an intimate tea room, breezy communal dining hall, elegant courtyard, as well as chic private dining rooms; one caters up to 120 guests.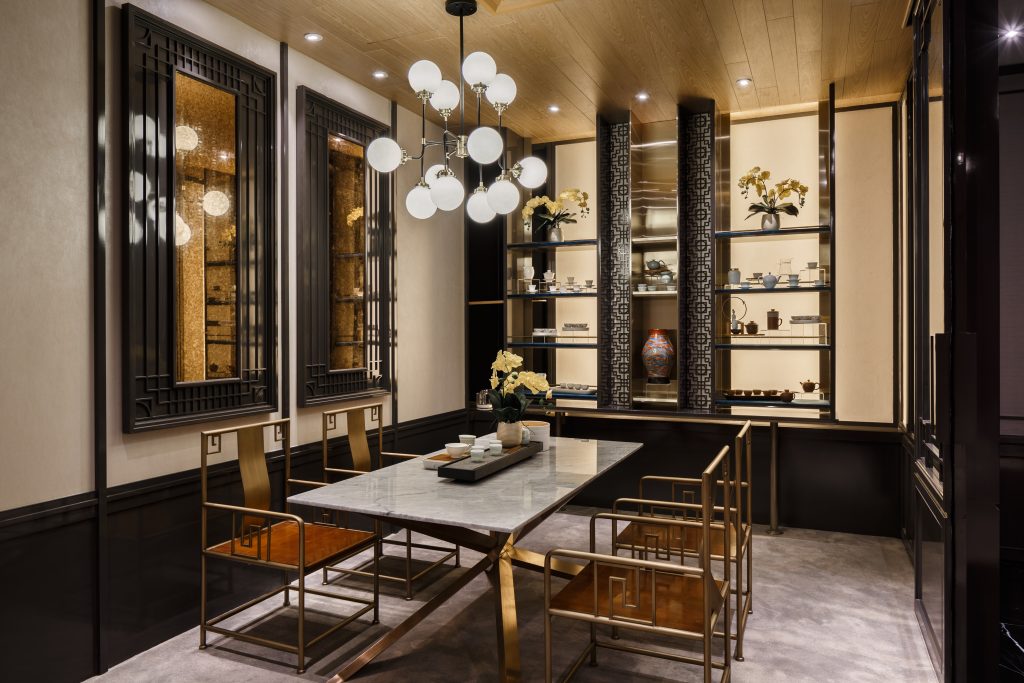 Crystal Jade Palace has introduced inventive additions such as Steamed XO scallop dumpling wrapped in 'marbled' skin XO酱大理石带子饺子 ($8.80 for 3 pieces); a delicate dark nugget enveloping celery, scallop and prawn with a crown of robust homemade XO sauce, and an elaborate red-tinged Crispy tiger prawn fritters wrapped in red glutinous rice cheong fun 脆皮咸蛋鲜虾红米肠($8.80) – juicy tiger prawns and salted egg yolk swathed in dual layers of crunchy deep-fried pastry and thin rice roll skin. Traditional items such as Mini Hong Kong bolo bun 港式迷你菠萝包 ($5.80 for 3 pieces) and Deep-fried mango prawn roll 香芒沙律虾卷 ($6.80 for 3 pieces) are still available alongside other perennial favourites.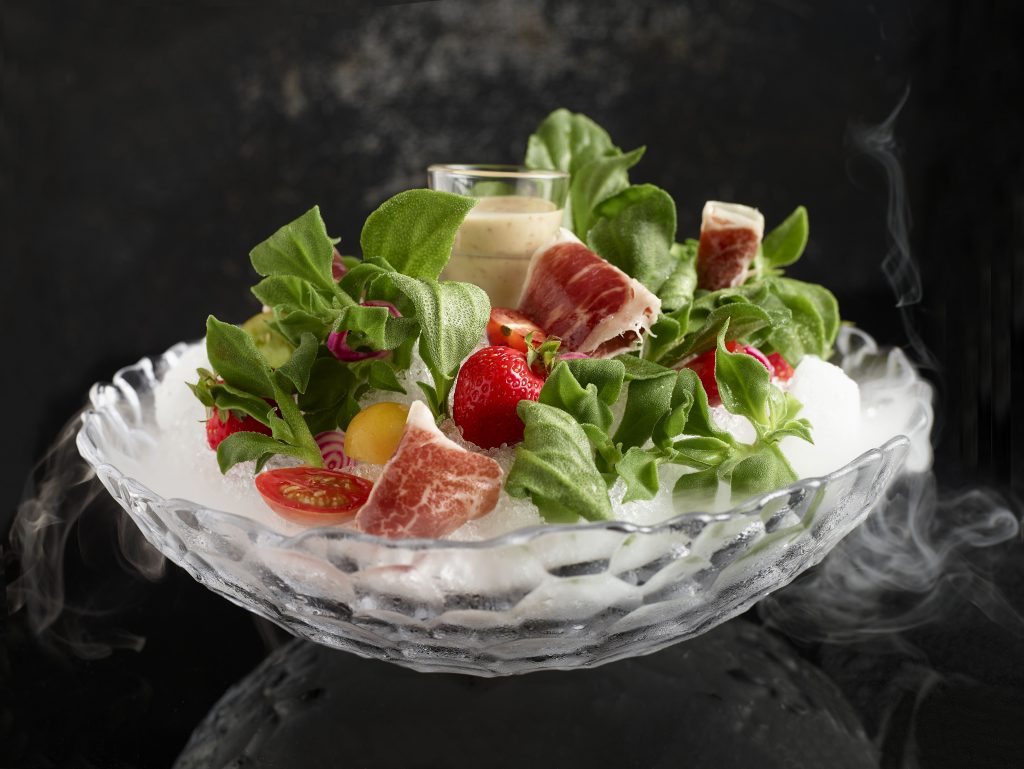 Light up the meal with an unconventional garden-inspired Organic Crystal ice plant and heirloom tomato salad with Jamón Ibérico ham 西班牙火腿有机冰菜番茄沙律 ($28); an exquisite display on ice, or an upliftingGarden salad with crab meat, pomelo and sakura-ebi 樱花虾蟹肉柚子沙律 ($16.80).
A highly-recommended and utterly moreish snack, Deep-fried chive stem pancake 青龙菜鲜虾春饼 ($14.80) comprises a tasty combination of sweet chives stem, minced prawns and bits of Chinese 'lap cheong' between sheets of spring roll skin.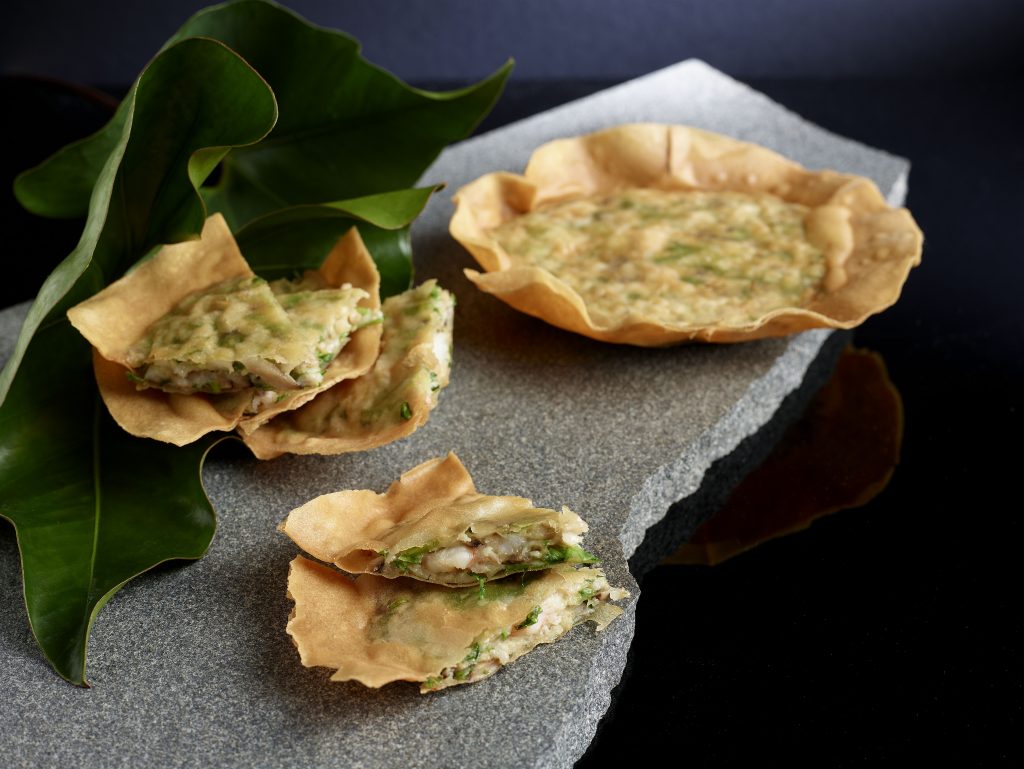 Besides Chef Foo's signature Roasted Irish duck with black truffle 黑松露烤爱尔兰鸭 ($26 for regular | $48 for half | $95 for whole), the menu also features a new, more unctuous rendition of Roasted honey BBQ Ibérico pork 蜜汁伊比利亚黑豚叉烧 ($30 for regular portion) made with prime pork shoulder meat, and an updated Palace signature Peking duck 皇宫片皮鸭 ($48 for half | $92 for whole), served with thoughtfully- paired ingredients such as romaine lettuce for crunch, tangy house-made red wine pear, black pepper foie gras pâté which adds richness, alongside the usual accoutrements.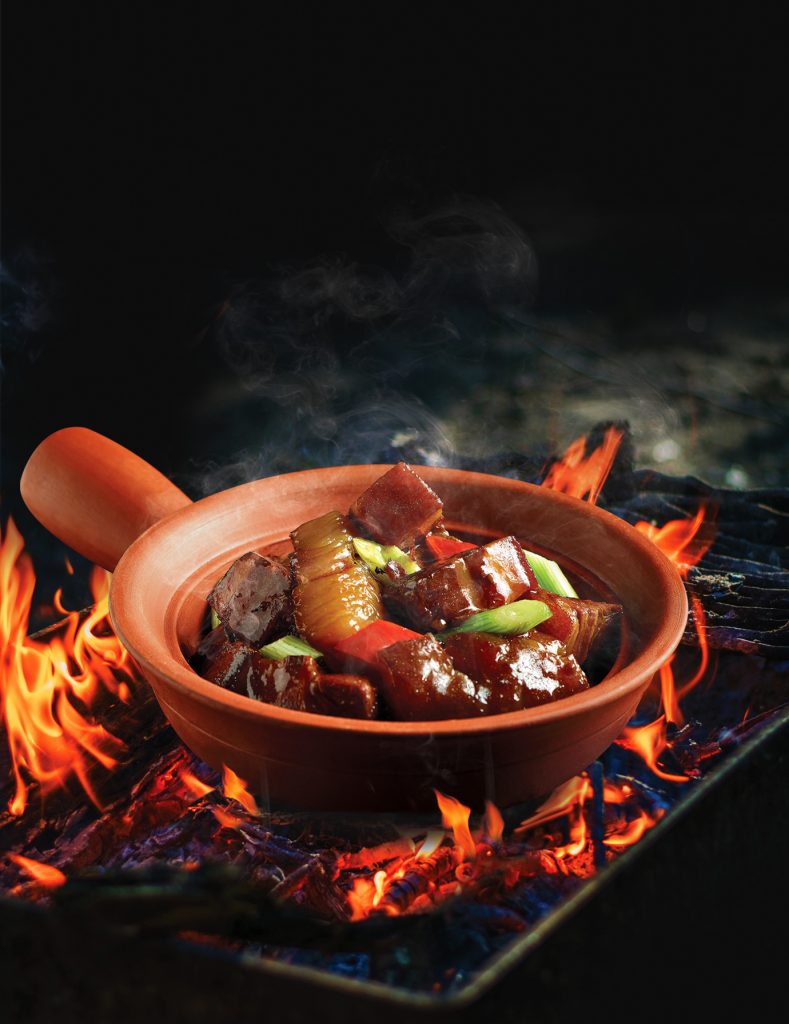 An essential part of Cantonese dining tradition, Chef Foo has concocted a fortifying Double-boiled chicken soup with Peruvian ginseng and sea whelk 秘鲁玛卡响螺炖鸡汤 ($26 per person); a soothing broth rendered from Peruvian ginseng or maca, which possesses an earthy and nutty profile, and briny and umami-packed sea whelk.
Stir-fried shredded fish maw with shishito peppers and black beans 日本甜椒荫豉爆花胶柳 ($98 for regular portion) is served at the table; premium fish maw is expertly flash-fried with sweet and mildly-spicy shishito peppers which are first dry-toasted in a wok, in a well- balanced savoury black bean sauce sourced from Taiwan.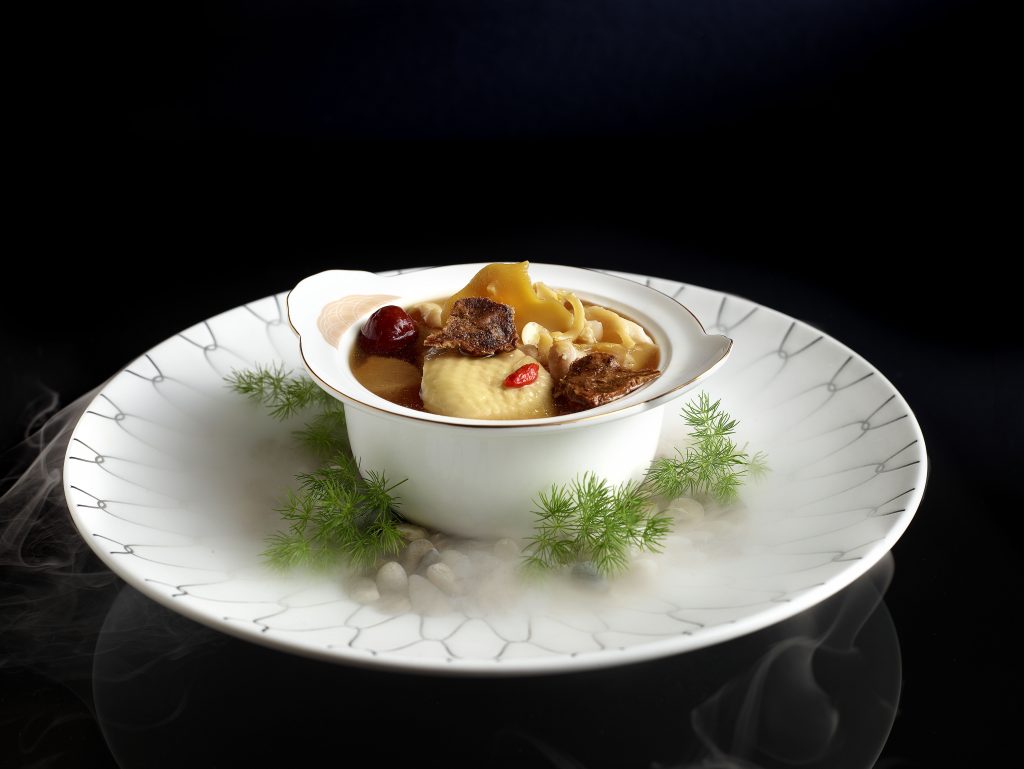 Chef Foo's Braised sea cucumber with Grandma's braised pork belly 海参外婆红烧肉 ($36) is a comforting pot that harks back to simpler and rustic home-style dishes. Australian sea cucumber is cooked with choice cuts of pork belly until fork-tender, sticky and moreish; the result of a rewarding slow-braise with quality soy sauce, rock sugar and spices.
The choice for diners who would like to savour and understand the depth and breadth of Chef Foo's style ofcuisine, the show-stopping Discovery 6-course ($138 per person) and Gastronomic 8-course ($188 per person) menus further highlights Chef Foo's culinary prowess in expertly-executed and artfully-plated dishes. Tuck into exquisite dishes such as a decadent Braised fish maw and conpoy in 'tanfu' broth withHokkaido sea urchin 北海道海胆花胶干贝烩黄焖汤; a silky thick soup brimming with seafood flavour, and an impeccable pairing of Pan-seared foie gras with roasted black truffle duck 香煎鹅肝, 松露爱尔兰烤鸭.
A 'Lu' cuisine speciality, Braised Australian sea cucumber with scallion 葱烧原条澳洲黄肉参 ($22.80/100g) is an impressive number. A whole sea cucumber is cloaked in a glistening spring onion-based glaze rendered by deep-frying spring onions to extract the fragrant notes from the greens and then simmered till the sea cucumber is tender and the sauce is reduced to a rich glaze. Charred Brussel sprouts and soft spring onion stems.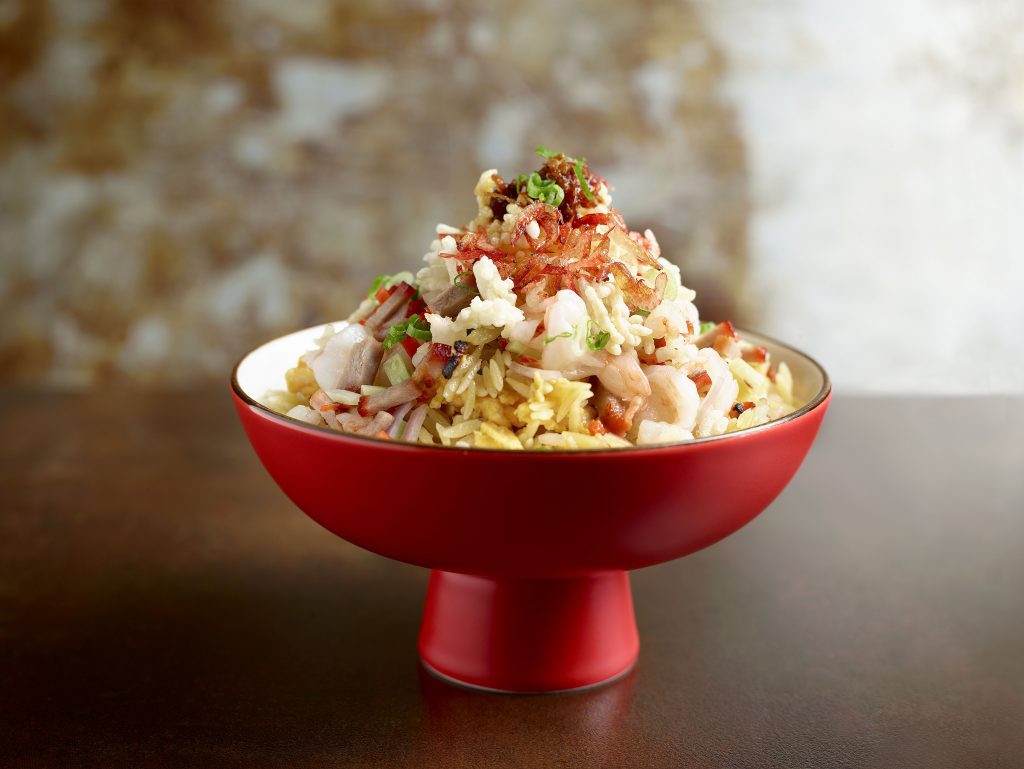 Live seafood still takes centre stage at the restaurant where seafood tanks proffering fresh specimens are proudly on display. Poached Scotland bamboo clam in seafood broth 浓汤过桥苏格兰活竹蚌 (pictured right, seasonal price) is prepared a-la-minute at the table. Boiling-hot seafood broth with glass noodles, shimeiji mushrooms and black fungus is poured over fresh bamboo clam pieces which are instantly cooked to perfection; deep-fried dough fritters and spring onions are served on the side and diners are encouraged to add them to taste. Steamed Boston lobster with egg white and bonito flakes 柴鱼蛋白蒸波士顿龙虾 (seasonal price) is a dish where the innate sweet and briny flavours of the seafood matches impeccably with the clear, egg white sauce punctuated with the umami flavour of bonito.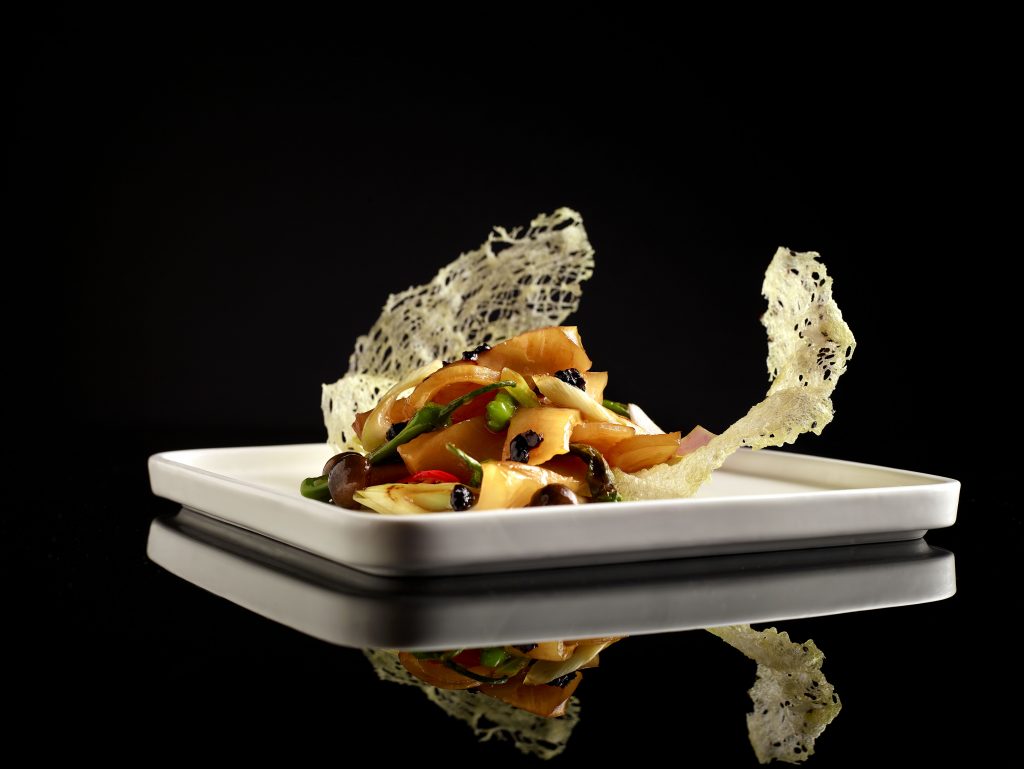 Undoubtedly one of Chef Foo's signature vegetable iterations, the wholesome Poached seasonal vegetable with fresh beancurd skin and gingko nuts in superior broth 鲜腐竹银杏浸时蔬 ($26 per portion) is elevated with highlight flavourful and collagen-rich chicken stock, deep-fried gingko and garlic cloves, as well as smooth sheets of fresh beancurd skin.
Opening Hours:
Monday to Friday: 11:30am – 3pm, 6pm – 10:30pm
Saturday: 11am – 3pm, 6pm – 10:30pm
Sunday and Public Holidays: 10am – 3pm, 6pm – 10:30pm
Address
391 Orchard Road, #04-19, Takashimaya Shopping Centre, Singapore 238872

Telephone
6735 2388

ABOUT CRYSTAL JADE GROUP
Founded in 1991, Crystal Jade is an awarded Chinese culinary group with MICHELIN one star for three consecutive years, since its inaugural edition, and multiple MICHELIN Bib Gourmand awards (Hong Kong& Shanghai). Committed to preserving the rich traditions of Chinese cuisine, the group's portfolio of specialty dining concepts range from fine dining and casual dining restaurants to quick-service outlets and bakeries.To date, the award-winning group owns and operates over 100 outlets across 30 major cities in Asia Pacific.