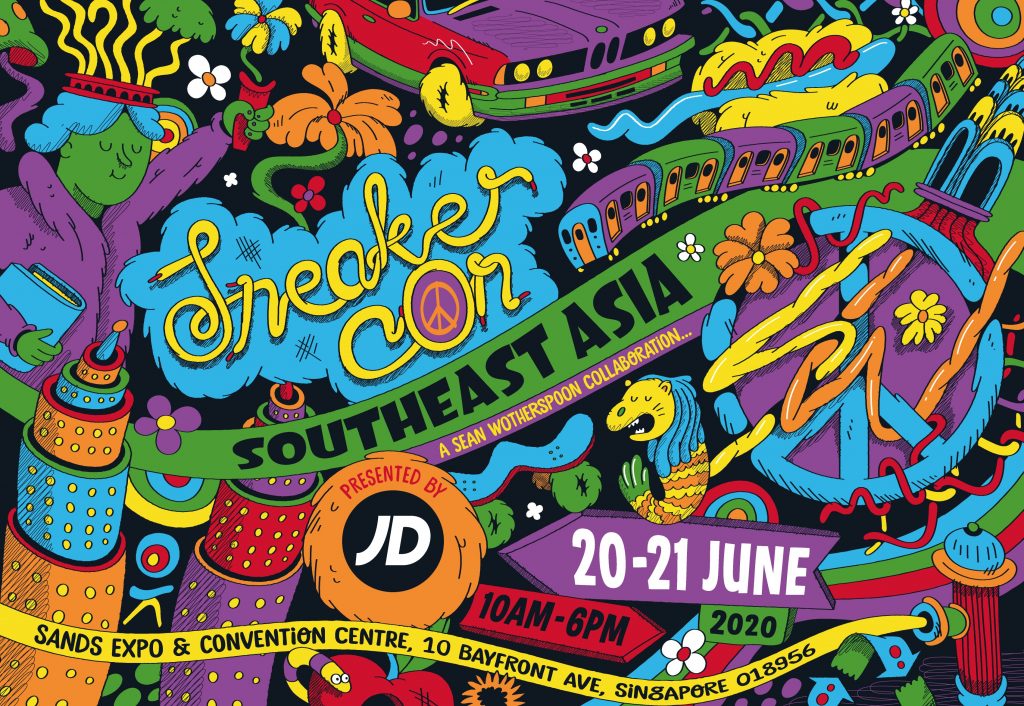 Sneaker Con, the world's premier event for sneaker enthusiasts to buy, sell, and trade their shoe collections, is landing on our shores from 20th to 21st June 2020 at Marina Bay Sands Exhibition Halls E and F. Since its inception, Sneaker Con has held over 100 events in over 40 cities worldwide, drawing more than 100,000 sneakerheads from near and far to a gathering that celebrates a love for rare kicks.
Touted as "The Greatest Sneaker Show on Earth", the inaugural Southeast Asian Sneaker Con will be the world's biggest sneaker conference to date, with an expected attendance of 30,000 guests and over 180 vendors. It will also be the first global event to target multiple markets simultaneously. With a surge of sneakerheads around the region, fans from Indonesia, Philippines, Malaysia, Thailand, and the rest of Southeast Asia, can finally get their hands on coveted footwear at Sneaker Con Southeast Asia.
IMG, together with our partners Alan Vinogradov, Co-Founder of Sneaker Con, and the rest of the Sneaker Con team, is thrilled to bring Sneaker Con to Singapore. Being the inaugural event here in Southeast Asia, we hope to connect people from all over the region through a common passion for sneakers. With this event, we aim to present the culture and rich history of sneakers to a wider audience in Southeast Asia.

Jin Wei Toh, Senior Vice President AsiaPac Strategic Partnerships, IMG
Sponsors and Special Collaborations
Sneaker Con Southeast Asia is proudly presented by JD Sports, together with Singapore Tourism Board (STB) and Casio.
We are excited to host Sneaker Con's inaugural flagship event in Southeast Asia as it adds to Singapore's vibrancy as a lifestyle destination. The event complements our existing suite of experiences for street culture lovers and enables us to connect with the younger audience. Singapore continues to be an attractive hub for major events and we look forward to delivering a memorable experience for sneaker fans from around the region.

Ms Ong Ling Lee, Director, Sports, Singapore Tourism Board
JD's core interest is to grow the sports lifestyle scene here in Southeast Asia. This partnership marks our support to the local sneaker scene in the region. Sneaker Con's debut here will give local sneakerheads plenty of opportunity to showcase what our sneaker culture is all about on a global platform and much more. It is indeed a remarkable milestone for the local scene, which we are proud to be a part of and are excited for what's to come.

Jaclyn Tan, Head of Brand & Marketing of JD Sports South East Asia
In addition, Sean Wotherspoon, the legend who designed one of the most popular sneakers of 2018 — the Nike Air Max 97/1 — has been named the official artistic director of Sneaker Con Southeast Asia. He will be designing the official merchandise, ranging from t-shirts to swimming trunks, to be sold at the event.
Sneaker Con Southeast Asia promises to be two full days of fun-filled activities for all who attend. From getting a precious steal at the marketplace to trading for your dream pair of shoes, there is never a dull moment for the dedicated sneaker fan.

Sneaker Con Southeast Asia will be held at Marina Bay Sands Exhibition Halls E and F from 20th to 21st June 2020. Tickets for Sneaker Con Southeast Asia will be available from 18th February 2020 at 11am on https://sneakercon.com/events/sneaker-con-southeast-asia. It is priced at SGD 52 per ticket per day, and multiple entries are allowed.