Pura Brasa serves a variety of Josper-grilled Spanish dishes in a friendly, modern and laidback setting. The restaurant has specially curated a new weekend brunch menu for diners, which features all-time favourites that transport them to Spain.
Available every weekend from 12pm to 4pm, the menu comprises the restaurant's signature tapas as well as main dishes. Each set comes with 4 tapas, 2 main courses and 1 dessert – and it is priced affordably at S$79.90++ for 2 pax. For tapas, the choices include the Calamari Andalusian Style, which features fresh squid rings coated with Japanese flour, then deep-fried to perfection. Dip them in the sweet chilli sauce for extra indulgence. The Spanish Croquettes are a melange of chicken and Jamón Ibérico, which is immersed in a batter made with flour, butter, milk and onion. Then, they are coated with egg and breadcrumbs before they go into the fryer. Each bite is crispy and addictive!
The main courses include the restaurant's best-selling Josper® Grilled Spanish Pork Ribs. The fork tender ribs are cooked in two stages for 20 hours at a low temperature of 70°C and finished at 400°C in the Josper® charcoal oven. Or go with the Charcoal Seafood Paella, a heavenly offering with a generous portion of Australian mussels and tiger prawns. Cap off the brunch session with Churros with Chocolate Sauce!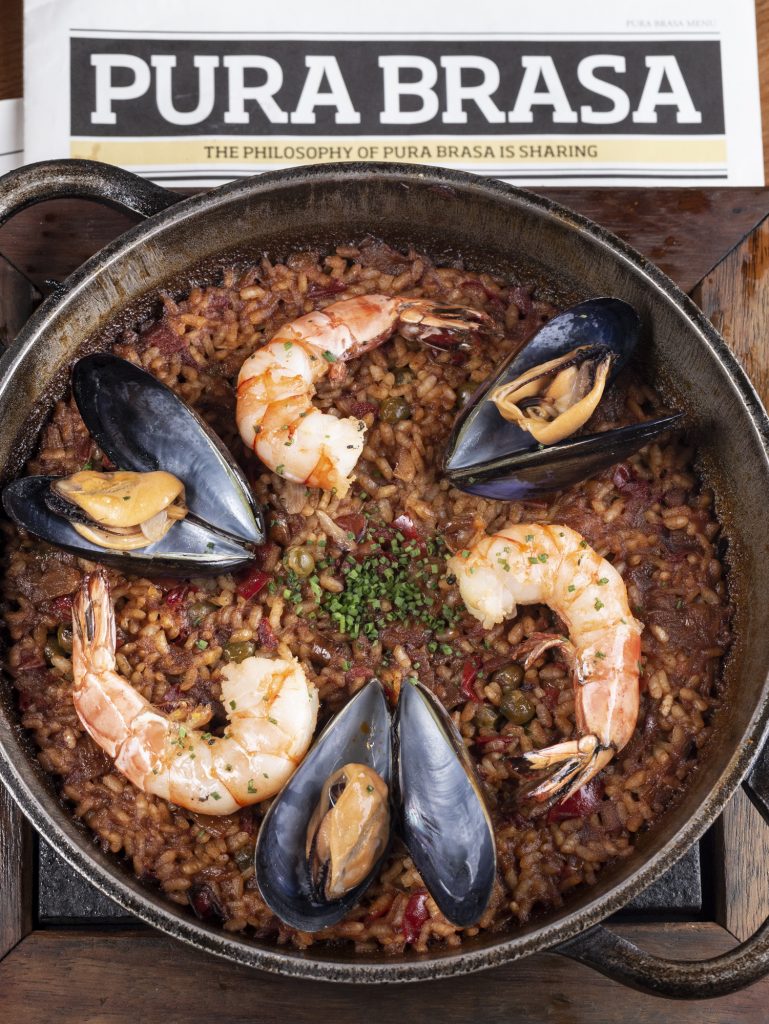 Diners can also enjoy the great weekend with 2-hour free-flow tipples of Cava (Spanish wine), wines and beers for just S$39.90++!
Weekdays Dine-in Special: 50% off a signature tapas or mains
From Monday to Wednesday, diners can also enjoy 50% off one tapas or mains from a selection of their signature best-sellers with a minimum spend of S$80. Choices include:
Grilled Octopus Mini Casserole $20
Calamari Andalusian Style $18
Spanish Charcoal Fideua $25
Alaska Black Cod Fish $32
US Wagyu Ribeye MS5(200g) $50
Grilled Iberico Pork Secreto $30
There's also happy hour promotions daily from 3pm to 7pm:
1-for-1 beer (EstrellaDamn full pint 680ml) $16
Two glasses of Spanish house pour wine (Red / White) $15
Two glasses of Gin Tonic $15 (Gordon Gin, Brass Lion Dry Gin, Brass Lion Butterfly Pea Gin, Roku Gin, Bombay Sapphire Gin, Hendricks Gin)
Two glasses of Suntory whiskey $15
Delivery menu for a cosy and fuss-free dining session at home
For those who prefer to dine in at home, Pura Brasa now offers a delivery menu as well. The different set menus showcase Pura Brasa's well-loved dishes. A la carte dishes such as the US Wagyu Ribeye, Iberico Secreto, Tagliatelle Beef Bolognese and Alaska Black Cod Fish will go at 50% off with every order of set menu (for one item per every order only).
Order online: https://purabrasa.oddle.me/