Singapore's newest sky-high landmark 1-ATICO unveils the last piece of puzzle for its luxe multi-concept destination housing one unique universe of three restaurant and nightlife experiences at the pinnacle of Orchard Road, with sweeping 360° panoramic views of Singapore from 218 metres above the streets.
Conceptualised to be a new realm for the senses, the eponymous ATICO Lounge completes the all-encompassing social experiences offered by 1-ATICO, complementing the equally distinct concepts of contemporary "fire-in-the-sky" Argentinian restaurant FIRE and Japanese-Peruvian influenced sumiyaki bar and grill FLNT.
Inspired by the glamorous golden age of air travel and fine drinking, dim lighting and plush furnishing combines a sophisticated and modern space surrounded by floor-to-ceiling windows offering inspiring views of the city below, inviting guests to leave the troubles of the world behind at ground level.
Grounded globetrotters will be pleased to find a range of artfully-crafted cocktails inspired by key getaway destinations around the world, accompanied by gourmet bar bites from FIRE's culinary team, along with an extensively-curated list of celebratory champagnes, wine labels from across the globe and a bar stocked with craft spirits and liqueurs.
Featuring a collection of iconic cocktails crafted from artisanal spirits and house-made ingredients, with stories richly intertwined in the destinations that have inspired these drinks, guests may indulge their travel fantasies and embark on a transportative journey to Japan, United Kingdom, Italy and France, with a series of five cocktail options available from each destination.
The journey starts from April in Japan, with cocktails that capture the essence of the Japanese spirit of tradition and ritual along with touches of innovation. Fantaji is an intriguing tipple of shiso-infused gin and butterfly pea flower tea enlivened with yuzu sake, yuzu juice and fresh citrus for that ultimate Japanese fantasy drink or try the Mirukuūron, a cleverly concocted cocktail that combines shiso leaves with milk oolong gin and garnished with hanahao flowers for a creation that will whisk you straight into the heart of Nippon-land.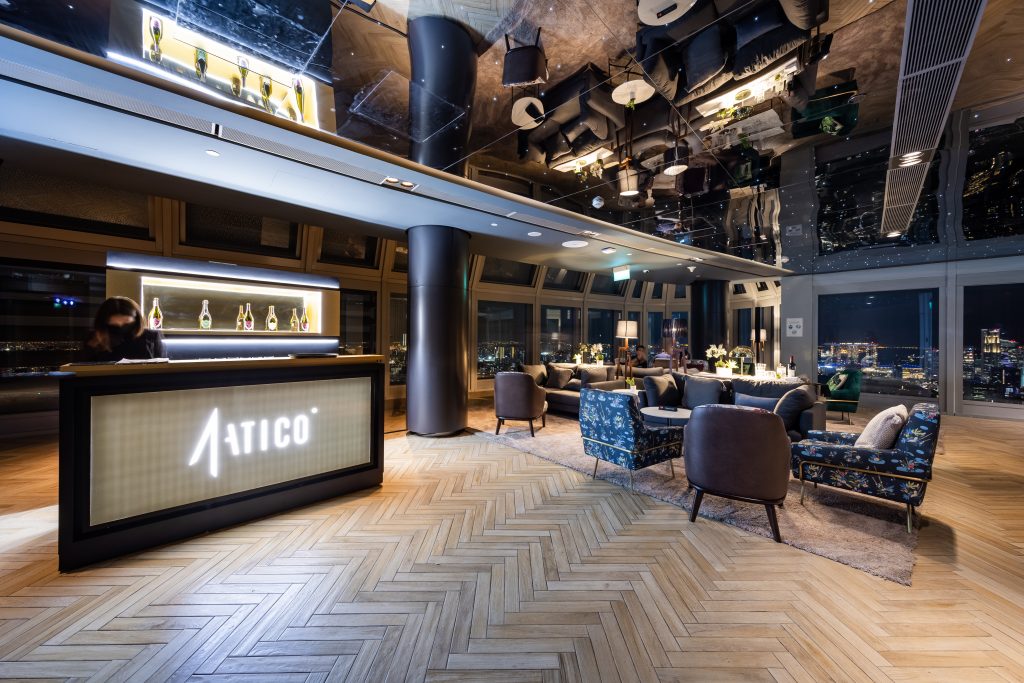 Hop over to the United Kingdom in May, home of the Bramble, created in 1980s London and named after blackberry bushes commonly referred to as brambles, consisting of dry gin, blackberries and lemon for an uplifting cocktail reminiscent of London in spring. Or enjoy the classic Aviation cocktail, a gin-based cocktail imbued with Crème De Violette, best drunk when the colour of the sky matches that of the blue-violet tipple in your hands.
Sojourn to the beautiful city of Brescia in Lombardy come June, and enjoy a Pirlo, the preferred aperitivo of the locals, made with Campari, house-made soda and Sauvignon Blanc for that decidedly refreshing summertime appeal, or opt for another aperitivo favoured by the spritz-loving Italians, the Spritz di Fiore, gently perfumed with elderflower syrup and topped with house-made soda and prosecco.
In July, travel back in time to 1920s Paris with the Boulevardier, a spirit-forward drink composed of bourbon, Campari and vermouth, or kick back with the classic celebratory French 75 cocktail, said to have such a kick, that it feels like being shelled by a French 75mm field gun.
With bar bites just as consequential as drinks, guests may look forward to a range of elevated nibbles including Beef and Paprika Empanadas, Japanese Snow Crab Croquettes and 1-ATICO's Hand-Cut Shoestring Fries served with truffle mayo, chilli lime leaf dipping sauce and a myriad of Japanese spices that include wasabi-lime, chili-furikake, Japanese curry and truffle kombu. The signature 1-ATICO 'bagel' burgers with choice of Argentinian Beef, Chicken Karaage and smoked salmon sandwiched between toasted honey oat bagels are must-tries for burger connoisseurs and pairs perfectly with the beverage offerings at ATICO Lounge.
Social hours at the top are made even sweeter with the lounge's daily happy hour and weekly Ladies' Night. Drink in the spectacular views while living the high life with its happy hour specials that include house pour spirits and beers at $15++ each and special set of five beers with complimentary snack selection at $70++ that runs every day from 6:30pm to 10:30pm, while its Ladies' Night happens every Thursday from 6:30pm to 10:30pm, with select cocktails and wines from $15++.
A leisure destination of choice and a radical playground for the elite and discerning crowd, ATICO lounge invites patrons to take flight into the high life from day to night perfectly, where an eclectic and distinct playlist provides a place for revelers to sway to the music while celebrating unforgettable nights that come alive with full glasses in this world of its own.

---
ADDITIONAL NEWS: ATICO LOUNGE PRESENTS MONTHLY DESTINATION-INSPIRED GUEST SHIFTS

The wanderlusting experience will be complemented by a monthly activation comprising guest bar takeovers and experiences that further underscore the positioning of the lounge as a destination for global citizens. Each month starting from April, ATICO Lounge will organise pop-ups where collaborators will present handcrafted cocktails intended to transport guests to far-flung destinations.

Thursday, 22 April 2021, 6pm to 9pm
6 Hands Tiki Atico Takeover with Potato Head Singapore and Bacardi

For those dreaming of a beachside holiday, let the libations and vibrations by Potato Head Singapore whisk you away to tropical sun-kissed shores. Paired with music from Bali's Potato Head Beach Club, Atico Lounge's Assistant Bar Manager Irwan-who is one of the key driving forces behind the Lounge's cocktail menu-is joining forces with Potato Head Singapore's Bar Manager Kesh and Bacardi's Brand Ambassador Mike Cheong for a tiki night in the city.

For the night, sip on 6 different rum-forward cocktails created specially for the night, such as "Keshuara LimaLima" that features pineapple and chilli padi-infused Bacardi 8 year old with honey, strawberry and mint. All cocktails are at $20++ each.

Bookings can be made online via www.1-atico.sg/atico-lounge.

Thursday, 20 May 2021, 6pm to 9pm
One Night in Paris with The Bar at 15 Stamford

In May, Atico Lounge brings the City of Lights to its glittering rooftop bar. Irwan continues the collaboration with Bar at 15 Stamford's Bar Manager Edriane Lim and Head Bartender Francis Carag. The 3 bartenders are bringing the charms and elegance of vieux (old) Paris in this one-night-only pop-up, coming together on 6 contemporary tipples inspired by French spirits and liqueurs.

All cocktails are at $20++ each. More information and menu will be released soon.


1-ATICO
The one and only multi-concept sky high life-style destination in the heart of Singapore's luxury shopping precinct Orchard road, 1-ATICO (Spanish for "penthouse") is perched atop Singapore's most iconic shopping mall, ION Orchard. A unique coalescence of three different concepts under one roof – FIRE, FLNT and 1-Atico Ultra Lounge – the space is animated by a luxurious array of sounds, scents and lighting, envisioned to provide gastronomic fire-in-the-sky experiences accompanied by world-class service, dynamic entertainment and unparalleled views of the city.
An homage to the primal tool that engenders legendary gastronomic creations, FIRE presents authentic Argentinian asado dining, featuring a full selection of superior-standard and top-shelf meat cuts, seafood and vegetable-based dishes all cooked to perfection over different styles of Argentinian wood-fired cooking. The dining space provides a full experience where texture, flavour and harmony is paramount – all revolving around the stunning 360 degree views.
Offering a tasty trifecta of Japanese-Peruvian flavours, artisanal sakés and Nikkei-inspired cocktails, FLNT sets the benchmark for Nikkei cuisine and bar in Singapore that celebrates the unique culinary movement originated by the Japanese community in Peru.
2 Orchard Turn, Level 56 ION Orchard, Singapore 238801
+65 65 6970 2039
enquiry@1-atico.sg
www.1-atico.sg