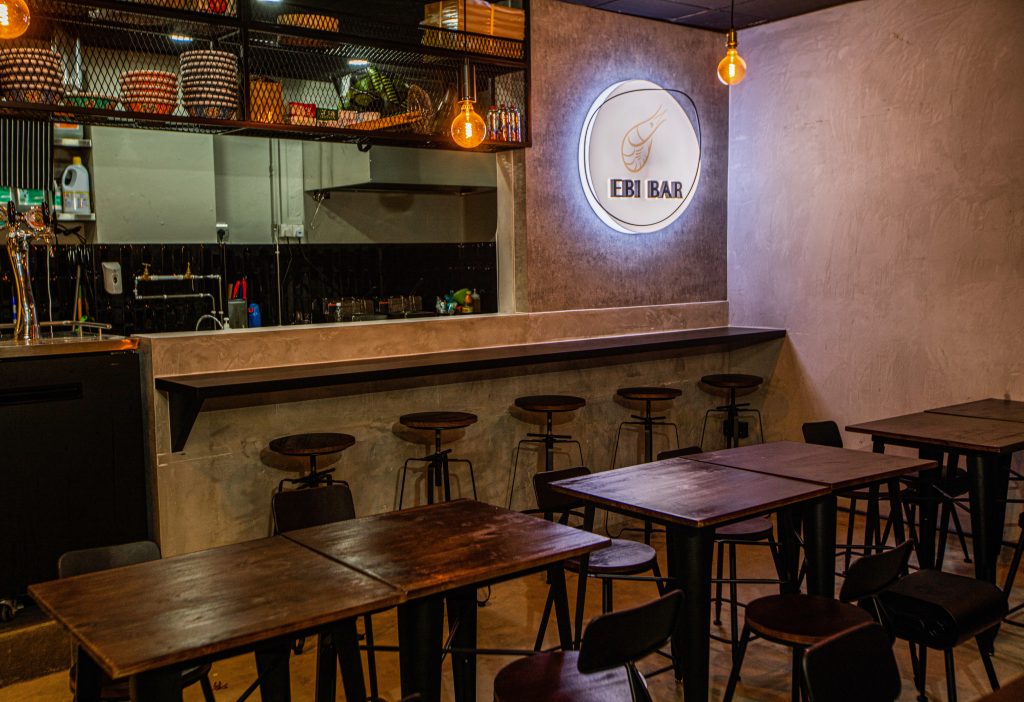 Ebi Bar is a modern Singaporean noodle bar, that serves up a unique twist on wellloved Singaporean dishes such as prawn noodles. Using only the simplest ingredients, Chef Jeff and his team will be creating flavour profiles that will send tastebuds on a culinary journey.
THE EBI BAR CONCEPT
Ebi Bar, the first of The Eminent F&B Group's restaurants to open, focuses on presenting well-loved Singaporean cuisine in a contemporary manner. The Eminent F&B Group aims to create F&B concepts that are experimental, engaging the generations to come. It also has a strong desire to identify and partner with local talents to present their take on what foods, cuisines and dining experiences can be.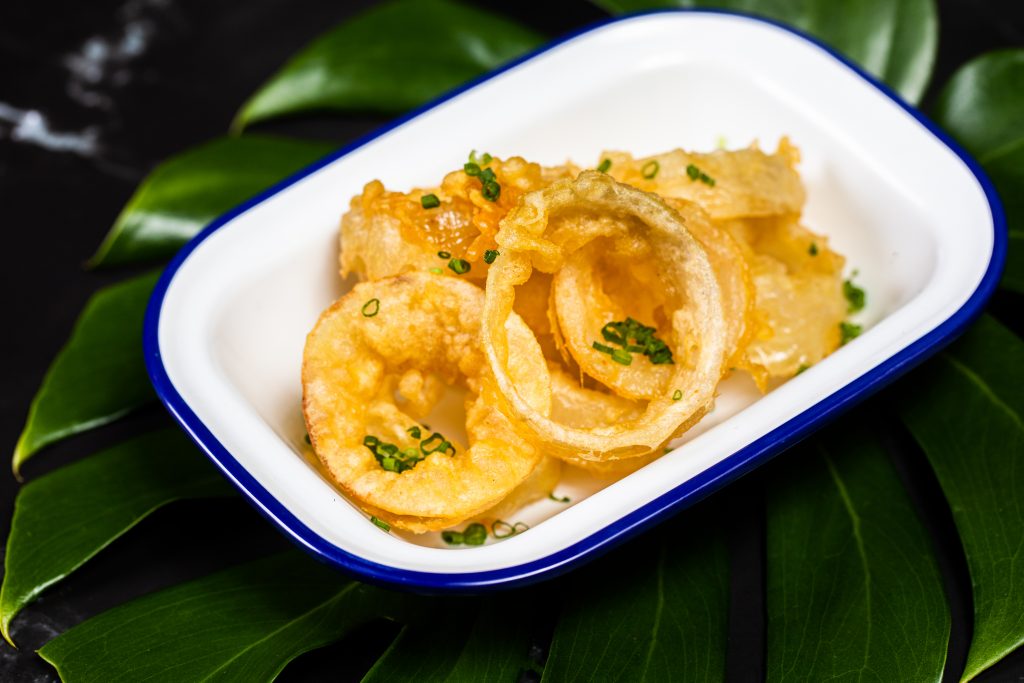 Diners can order food and beverage using the QR codes on the table. The signature dish on the menu is the "Chao Da" or Charred Ebi Noodles ($14.90), a hearty bowl of rich and flavourful prawn broth that is presented by working with the simplest of ingredients. Served with a pair of prawns charred to perfection, the Signature "Chao Da" (Charred) Ebi Noodles is a symphony of umami and heady flavours.
Another one to try is the Ebi & Vege-Crispy Fritter Noodles ($12.90) where a crispy prawn and vegetable fritter, Ebi Bar's version of "hei piah", sits on top of springy handmade noodles and the delicious prawn broth.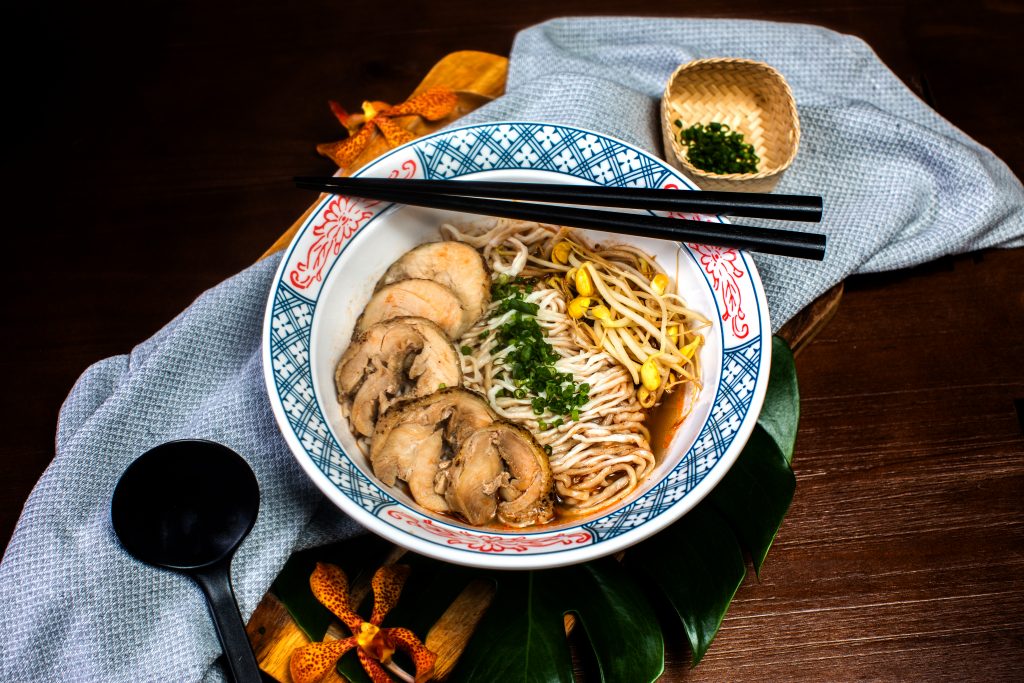 For a bowl of luxurious umami, look no further than the Soul-Good Luxe Noodles ($39.90). It comes served with lobster & prawn charred to perfection, served with scallops, lightly pan seared chicken in a rich flavourful broth. A dish when a treat is part of the plan.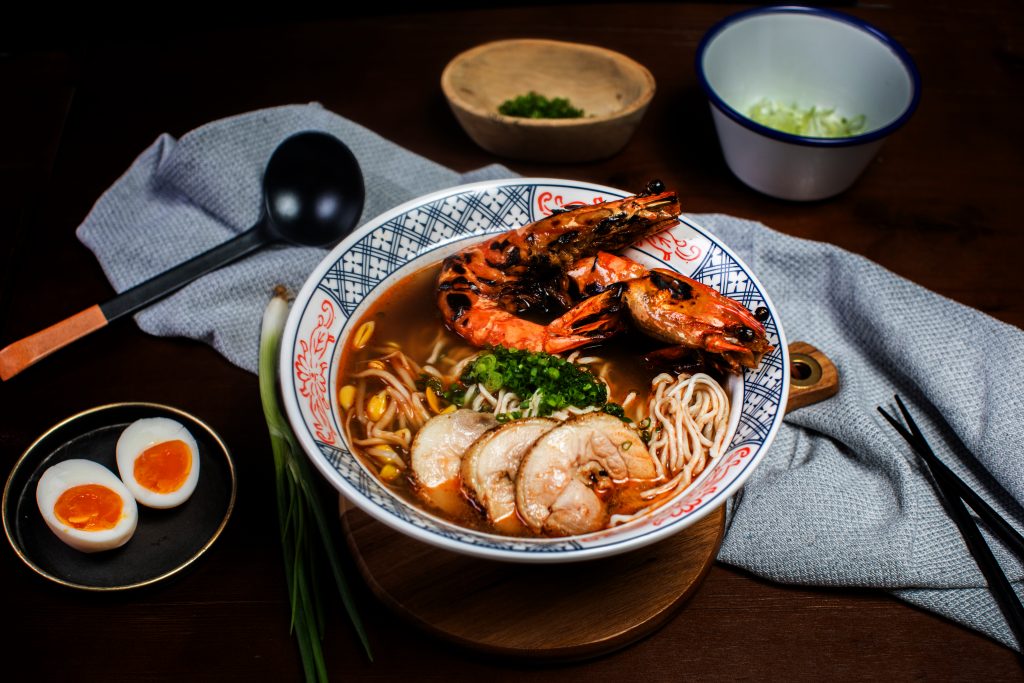 The broth is truly a labour of love with Chef making a daily batch. Chef Jeff fries 40 kg of prawns, releasing all the flavours, oils, and aromatics. After which, water is added and then boiled for 8-10 hours to extract all the deliciousness for a full-bodied taste. In true experimental fashion, the broth can be further elevated with Truffle, Mala and Miso-flavoured Broth Booster Shots (from $1.90) to intensify the soup base, depending on tastebuds. All mains can be completed with a snack and drink for just $3.90.
An Ebi Bar experience is incomplete without trying their sides or snacks as they like to call it. Be sure to order the Salted Mackerel Fried Chicken ($6.90), Ebi Bar's rendition to the ubiquitous Prawn Paste and Salted Egg Yolk Chicken dishes.
The Salted Mackerel Fried Chicken features crispy golden fried chicken marinated with salted mackerel. Other snacks include the Ah Ma's Achar Gone Fancy ($4.90), which is a seriously well-made vegetable achar with a surprising addition of jelly fish, and the Chilled Tofu with Homemade Sauce ($4.90). Wash these all down with Lion's Brewery beers on tap or the wines available in store. While Ebi Bar is not certified halal, all dishes are made without pork or lard.
About Ebi Bar
Ebi Bar, a modern Singaporean noodle bar, that focuses on serving up rich and umami prawn broth looks to present its take on well-loved Singaporean dishes while taking pride in working their magic with simple ingredients. The first restaurant under The Eminent F&B Group, Ebi Bar teases the unexpected out of the familiar, creating flavour profiles that will send tastebuds on a culinary journey.
Address:
B1-21 Cuppage Plaza 5 Koek Road Singapore 228796
Opening Hours
Tue – Sun: 11am – 10:30pm | Mon: Closed