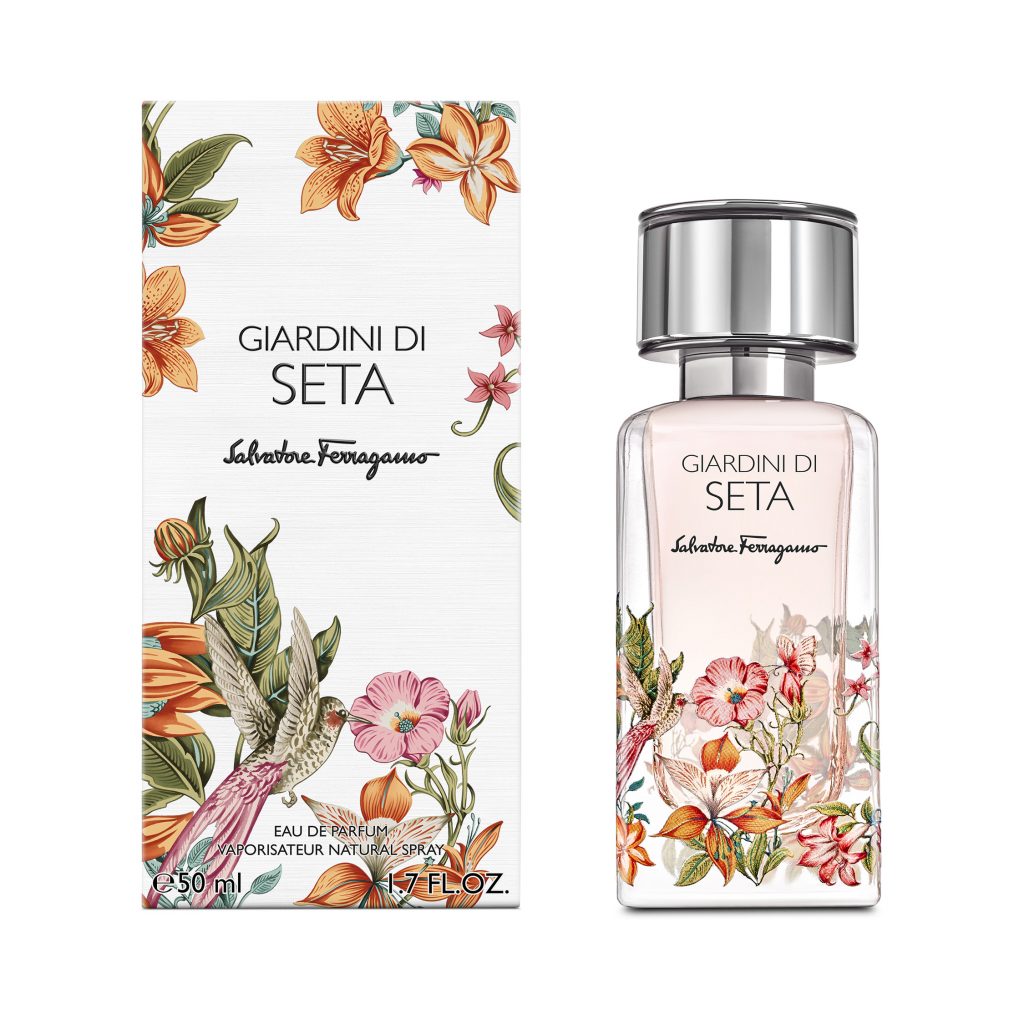 Storie di Seta is an evocative, inventive and multi-faceted experience that engages all senses while transporting them to oneiric landscapes and alluring sensations inspired by Salvatore Ferragamo's iconic silk creations. It is an immersive journey of dreams, colors and feelings that intertwine like the delicate threads that compose the magical patterns and patchworks seen on the House's beautiful scarves and foulards.
CREATE YOUR OWN FRAGRANCES – The collection includes four eau de parfum fragrances, defined by four distinctive colors, with four ornate motifs drawn from the Salvatore Ferragamo textile heritage. These new blends combine artisanal flair and personal taste in a mesmerizing universe to explore, discover and enjoy every day, and in ever-changing ways, as each essence stands alone while also becoming part of a choral narrative centered on layering and customization. The collection comes as an irresistible invitation to 'do it yourself', to experiment and play with all scents through unexpected juxtapositions and innumerable possibilities that turn the olfactory dimension into an extraordinary ritual of self-expression. The four ready-to-wear perfumes are designed to be worn alone or layered with one or more scents from the collection for a unique bespoke experience, unveiling as yet unexplored emotions that appeal to every sense.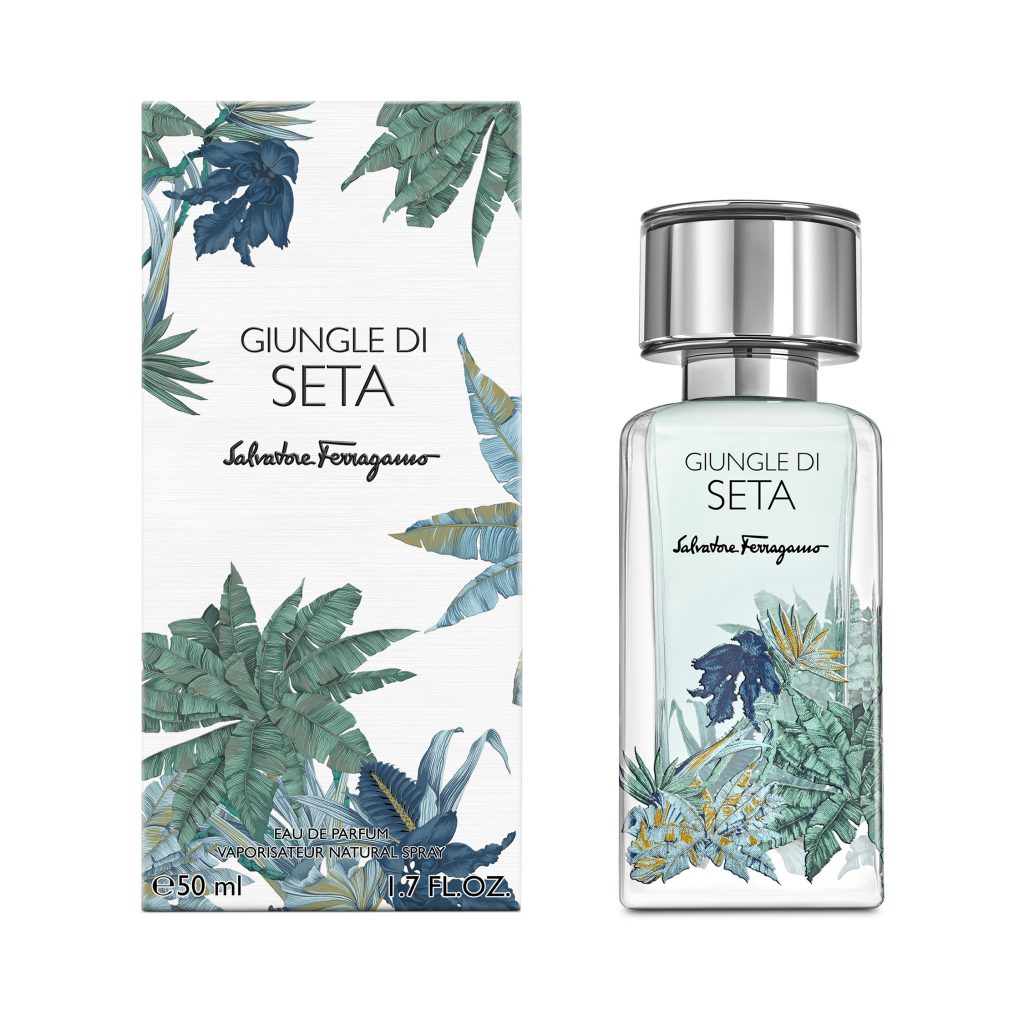 THE FOUR FRAGRANCES – GIARDINI DI SETA is a floral fruity essence with juicy vibrations of crunchy red fruits diving into the floral transparency of bright musk. Like an artistic bouquet, the fragrance opens with the sweet and sour freshness of Rhubarb to then unveil a red and pink heart of Sakura Flower enriched by the warm, woody notes of Madagascar Vetiver.
GIUNGLE DI SETA is an intense floral green blend in which vapors of wild green freshness float above a pure deep woodiness to exude the refreshing burst of exotic flora. The vivacious, crispy twist of Green Pea contrasts with the velvety transparency of Peony Blossoms, brightened by the luminous soul of Musk.
SAVANE DI SETA is a sensual citrus floral jus where a yellow vegetable splash harmoniously blends into a sophisticated cologne structure with an exotic twist. An impromptu and surprising Carrot Accord leads to the powdery notes of the Orris floral heart, softened by the creamy, milky undertones of Indian Sandalwood.
OCEANI DI SETA is a vigorous floral aqueous creation with intriguing chiaroscuro contrasts. As a fresh, crystallized top Salty Accord recalls the vibrant waves of the ocean, the sprinkling of Magnolia petals creates a pure, airy and lush heart sublimed by the soft notes of Heliotrope.
SILK THREAD AND SUSTAINABILITY – Created in collaboration with Symrise perfumers Emilie Coppermann and Aliénor Massenet, the four fragrances are bound together by the FILO DI SETA (silk thread): an exclusive signature accord that lingers at the base of each blend making it absolutely distinctive yet incredibly open to fuse and layer with one, two or all other blends for a tailor-made fragrance.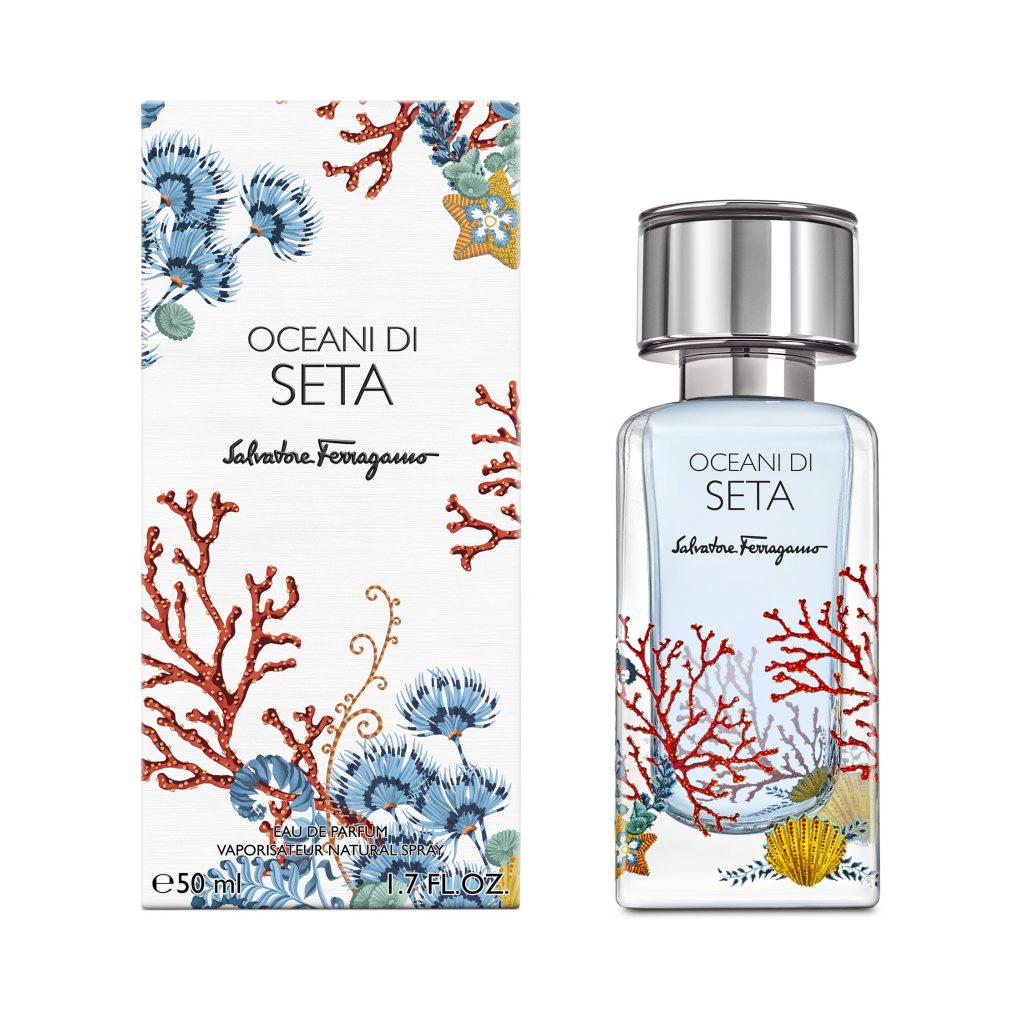 62.2% renewable and 99.1% biodegradable, this olfactive DNA features Lilybelle®, a new molecule of fresh and dewy lily of the valley obtained from orange peel through green chemistry; Timut Pepper, an ethically sourced spicy pepper oil with unique accents of pink grapefruit, yuzu and woody floral tones; and the Neo Soie Velours De Laire, a noble accord that conveys the pure sensation of silk anchoring the fragrances to the haute perfumerie legacy and a 220-year tradition of fine fragrance heritage.
THE BOTTLES – Each of the 4 flacons unveils an elegant shape sealed with a silvered cap engraved with the Salvatore Ferragamo logo. Crafted in transparent glass, each bottle features an embellishing motif that draws inspiration from a Salvatore Ferragamo silk masterpiece reproducing it with an innovative ceramic decoration visible from all angles.
GIARDINI DI SETA portrays a red-laden composition of lavish flowers and elegant birds flying away from the hidden gardens of fantasy.
GIUNGLE DI SETA evokes the green, silky memoir of a wild jungle with rich foliage.
SAVANE DI SETA shines with a yellow, luminous mix of stylized leaves and rare animals against the sunset of a mysterious savannah.
OCEANI DI SETA conveys the fluid and deep blue sensation of an intricate underwater paradise painted as a realm of illusion.
Each precious adornment creates an oneiric evocation, a fascinating imagery, an iconic silk pattern that beautifies every flacon making it a true object of desire, to collect and cherish forever.