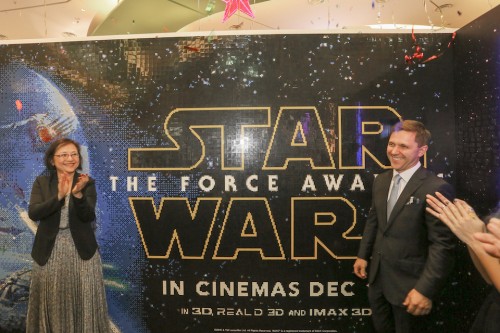 Together with Walt Disney and Lucasfilms, visit the STAR WARS universe at VivoCity this December, alongside the highly anticipated movie release of STAR WARS: THE FORCE AWAKENS!
A dream come true for STAR WARS fans, the 370 sq metre exhibition is VivoCity's Christmas highlight and a visual spectacle that will fascinate onlookers from afar. Step right up to a dramatic entrance and enter the STAR WARS exhibit filled with interactive activities, STAR WARS merchandise and a record-breaking LEGO wall mural! For everyone who enjoys STAR WARS, this sensational event is not to be missed!
Get ready for an experience that is out of this world only at VivoCity! Discover more about the latest STAR WARS: THE FORCE AWAKENS movie at the exclusive atrium event. Join the resistance, wield the power of a Lightsaber and stand against an army of Stormtroopers! You can also bring home a range of STAR WARS merchandise and collectibles! An inter‐galactic experience await this Christmas, only at VivoCity.
INTERACTIVE ACTIVITIES
ANSWER YOUR CALLING ‐ MOVIE EXHIBIT
Are you a Jedi Master or a Sith Lord? Do you have what it takes to wield the iconic Lightsaber for good? Or will you turn to the Dark side? Your destiny will be revealed!
EXPERIENCE THE FORCE
It's time to rise up to the challenge and stand guard at the Electronic Arts STAR WARS Battlefront. Will you emerge victorious or will you fall to the Dark side? Come put your skills to the test and earn your title as a Jedi.

WITNESS A STAR WARS FIRST
27-29 Nov 2015
The Galactic Empire was not built in a day, but watch as adult fans of LEGO build Singapore's largest mural, made entirely from LEGO bricks. Celebrate the unveiling on 1 Dec and marvel at this record-breaking creation, measuring an impressive 6.2 by 2.4 metres, which will earn a place of honour in the Singapore Book of Records!
CATCH A GLIMPSE OF THE ULTIMATE MILLENNIUM FALCON
Crafted by 6 adult fans of LEGO who formed Titan Creations, the Ultimate Millennium Falcon is a labour of love built in one and a half months. Larger than the LEGO‐produced UCS Millennium Falcon, this MOC ("My Own Creation") went viral and caused a stir in the LEGO community. Seize the rare opportunity to witness this fan‐made creation in real‐life, which measures 110cm by 85cm up close! Spot and guess why Han Solo is seated on the right side of the cockpit …instead of the usual left!
TEN LIFE‐SIZED STORMTROOPERS
Standing at approximately 6 feet tall, these iconic STAR WARS characters not only command attention in real life, but also on social media! Shoppers are welcome to get up close and personal to snap a selfie with these Stormtroopers!
STAR WARS merhandise & memorabilia from Toys 'R' Us, Simpy Toys, Action City and Royal Selangor will be available for purchase. There will also be a showcase of collectible 1⁄6‐scale Star Wars dioramas, featuring characters from STAR WARS: THE FORCE AWAKENS at Central Court Level 1.
Limited edition of STAR WARS figurines with only 5000 pieces worldwide.
Event Details:
Date: 1 – 20 Dec 2015
Time: 10am to 10pm, Monday to Sunday
Location: VivoCity Level 1, Central Court
Nearest MRT Station: HarbourFront MRT station (NEL1/CCL29)
Editorial by Darren "Coco" Ng