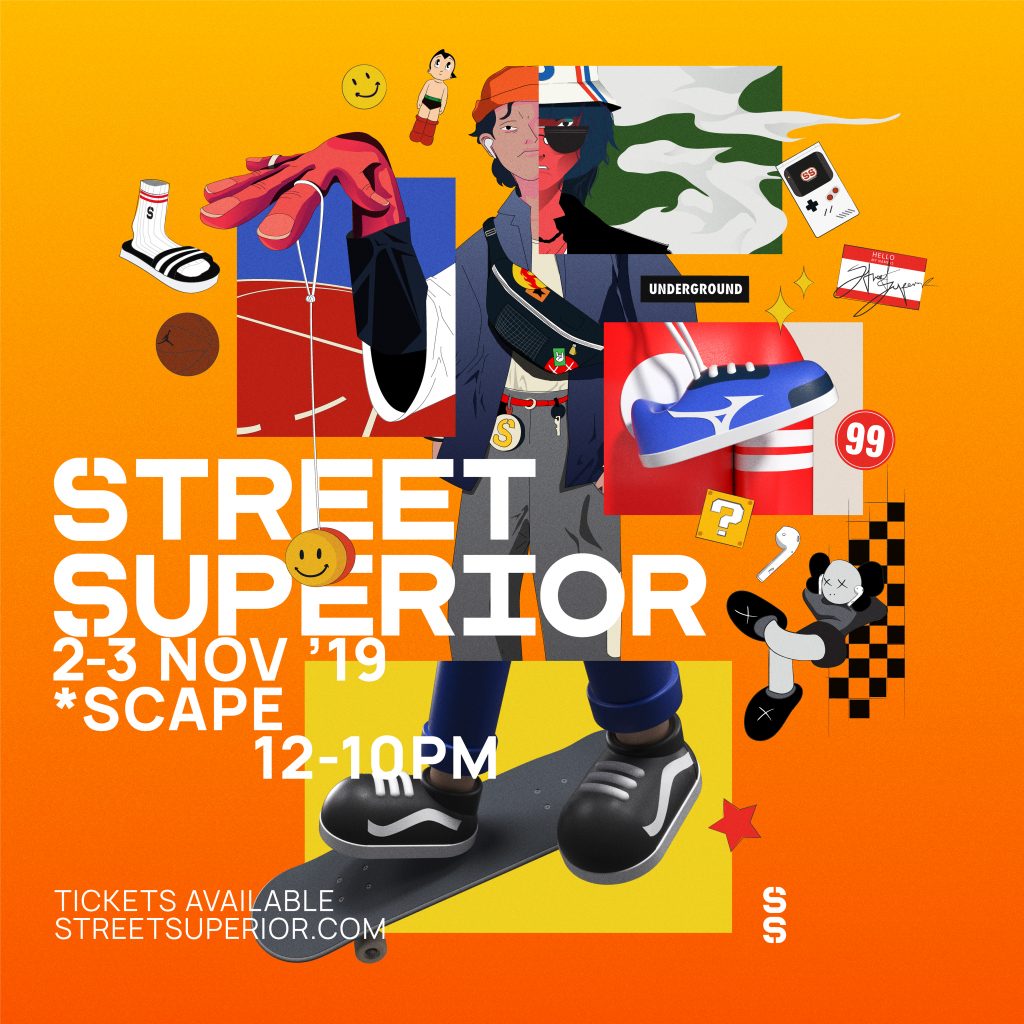 The bigger festival imprint of Sole Superior, Singapore's premier sneaker and streetwear convention celebrates the theme of customization, taking over five floors at *SCAPE on 2-3 November 2019. Street Superior Festival (SSF) is a gathering of streetwear and sneaker communities, design, stories, and the underbelly of subcultures; giving rise to the bold, the upcoming and emerging, and even the underdogs.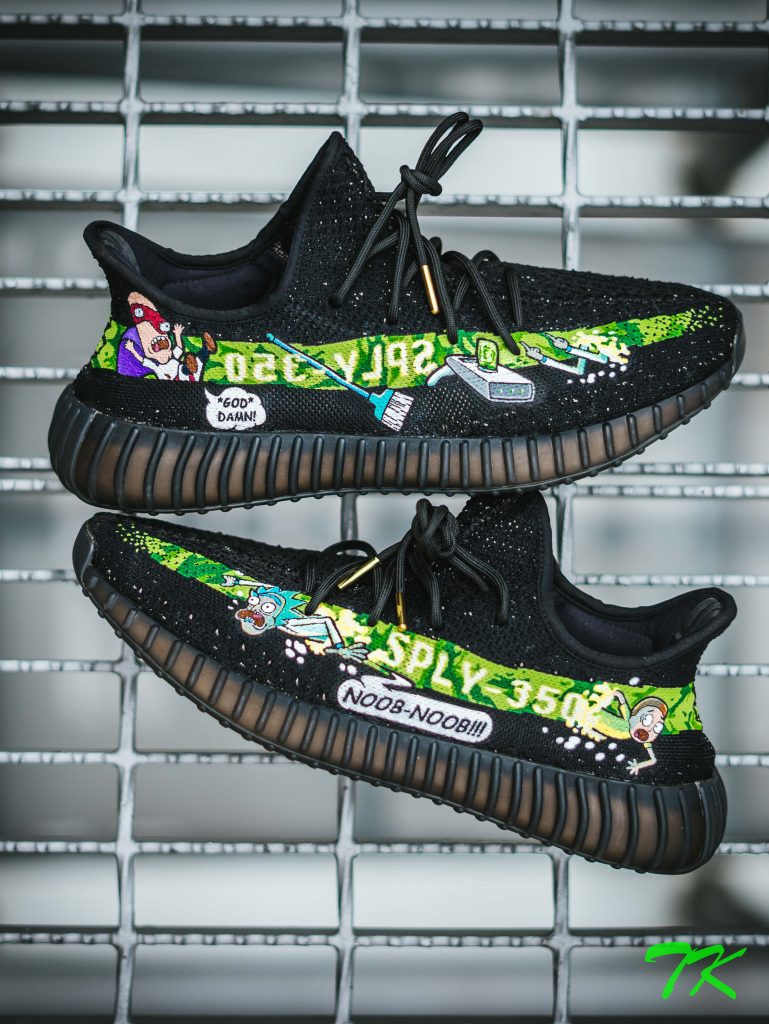 Highlights
Street Superior Festival celebrates the Art of Customisation (New) – in sneakers, threads, and accessories; through competitions, workshops and a line-up of the best local and international custom sneaker artists
Big Big Con Debuts (New) – the toy con is a gathering of local and international designers and makers of coveted designer collectibles, previewing exclusive new collections and rare Star Wars collectibles.
Supreme Skate Deck Showcase (New) – the largest gathering of Supreme skate decks from a private collector shown to the public for the first time in Singapore.
The Art of Yo-Yoing (New) – Together with community organizer Spinworkx, SSF celebrates the re-introduction of the most underrated subcultures of all time, with live performances from a Four-Time World Champion.
 Asia Street Movement makes its introduction at SSF (New) – Regional sneaker communities from Sole Superior The Kickz Stand (AU), Jakarta Sneaker Day (ID), and Urban Sneaker Society (ID) come together at Street Superior Festival.
Exclusive Street Superior collaboration merchandise, powered by VeChainThor blockchain.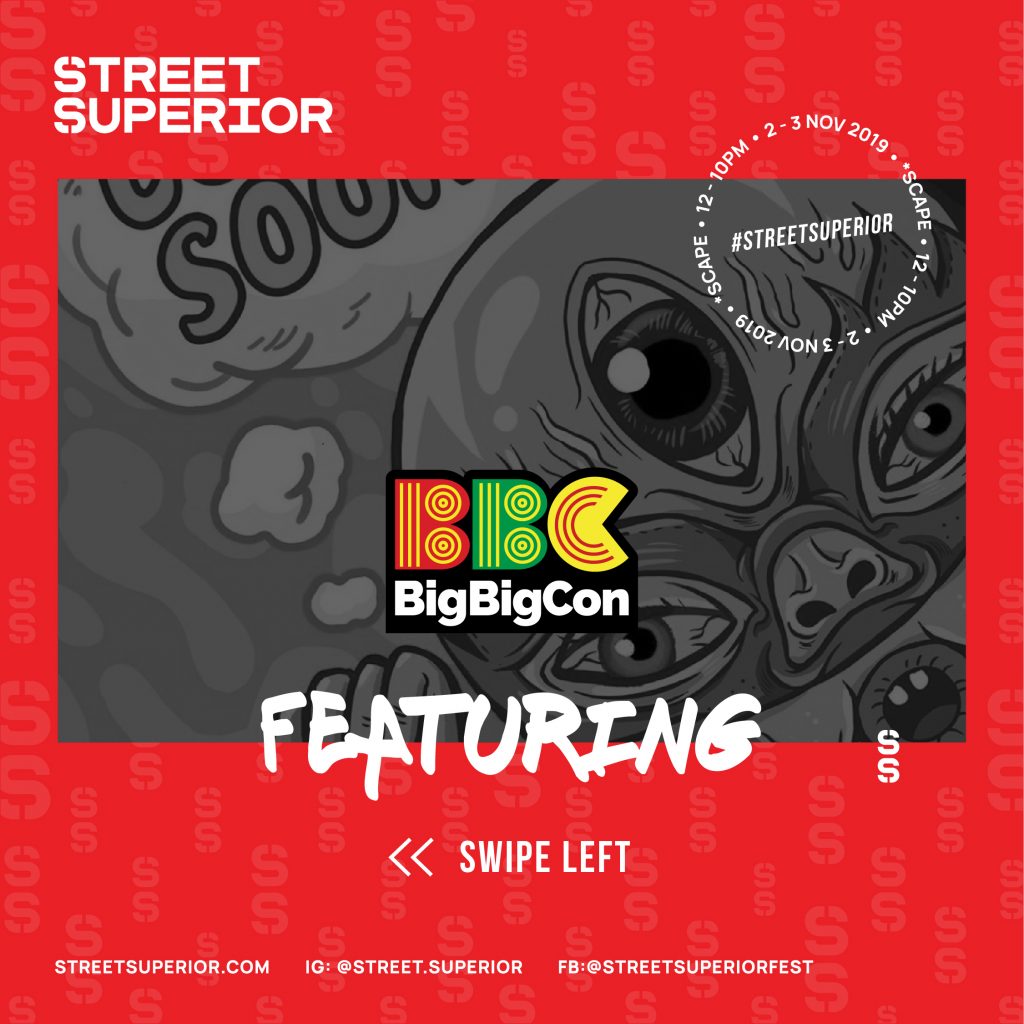 Customisation and the DIY spirit
This year's 'Customisation' theme will be explored across the festival through competitions, custom art showcases, festival activities, artists and creatives from Singapore and beyond. Highlights include showcases by custom sneaker artists Chase Shiel (Australia) and El Sneaker Hefe of Grail Crew Customs (Australia), and Fogaat (India) who is known for deconstructing sneakers and upcycling them into the headgear. They will be in Singapore for the first time to meet fans as well as offer first views of new work and SSF-exclusive custom designs for pre-orders. Repping Singapore, illustrious custom artists TK Collective, AKA Lazy and Hypethetic will take the stage with a showcase of work that has helped put Singapore on the map in the world of custom sneaker art. In the bid to find new blood and sneaker customizing talent, the #SSFsoleygrail is a competition that will culminate with three semi-finalists who will create their custom art on blank Vans sneakers at SSF. The reigning champion will be selected by a panel of judges to win an SGD $1,000 cash prize and the chance to create a capsule sneaker collection to be exhibited and retailed at regional sneaker conventions in 2020.
Big Big Con
Making its debut at SSF this year is Big Big Con, a toy convention masterminded and curated by the multidisciplinary creative studio, Flabslab. Forget commercial toy cons; this will be a straight-up gathering for collectors, fans, artists, and makers of designer collectibles. Drop by for showcases, exclusives and first previews of new work by homegrown artists Pobber Toys, Whale Rabbit, Daniel Yu, and regional creatives including Creon (Philippines), Wetworks (Philippines), Good Guys Never Win (Indonesia), Kong Andri (Indonesia) and Robin Tang (Taiwan).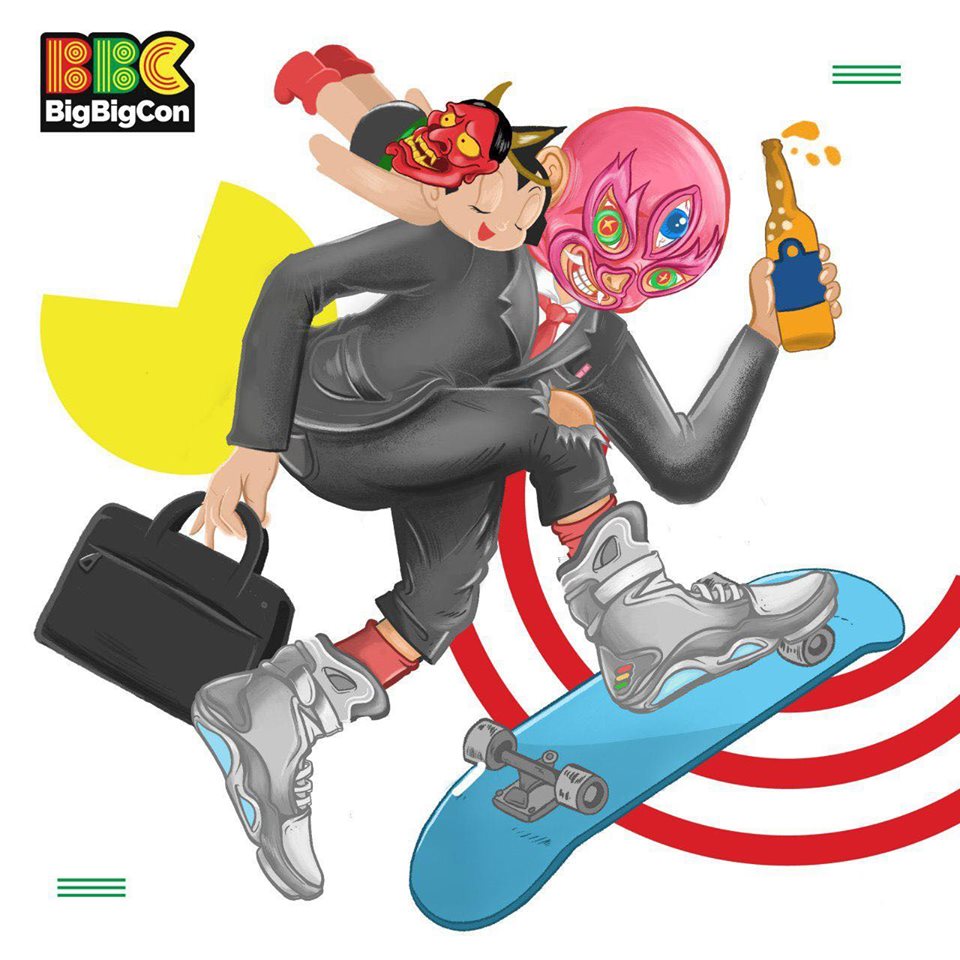 A special dedication to Star Wars collectibles from the vaults of serious collectors – vintage, rare, and never-before-seen – will also be on display and available for retail.

The Rise of Yo-Yoing and its Revolution
Together with homegrown Yo-Yo community organizers and Yo-Yo retailer Spinworkx, Street Superior celebrates the most under-rated subculture of all time with live performances by local Yo-Yo communities and Hiroyuki Suzuki. He is a four-time World YoYo Champion, seven-time Asia Pacific YoYo Champion, and the holder of two Guinness World Records including "The fastest time to knock off a coin from the ears of 15 participants with a loop-the-loop Yo-yo trick". A stylish subcultural hero who is as known for his fashion dress sense as much as his freestyling tricks, Hiroyuki will also be showcasing products from his cult brand Freshthings alongside Spinworkx. These include hyped collaboration products with the likes of brands such as Fragment, Bape, FR2, and Coca-cola, some of which will be available for retail at SSF in limited quantities.
The Largest Private Collection of Supreme Skate Decks in Asia
In January 2019, the value of Supreme collectibles was cemented in history by Sotheby's sale of a full set of Supreme skate decks for US$800,000 (S$1.09 million). In our midst is Ben Tan, a prolific collector of Supreme goods, who owns up to 350 Supreme skate decks in his private collection. Of these, his collection is just three pieces short of the full set of 248 decks known to be released by Supreme from 1998 to 2018. His impressive collection of decks will be shown to the public for the first time, and includes highly sought after and rarely seen collaborative grails with contemporary artists Damien Hirst, Kaws, Jeff Koons, Takashi Murakami, George Condo, Ryan McGuinness and iconic pieces from "The Last Supper" sets. Included in the collection are also Louis Vuitton X Supreme official skate decks sitting alongside their controversial bootleg predecessors. These bootleg versions of the luxury brand's iconic monogram led to Supreme being served with a cease-and-desist letter by Louis Vuitton in 2000, a move that turned on its head when Louis Vuitton later announced the release of the brands' official collaboration skate deck in 2017, thereby conferring legendary status to Supreme's original bootleg versions that can each boast resale values of up to US$10,000 on eBay.
Asia Street Movement
Street Superior Festival has its roots in Sole Superior, a grassroots sneaker community started by sneakerheads for sneakerheads in 2012. The only community of its kind back then, it inspired a not only loyal and new following, but also other like-minded sneakerheads to start their own communities and events in their home regional cities. Street Superior 2019 comes full circle with the addition of regional sneaker cons and communities – Urban Sneaker Society and Jakarta Sneaker Day from Indonesia, and The Kickz Stand from Australia – all passionate and influential sneaker and street culture communities in their own right. They are three of five Street Conventions under the Asia Street Movement (ASM) – a newly formed consortium that spans four APAC cities – and joined by Street Superior (Singapore) and Sneaker Party (Thailand) with the aim to gather an extended cultural following and network in one unified platform.
At Street Superior Festival 2019, Jakarta Sneaker Day will be bringing their A-game with a selection of their local hero labels including the likes of sneaker brands Saint Barkley, FYC, HRTG, Nah Project, and from streetwear labels Elhaus, Billionaire's Project and Blk Dmnd; while Urban Sneaker Society will showcase a curative line-up of collaborations and limited editions from their stable of Indonesia brands and creative partners. The Kickz Stand brings a stellar list of artists and brands including famed sneaker maker Chase Shiel, Ace of Customs Australia Champion – Grail Crew Customs, DJ DayDay, and an exclusive collaboration capsule with streetwear label Cosmonauts.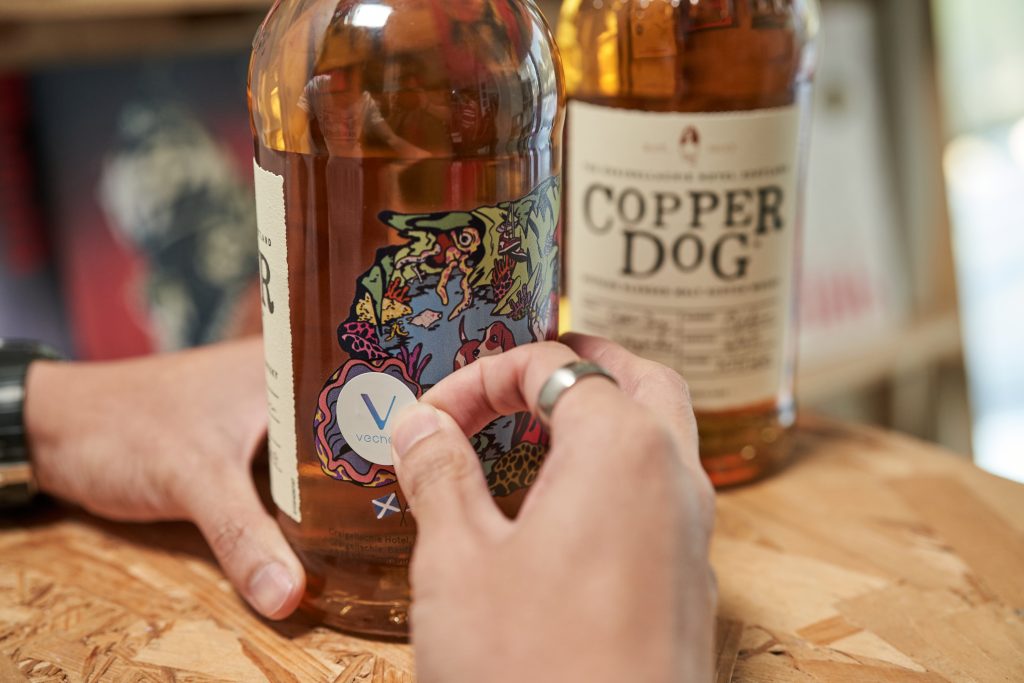 Street Meets Tech
What's a festival without merch? The range of festival merchandise are collaborations with brands that the Sole Superior founders personally love: Copper Dog Whisky Limited-Edition series designed by local artist Russell Ong and in collaboration with Street Superior; SAFE TRAVEL sling bags by The Laughing Tiger; and Street Superior x Spinworkx Yo-Yos.
Other items available exclusively at the festival include custom DIY T-shirts by Konstrkt Labs; special Street Superior editions of Talking Toes and Swatch watch loops.
This year, a selection of Street Superior-branded goods, limited editions or collectibles alike, will be digitized on the VeChainThor protocol. VeChain's ToolChain solution, a B2C app, is an easy tool for creators and makers to use a combination of encrypted NFC tags and blockchain technology to prove the origin, integrity of their supply chain & materials and authenticity of their craftsmanship.
In addition to Street Superior merchandise, many of the prized toy collectibles from Big Big Con and festival exclusives such as Chase Shiel and Grail Crew Custom shoes will also boast VeChain technology blockchain encryption. Where rare and limited-edition collectibles can change hands for thousands of dollars, counterfeit goods are a major concern for serious collectors looking to protect their investment interests. Collectors and future buyers of these VeChain powered editions can now verify authenticity instantly with their smartphones without authenticity papers or conventional lo-fi authentication techniques. Verification is just the beginning, there are plans for Big Big Con to roll out collectibles as NFTs (Non-Fungible Tokens) and to create an auditable, immutable trail of ownerships on the public blockchain.
Street Superior Festival's Lay of the Land at *SCAPE
While Street Superior first broke ground at the iconic Pasir Panjang Power Station in 2018, this year it stages a take-over of *SCAPE filling it with retail, experiences, and activities in different zones across 5 levels.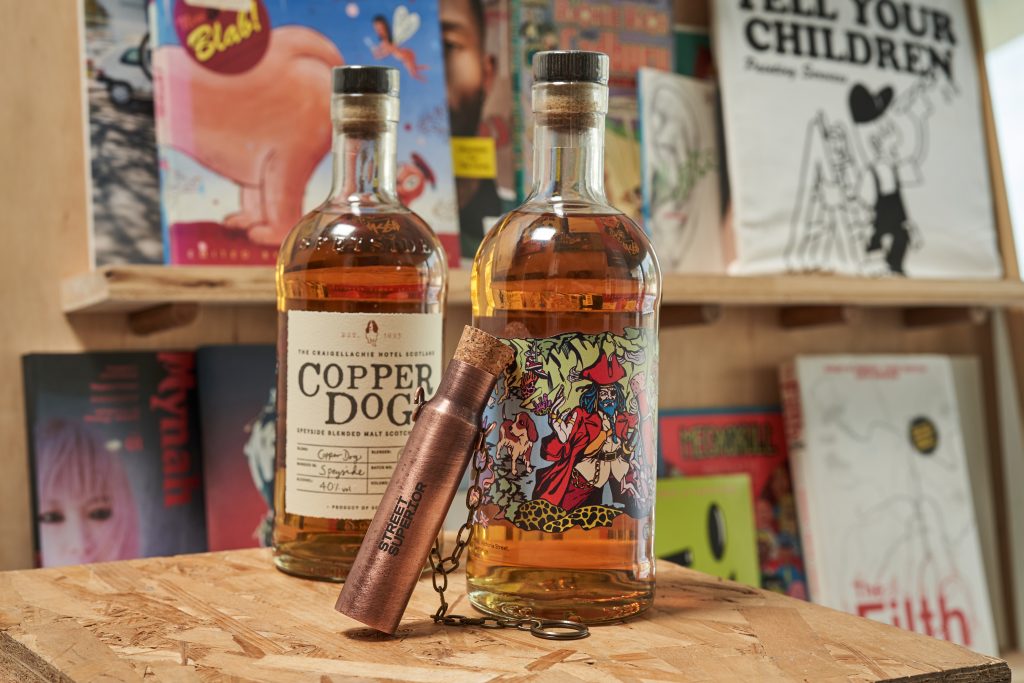 Superior Brands (Level 2, Ground Theatre) ft.
Copper Dog Whisky | Durasafe | Junta | Limited Edt | Mizuno | Mood | Store Friendly | Supreme Cargo | Supreme Skate Deck Showcase | Swatch | The SSauce Media Lounge | Vans Custom Station | Under Armour | Well Bred
Big Big Con (Level 5) ft.
Acrylic Chamber | Creon | Daniel Yu | Erickartoon | Flabslab | Good Guys Never Win | Kurobokan | Martin Hsu Design | Mike Ozzo | OwangeBoy | Pobber Toys | Robin Tang | Super 7 | Tanavit | Wetworks | Whalerabbit | Ziqi | ZCXZ
Festival Village | Sole Superior Marketplace (Level 1, Play Space) ft.
229 | Allout x Fragment Room | Anti Running Running Club | Barney | Basheer Graphic Books | Canvaste | DropnCop x House of Bricks | Curated Collective Co | Distrisneaks | Durasafe Truck Pop-up | Dystra | Hypemaster | Hypethetic Customs | FOGATT | Freshly Pressed Socks | Good Luck Bunch x Pras the Bandit | Island Boys Collective | IQBAL | Jakarta Sneaker Day | KartoutCo | Konstrkt Labs| LiquidGlass | Luneworks | Marquee Nightclub | Novelship | Original Fook | Pasar Peninsula | Pindemic | Portray Lab | Shoebox | Sneaker Crossover | Sneakerboys + Sneakersclinic | Sneakest | Sole Superior | Spinworkx x Freshthings | Street Superior X | SUCKIES | Talking Toes | Tropical Sundays | The Kickz Stand | TK Customs | Union Studios | Unrivalled Athletics | Upcycled Tarps | Urban Sneaker Society | YBSG by AMME
Vintage Market (Level 4) ft.
Affleated | Blast From the Past x Heresy Vintage x 14. Vtg | Divine | Freshthrifts | HalfLife Vintage |
RaisedbyRetro | Rodeo
Youth Plaza (Level 1) ft.
Parkour by A2 Movements | Jagua Ink Tattoos by Jynk Ink | Customisation art by Vivian Loh | Sharpie
| Pop-up Barbers by The Golden Rule Barber Co.
Grand Activities at Street Superior (Various locations) ft.
60th Anniversary Doll Showcase by Barbie® x Singapore Tourism Board | Kids Superior by EYEYAH! | Popcorn Pop-up Cinema | The Good Burger | Dance Battles | Yo-Yo Performances | S$50,000 worth of prizes | Street Superior Lucky Draw | Superior Hunt – a festival hunt that sets you on the trail to S$1,000 cash.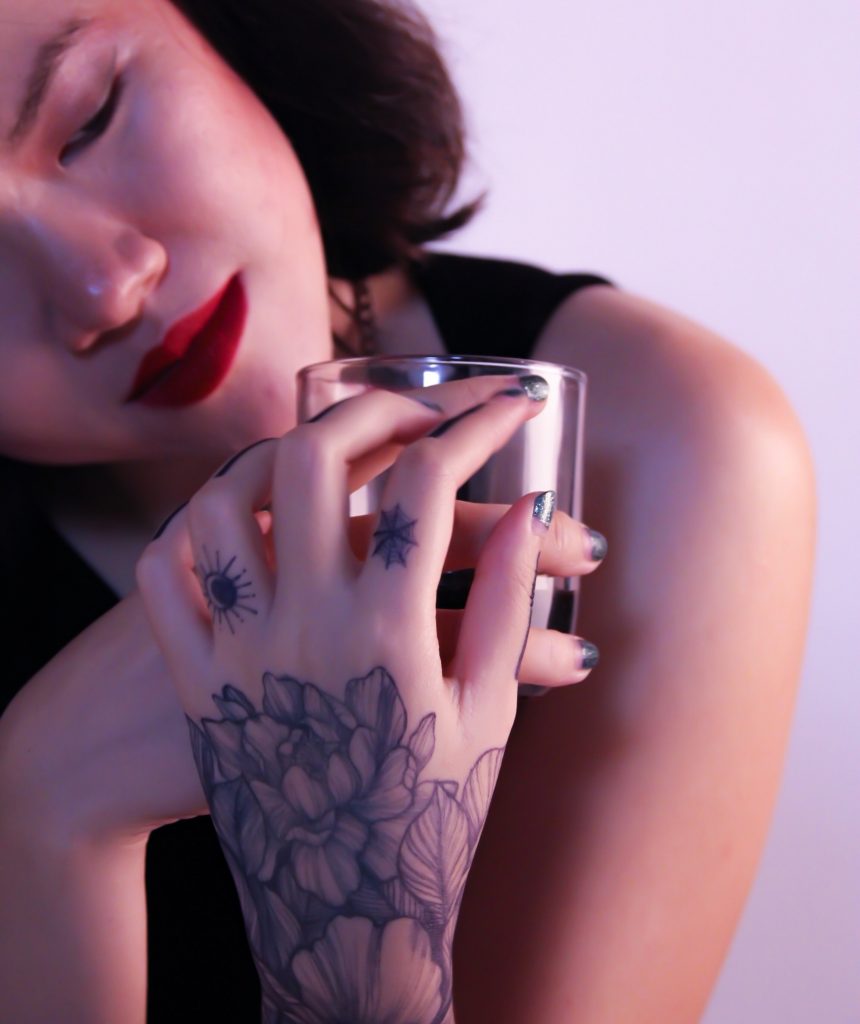 2-3 November 2019 12pm to 10pm
*SCAPE, 2 Orchard Link, Singapore 237978 Tickets Sales
Tickets are priced at $15 (One-Day)/ $20 (Two-Day), and available at www.streetsuperior.com