National Gallery Singapore presents its fourth commission in the Ng Teng Fong Roof Garden Commission series, 浮槎 Fú Chá, by one of China's foremost contemporary artists, Cao Fei. On display from 17 January to 25 October 2020, this will be the first kinetic sculpture to be installed at the Roof Garden, comprising a spectacular five-metre tall structure of a swinging wooden ship, accompanied by four different soundscapes.
Standing amidst the architectural landmarks of the Civic District, 浮槎 Fú Chá responds to the feng shui of its site. The work provides a unique perspective on the region's history of migration, in which people set sail to often distant lands in search of new livelihoods. Its title refers to a Chinese fable about a raft that traverses both the Milky Way and the sea, suggesting faraway journeys in unexplored waters. At the same time, it also engages with Singapore's identity as a historic port, shaped by the numerous diasporic and migrant communities which have made it the contemporary cosmopolitan city-state it is today.
Each edition of the Ng Teng Fong Rooftop Garden Commission enables us to further the understanding of Southeast Asia's heritage and histories from a contemporary perspective. Informed by her personal history and experiences with Southeast Asia, Cao Fei tells unique stories of migration in the region. We hope this art installation will inspire new dialogues on our heritage, while presenting another engaging experience for our visitors at our Roof Garden.

Dr Eugene Tan, Director of National Gallery Singapore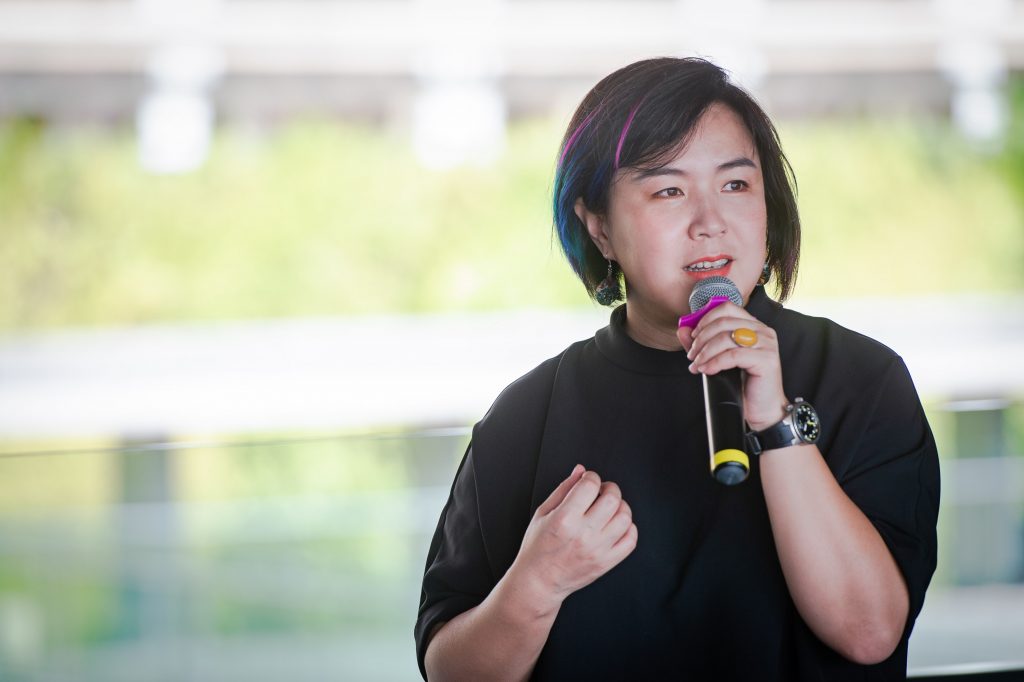 Born and raised in Guangzhou, China, a historic centre of foreign trade and commerce, Cao Fei's family has many links to Nanyang, which was a key point of departure for the concept of the commission. A Chinese term, Nanyang translates to 'the south seas', which was how Chinese migrant populations historically described geographical Southeast Asia. The term is also used to refer to the art styles and cultural movements that emerged in the region in the first half of the 20th century.
Bridging reality and fantasy, Cao's work uses nautical imagery to point toward the historical and contemporary flows of peoples and cultures which have transformed this region, including Singapore's own identity as a port city shaped by its diverse communities. The design of the ship is inspired by boats typical of this region, with decorative motifs intended to provide protection and guidance, including a pair of eyes to help the vessel find its way back to land. Visitors will notice that water—which would normally surround a ship on the ocean—fills the boat's interior, with waves splashing out as the ship swings back and forth. This mysterious and poetic combination of movement, sound, and surging water responds to the feng shui of this particular site, while suggesting a magical voyage to faraway places. The work suggests the hopes and dreams of migrants seeking a new life, as well as the looming dangers of sailing to an unknown land with little chance of return.
Cao's dynamic installation sits surrounded by the civic structures of the Supreme Court and Parliament House, while looking out over centres of commerce and entertainment in the Central Business District and Marina Bay. A reflection of Cao's ongoing interest in the social histories of Asia and the surreal experiences of global capital, 浮槎 Fú Chá also brings to mind the orchestrated pleasures of amusement parks, suggesting Singapore as a construct where any variety of experiences can be readily obtained.
I perceive the Roof Garden as a stage where the installation goes beyond a sculpture to take on the role of a performance for visitors. As they immerse themselves in the movement and soundscape of the work, I would like to invite them to embark on this journey with us; riding through the uncertainties of present day, while remaining hopeful of the possibilities in the future

Cao Fe
浮槎 Fú Chá is curated by Sam I-shan and Cheng Jia Yun from National Gallery Singapore. Visitors can also participate in its complementing programmes such as a talk by Cao Fei, film screenings, performances and a guest lecture that explore themes in the work such as Asian maritime histories.
The Ng Teng Fong Roof Garden Commission series invites one leading international artist each year to present a site-specific work that reflects upon Southeast Asia's rich cultural heritage and complex histories from a contemporary perspective. Previous artists commissioned for the series include Danh Vo, Rirkrit Tiravanija and Charles Lim Yi Yong. The Ng Teng Fong Roof Garden Commission is made possible through a gift by Far East Organization.
Admission to the Ng Teng Fong Roof Garden Gallery is free. For more information, please visit: