Shangri-La's Rasa Sentosa Resort & Spa, Singapore welcomes guests back to its resort with a new 'Daycation' package – catering to families, friends, couples and individuals alike desiring for an escape to paradise. With an all-access pass to getting their fix of sun, sand and sea, guests from all walks of life such as wellness and relaxation enthusiasts, sun-seekers, local cuisine explorers or those looking for family-friendly experiences can look forward to using the property's luxurious amenities without having to stay overnight.
Designed as a way to offer daytime access to a beachfront location with a suite of luxury lifestyle offerings in one destination, the 'Daycation' package encompasses all the perks of a relaxing vacation without the commitment of an overnight stay. Suitable for families, couples or friends, guests can enjoy a heart-warming welcome back to soak in paradise in a day, with full use of the majestic pools and pampering spa amenities on demand.
Couples seeking for a much needed intimate and pampering retreat can make full use of Shangri-La's luxury lifestyle offerings, with privacy and rejuvenation accompanied by a full range of relaxing touches to rekindle quality time in an idyllic location. While small-group social gatherings of families and friends of not more than five people in accordance with the safe management measures in place can rejoice in plenty of outdoor sea sports activities to bond over, and wind down with the perfect sunset and cocktails in hand to continue the party.
Along with beach and pool access, the 'Day Pass' includes a dining credit that can be used at Siloso Beach Bar where diners can expect a classic array of beachside food and drinks selection. Highlights include Mini Cheese Beef Burgers and sandwiches, Chicken Wings, Cheesy Potato Wedges, fresh summer salads, local delights, fresh juices, mocktails and classic cocktails.
Shangri-La's 'Daycation' Package includes: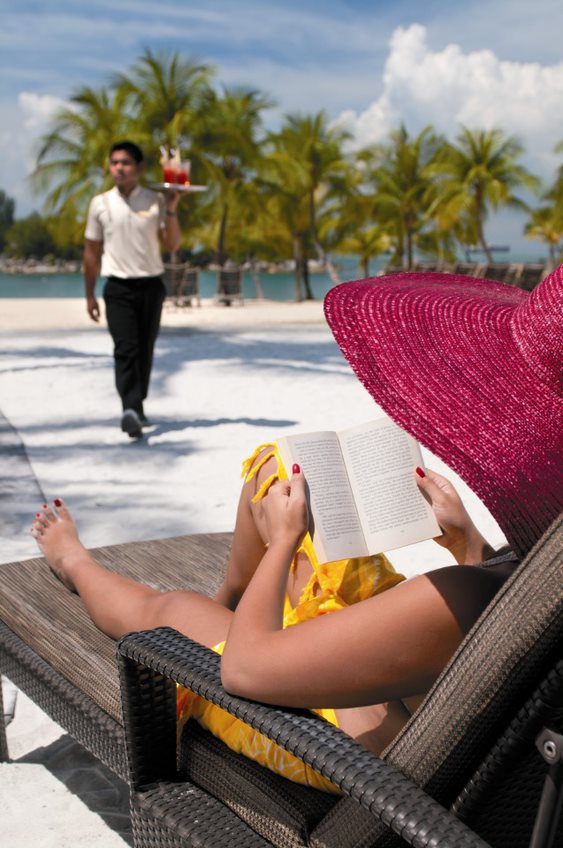 • All day access to pool and beach from 10am to 8pm (Beach access till sunset)
Amenities & Services
• Swimming pool, children's swimming pool, three water slides and splash pad
• Sun beds
• Beach access
• Towel service
• Changing room
• Sea sports activities (Single Kayak, Double Kayak, Triple Kayak, Stand Up Paddle Board, Pedal boat)
• Complimentary Wireless Internet Access
• One complimentary parking coupon
Day Pass Pricing
• Adult (18 years old & above) $75; inclusive of $50 dining credits
• Teenager (13 to 17 years old) $50; inclusive of $30 dining credits
• Child (7 to 12 years old) $25; inclusive of $15 dining credits
• Preschool (4 to 6 years old) $10
• Toddler (3 years old and below) Complimentary with every paying Adult
• Limited availability per day, prior reservation is required.
For more enquiries and reservations, please visit here