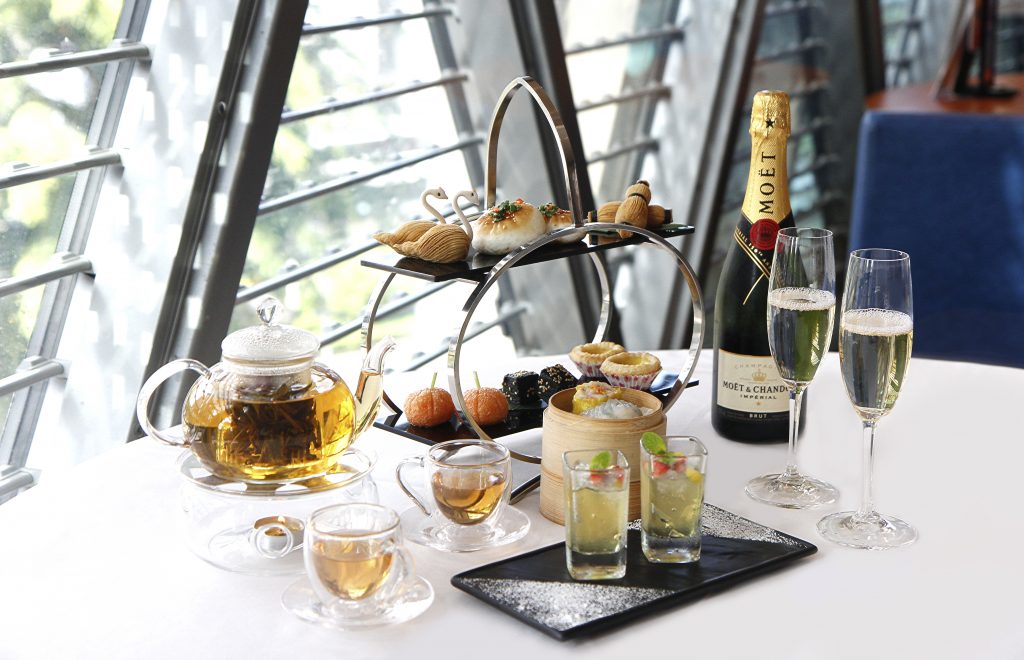 JUMBO Seafood 珍宝海鲜 is back with an indulgent Dim Sum Afternoon Tea from S$48++. Spend a well-deserved afternoon at JUMBO Seafood ION Orchard outlet enjoying the panoramic cityscape view of Orchard Road, while surrounded by good food and good company. It is the perfect place to unwind after a spot of shopping.
JUMBO Seafood puts an Asian spin on the high tea tradition. On the trays, you'll find delicacies which pay homage to the restaurant's long-standing reputation as the big name in Singapore-style seafood. Expect JUMBO Seafood's all-time favourite chilli crab buns, newly created handmade dim sum delights such as Lotus Root Puffs, Molten Salted Egg Lava Mochi and Black Sesame Cake accompanied with aromatic floral tea.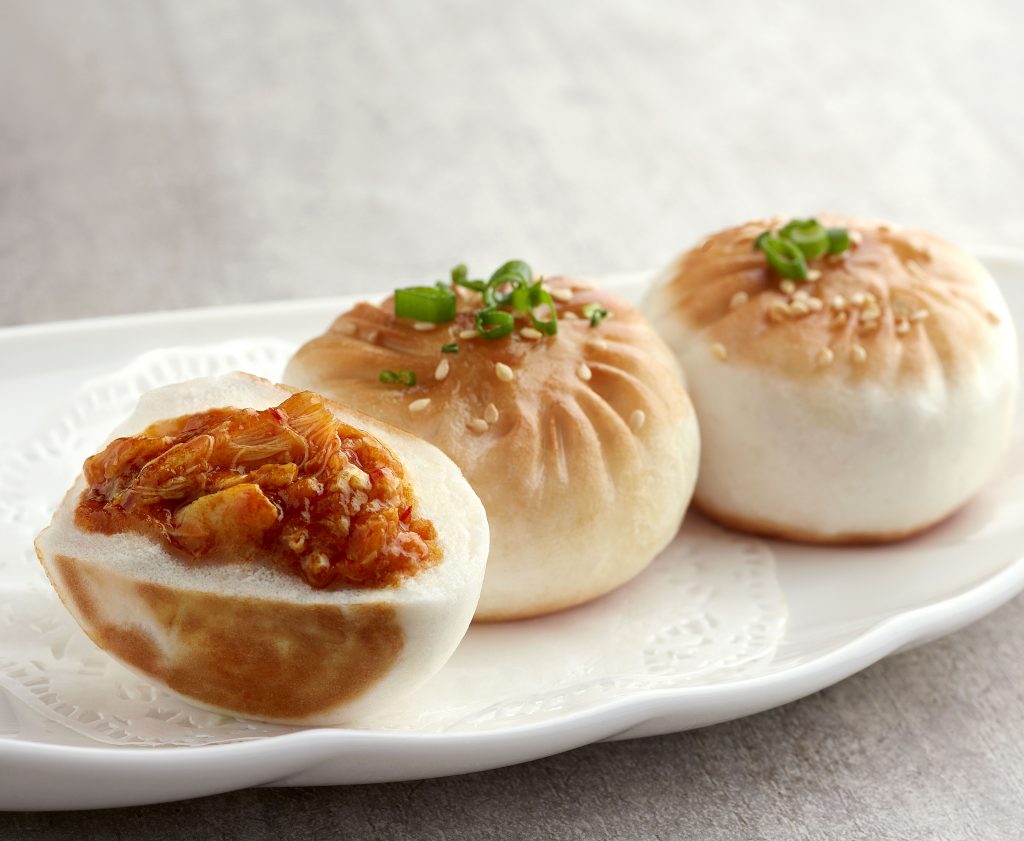 Pan Fried JUMBO Chilli Crab Buns 珍宝辣椒蟹肉生煎包 & Lotus Root Puffs 荷塘莲藕酥 (Left to right)
Available from 31 August 2020, the Dim Sum Afternoon Tea Set is specially curated for two pax. The two-tiered treat comes with the well-loved Pan-Fried JUMBO Chilli Crab Buns 珍宝辣椒蟹肉生煎包, a popular dim sum rendition of JUMBO Seafood's Award-Winning Chilli Crab dish. The chewy steamed bun filled with sweet and spicy chilli crab meat and gravy is pan-fried to achieve golden crisp edges for added crunch and flavour. Other notable dim sum include a series of newly-created items – the plump Lotus Root Puffs 荷塘莲藕酥; a savoury snack comprising shredded lotus roots, cured ham and shrimp, the Molten Salted Egg Lava Mochi 南瓜粿 (流沙咸蛋馅); a deep-fried pumpkin-shaped mochi dumpling that hides a melt-in-your-mouth molten salted egg lava, and the Black Sesame Cake 养生芝麻糕; chewy and nutty fragrant black sesame mochi is steamed and thereafter pan-fried for a mild crispy exterior.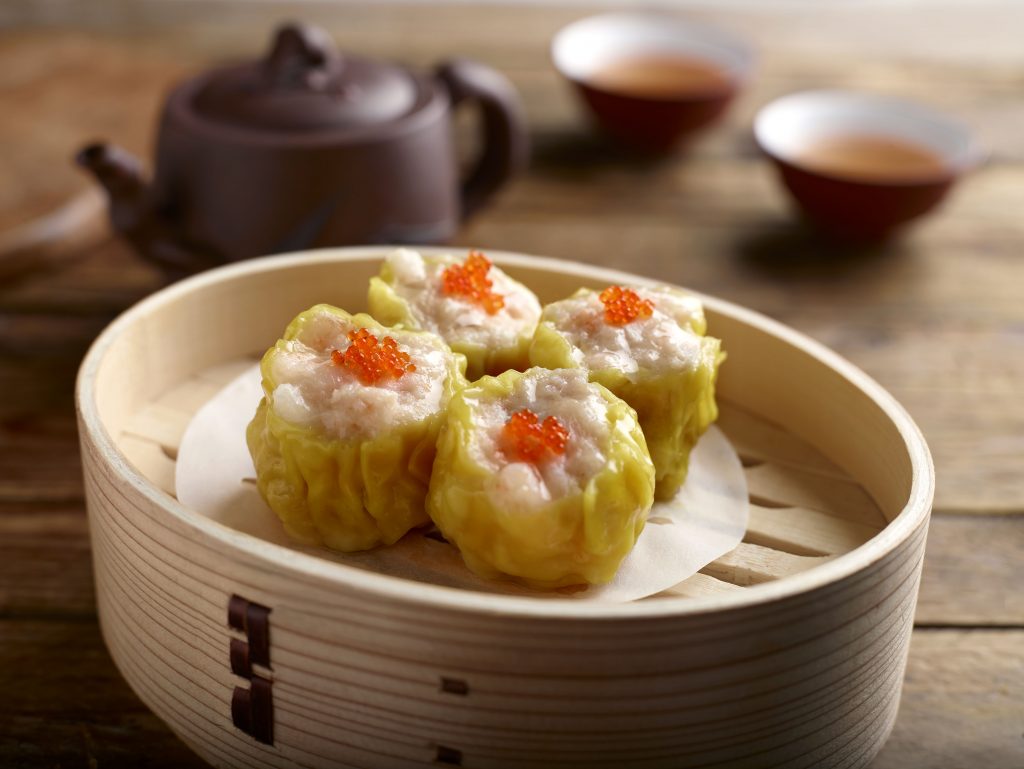 Served on the side in the bamboo steamer are crowd-favorites such as JUMBO 'Siew Mai' (Prawn and Pork Dumplings) 珍宝烧卖; where juicy and succulent prawn and minced pork bits are topped with Tobiko ('Flying Fish Roe') in an open-faced flavourful dumpling,and Steamed Prawns and Spinach Dumplings 鲜虾菠菜饺; where crunchy blanched spinach paired with chunks of fresh shrimps are wrapped within delicate, glass-like translucent dumpling skin.
Sweet Yam Paste with Salted Egg Yolk Puff 至尊天鹅酥
Capturing the gastronomic hearts of the sweet-toothed are JUMBO Seafood's Baked Orange Egg Tarts 橙香蛋挞; where a subtle hint of zesty orange marmalade is incorporated into a smooth, silky egg custard, which then fill the light and buttery pastry crust, and the swan-shaped Sweet Yam Paste with Salted Egg Yolk Puff 至尊天鹅酥; a delicate and graceful work of artwhich presents a surprising sweet-salty filling within a crispy, pastry puff that crumbles upon each bite.
End the enticing afternoon tea set with a refreshing dessert, Chilled Lime Jelly with Mixed Fruits 鲜果青柠冻; ai-yu jelly mixed with strawberries and jackfruit topped with lime juice and shaved ice. Diners get to enjoy each afternoon tea set with an aromatic pot of Floral Tea 花茶, accompanied by a choice of Floral Teas: Oriental Beauty with Wolfberries 东方美人– a fragrant blend of jasmine and chrysanthemum flowers combined with the sweetness of wolfberries, and Springtime Blossoms 步步高升; delicate green tea leaves are infused with the fragrance of chrysanthemum and peony.
The Dim Sum Afternoon Tea Set will be available exclusively at JUMBO Seafood (ION Orchard) from 2pm-5.30pm (last order at 4.45pm) daily (excluding public holidays) for dine in.
JUMBO Rewards Members' Exclusive Promotions
JUMBO Rewards Members can enjoy 50% off 2nd purchase of Dim Sum Afternoon Tea Set from 31 August 2020 to 30 October 2020. Non-members can sign up as JUMBO Rewards Members at https://jumbogroup.sg/jumbo-rewards to enjoy this promotion.
Exclusive Champagne Promotion
Enjoy an exclusive Moët & Chandon Champagne Promotion with your order of Dim Sum Afternoon Tea Set. Have champagne-o'clock with the following add-ons:
Moët & Chandon, Imperial Brut NV – 750ML (U.P. $105)
JUMBO Rewards Members: $78++
Non-Members: $88++
Moët & Chandon, Imperial Brut NV – 375ML (U.P. $60)
JUMBO Rewards Members: $48++
Non-Members: $55++
Promotion is only available with the purchase of Dim Sum Afternoon Tea Set