En Dining, well-known for its quality Japanese all-you-can-eat a la carte buffet, has opened at Capital Tower, right in the heart of the CBD. Offering a huge variety that spans the restaurant's popular a la carte items in the categories of Sashimi, Maki, Sushi, Appetisers, Salad, StirFried, Deep-Fried, Rice, Noodles, Hotpot, Desserts and even a special Okinawa section featuring signatures from the prefecture, En Dining is the destination to enjoy a value-for-money meal that satisfies cravings and wanderlusts all at once, especially given the current times.
The buffet is affordably priced at $58++ per adult and $28++ per child (5 to 10 years old; free for child below 5 years old), and available for Dinner from 5.30pm to 10pm (last order 9.30pm) from Monday to Saturday, and Lunch from 11am to 3pm (last order 2.30pm) on Saturday. The restaurant is closed on Sunday and public holidays. A la carte lunch and dinner options are also available, alongside well-priced lunch sets. Reservations are highly recommended via phone at 6423 0110.
This outlet marks the return of En Dining to the Singapore market after a hiatus, and in particular, due to many requests from its regular customers. The brand currently has presence in the heart of Jakarta with two outlets located in Plaza Indonesia and Senayan City.
A la Carte Buffet Menu Highlights
Hotpot
The Shabu Shabu offerings are definitely a hot favourite in this category – with a choice of Iberico Pork Belly (100g), Premium Beef (100g) and Assorted Vegetables.
Okinawa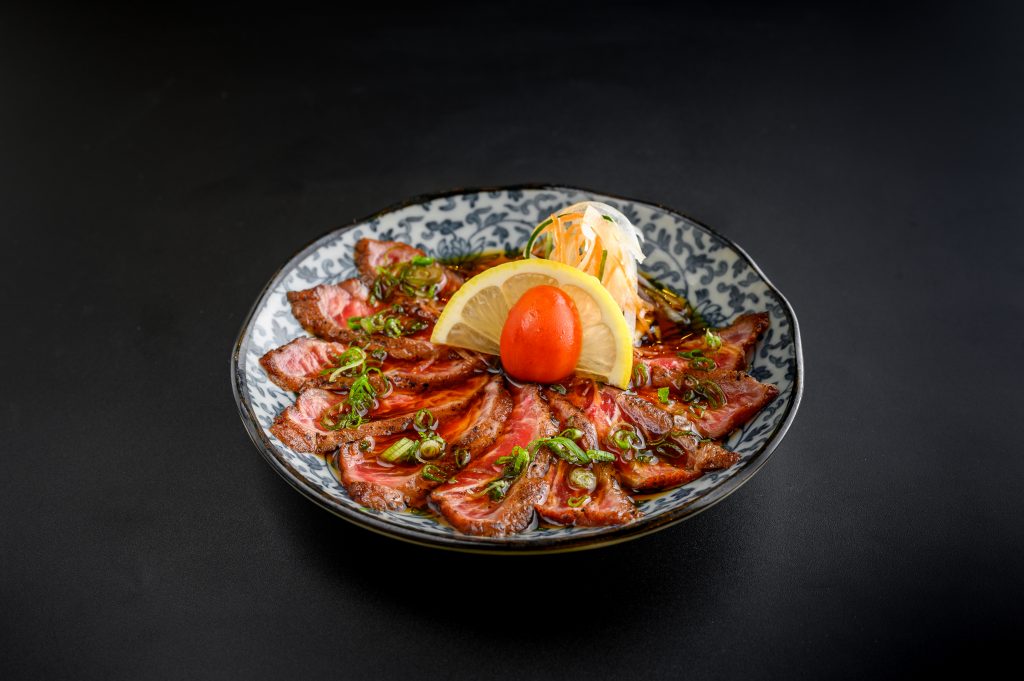 Those yearning for a holiday in this sunny prefecture will at least have their food cravings satiated with a delicious selection of signature Okinawan fare – Moyashi Champuru – Traditional Okinawa-Style Pan Fried Beansprouts with Pork; Goya Champuru – Traditional Okinawa-Style Pan Fried Bittergoud with Pork; Negi Chashu – Traditional Okinawa-Style Braised Cha Shu with Leek & Spring Onion; and Beef Truffle Carpaccio – Thinly Sliced Sirloin Drizzled with Citrus Soy Sauce (above).
Sashimi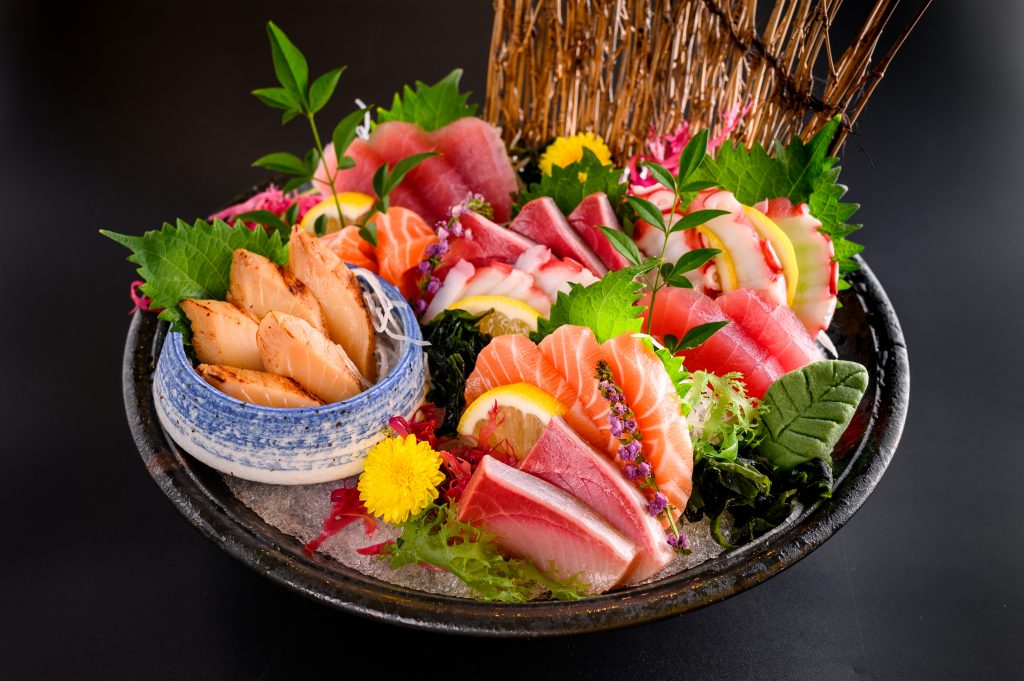 Guests may choose from Salmon; Mekajiki (swordfish); Tako (octopus); Tuna and White Tuna.
Maki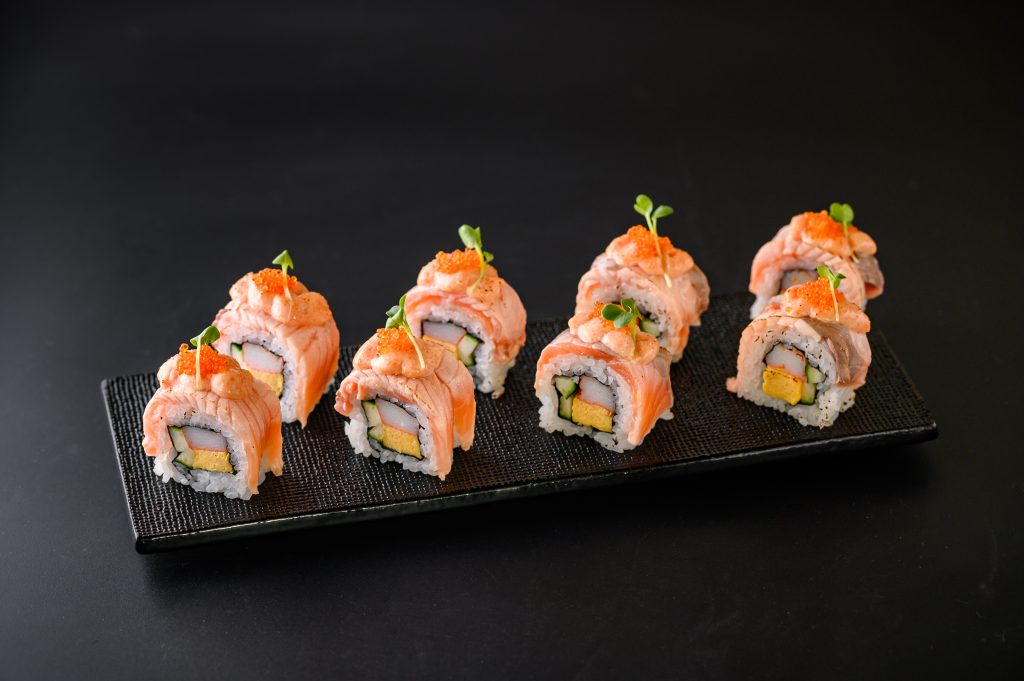 Always a hit, the Rainbow Maki finds mixed rolls containing tuna, prawn, snapper, salmon, crabstick as well as black and orange flying fish roe, while another favourite the Avocado Maki is packed with crabstick, egg and cucumber, then topped with avocado slices as well as flying fish roe. Other must-tries include Ebi Fry Roll – Breaded Prawn & Cucumber with Mayonnaise, topped with Flying Fish Roll; Samurai Unagi Cream Cheese Maki – Grilled Eel, Cream Cheese, Cucumber, Egg & Burdock with Unagi Sauce; and Salmon Mentaiko Maki – Lightly Torched Salmon & Flying Fish Roe with Mentaiko Cheese Sauce (above), among others.
Sushi
The freshest catch is available – Salmon, Tuna, Mekajiki (swordfish),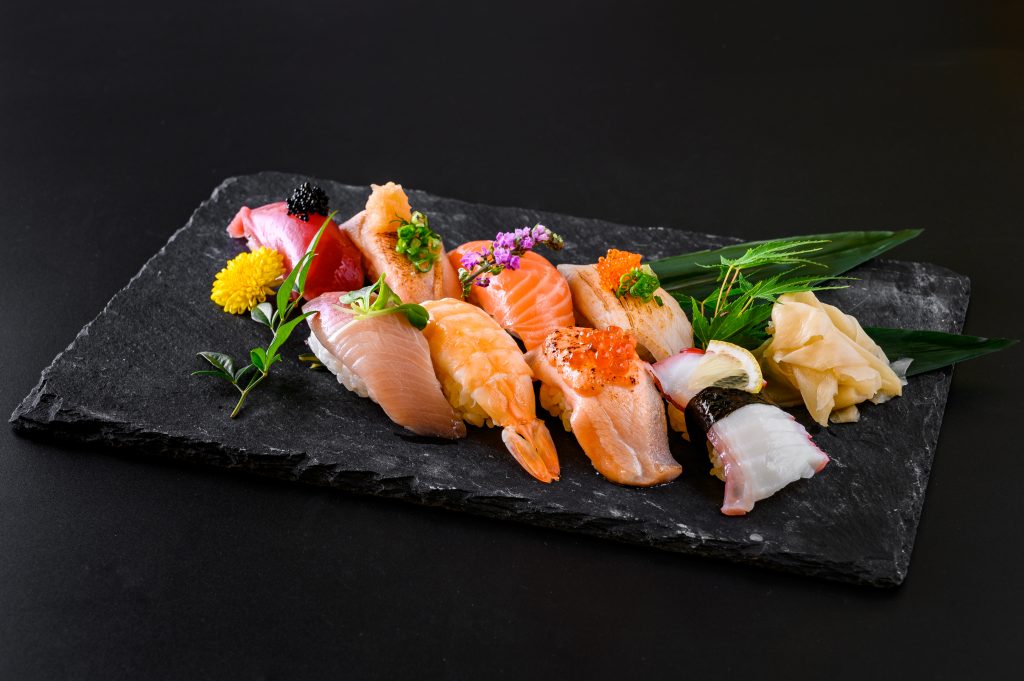 Ebi (shrimp), Unagi (eel), Tako (octopus) and White Tuna – alongside Tamago (egg).
Appetisers and Salad
Great to accompany alcoholic drinks are En Dining's selection of nibble-worthy appetisers such as
Renkon Chips – Deep Fried Lotus Root Chips; Three Kinds Chuka Chinmi – Seasoned Baby Octopus, Jellyfish & Scallop; Maguro Yukke – Seasoned Korean-Style Raw Tuna with Quail Egg; and Asari Sakamushi – Japanese Clams Steamed with Sake & Butter, among others. A refreshing addition to the meal could be Buta Shabu Salad – Iberico Pork Belly Shabu Shabu with Mixed Greens & Homemade Sesame Dressing; or Tomato Avocado Salad – Cherry Tomatoes & Avocado with Mixed Greens & Sweet Dressing.
Stir-Fried and Deep-Fried
Must-tries include Saikoro Beef – Pan-Fried Striploin Beef Cubes with Japanese Sauce (left); Buta Kimchi – Kimchi Flavoured Sautéed Iberico Pork Belly Slices; Mentaiko Cheese Gyoza Pan-Fried Dumplings with Mentaiko Cheese; Tori Nanban – Deep Fried Chicken Thigh with Homemade Tartar Sauce; Ebi Tempura – 3 pcs Prawn Tempura; and Chicken Wings – 3 pcs Japanese Style Deep Fried Chicken Wings.
Rice and Noodles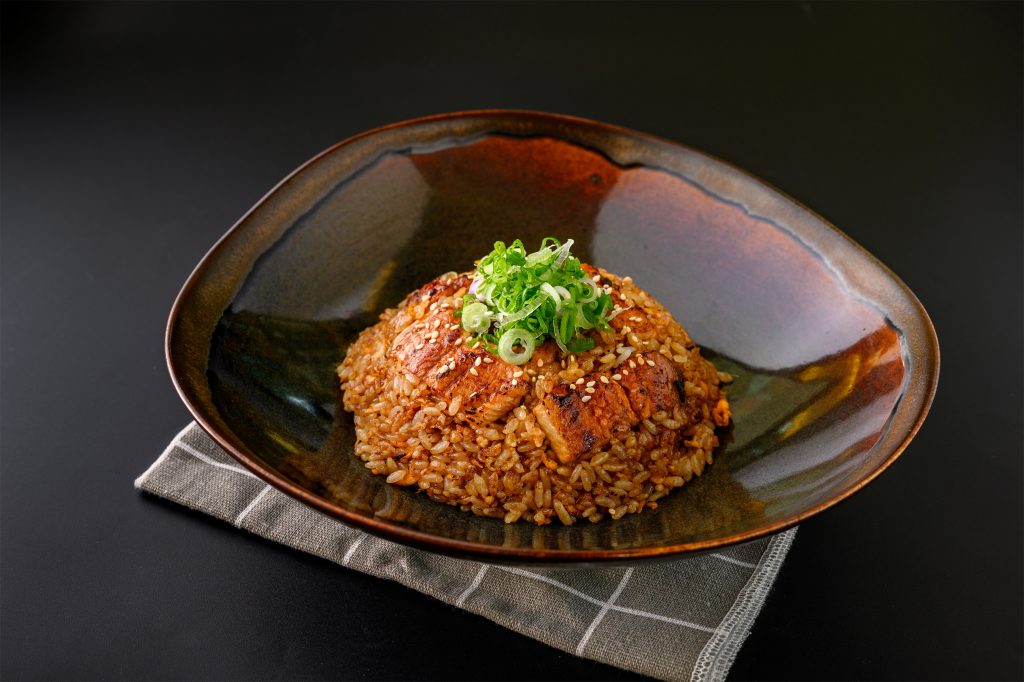 Satisfying options include Unagi Fried Rice – Fried Rice with Grilled Eel (right); Beef Garlic Fried Rice – Fried Rice with Premium Beef & Garlic; Kani Fried Rice – Fried Rice with Hokkaido Snow Crab; Mentaiko Spaghetti – Pan-Fried Spaghetti in Codfish Roe Sauce and Shin Shu Soba – Shin Shu Cold Buckwheat Noodles.
Desserts
Häagen-Dazs Vanilla or Matcha Ice Cream make a simple and sweet ending.
Other Lunch and Dinner Options
Great value lunch sets starting from $14++ are the highlight as they provide a fulfilling meal that is easy on the pocket as well. Diners can choose from a variety that includes Saba Shio Yaki Set ($14++); Premium Beef Katsu Set ($25++); Hokkaido Mixed Fry Set ($20++); Wagyu Hamburg Nikomi Set ($22++); Kaisen Chirashi Don Set ($25++); and the splurge-worthy Miyazaki Wagyu Yakiniku Jyu Set – Japan No. 1 Miyazaki Wagyu and Foie Gras with Onsen Egg on Rice ($33++, above). An ample selection of a la carte options are also available for both meal times, and a particularly noteworthy dish is the Miyazaki Wagyu Ramen ($19++) – Salt-Based Beef Bone Broth with Slices of Japan's Number One Miyazaki Wagyu.
Drinks
An extensive list of alcoholic and non-alcoholic drinks is available to go with the meal. Classic Japanese favourites include Highball (from $8.80++), Shiquasa Sour ($9.80++), Oolong Hai ($8.80++) and Calpis Sour ($8.80++). Japanese whiskey, sake, umeshu and sochu are also offered, along with mocktails, soft drinks, Japanese tea and juices.
EN DINING
Capital Tower, 168 Robinson Road, #01-10, Singapore 068912
Reservations: (65) 6423 0110