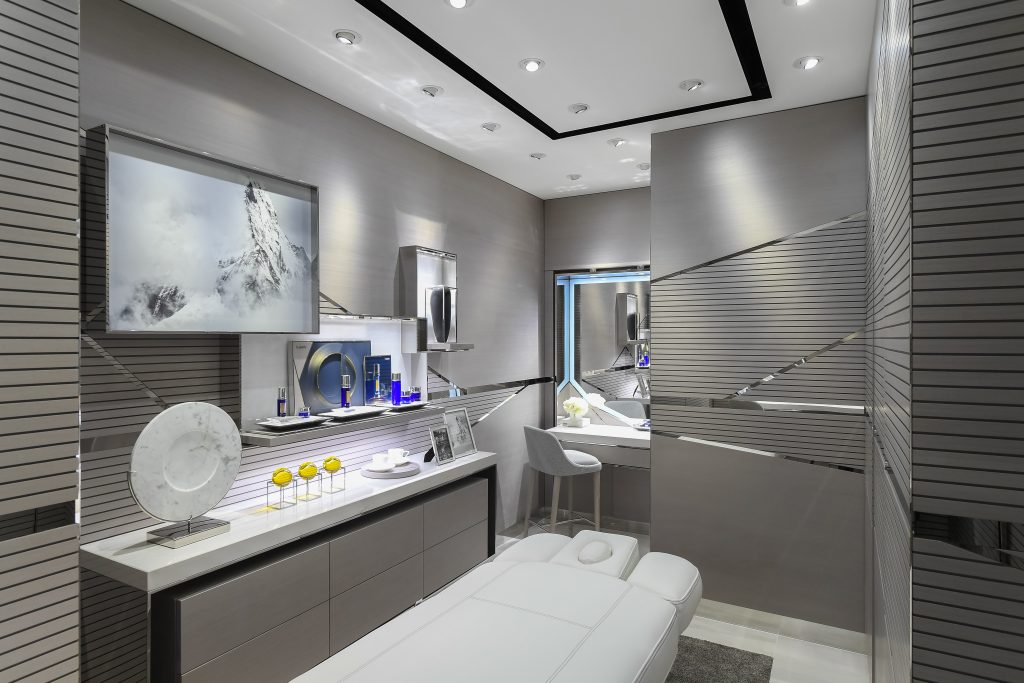 La Prairie unveils its first "Art of Beauty Lounge" in Singapore, located in the heart of the city's main shopping belt at Tangs Orchard. The luxurious lounge is meticulously designed – inspired by the authentic, sophisticated elegance of Swiss Contemporary Architecture and perfectly embodies La Prairie's long-standing quest for timeless beauty. The beauty lounge is a haven of pristine elegance that offers an intimate consultation space and two private facial cabin to create a fluid and seamless customer journey.
The spaces we inhabit are important; they impact our state-of-mind, our outlook, our attitude. In today's busy world, calm and welcoming spaces can act as a soothing balm, instilling in us a sense of serenity.
This important insight has been fused into La Prairie's new store design. With a nod to the luxury skincare brand's Swiss heritage, the design incorporates the clean, pure aesthetic of Swiss Contemporary Architecture, creating beautiful environments in which to pause, peruse and feel pampered.
These elements have been actualised through the use of precious, natural materials and details which reflect the brand's Swissness. Fine crystal, sleek steel and delicate paper have been used to craft sculptures placed throughout the stores and offer a clear vision of  an uncompromised unity with the natural world.
La Prairie's new visual merchandising aesthetic integrates the school of Land Art, a conceptual approach rooted in nature itself. Using wood and mineral elements, natural and noble materials, it celebrates the vitality and beauty of nature while demonstrating a deep respect for it.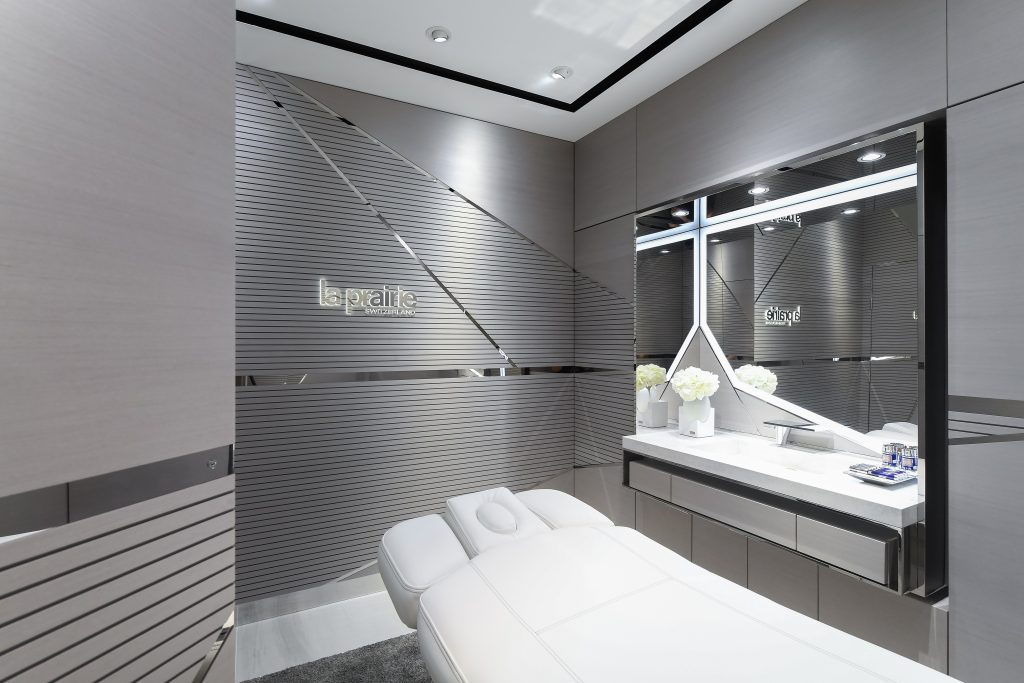 To illustrate the snow and minerality that dusts Switzerland's mountains, La Prairie has worked with leading craftspeople to create sculptures fashioned from the whitest stone. The varying shapes of the stone pieces – some are circular while others are angular – create tension between smoothness and roughness. Some pieces are integrated into the wall, others rest on tabletops, further highlighting the tension. All are cut with precision – a metaphor for the nature of Swissness: a mix of the raw and the refined. This three-dimensional artistic interpretation draws on the philosophy behind the school of Land Art, which takes materials from the natural world and reimagines them into pieces of art, using the land itself to form dazzling objects. In addition to these artistic inspirations, the design of the space takes visual cues from the pure, minimal lines of contemporary Swiss architects such as Peter Zumthor. As an interpretation of La Prairie's precious ingredients, some of the stores' sculptures are intended to represent the multi-faceted beauty of platinum or the audaciousness of caviar.
At La Prairie, every facial treatment is an indulgent treat, one that will leave your skin glowing and your mind, relaxed. Every treatment is 90-min long and the list of treatments available cater to a myriad of skincare concerns like firming, anti-ageing and rejuvenation.
Skin Caviar Lifting & Firming Facial ($520) is a combination of elegance and efficacy. Harnessing the power of La Prairie's Skin Caviar collection, this facial provides the skin with hydration and essential nutrients, leaving the face firmed, toned, and silky soft.
Platinum Rare Haute Rejuvenation Facial ($890) is a luxurious treatment using La Prairie's high-performance Platinum Collection. This ultra-luxe treatment begins with a relaxing back massage and features an exclusive facial for instant revitalization.
Pure Gold Radiance Facial ($600) is La Prairie's gold standard for anti-ageing. The pure golden drops of Cellular Radiance Concentrate Pure Gold serum visibly revitalizes and perfects the skin, making the skin look smoother, radiant and vibrantly alive.
Discover La Prairie's Art of Beauty Lounge at TANGS at Tang Plaza Level 1, 310 Orchard Road