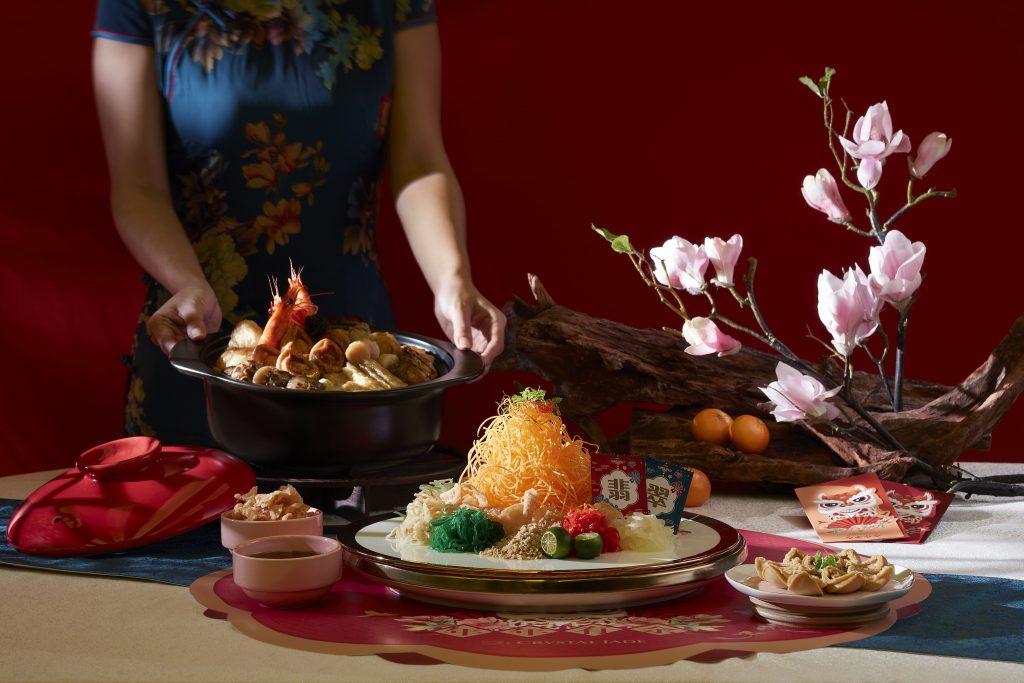 Crystal Jade looks to lift spirits and nourish souls with its quality and the extensive festive line-up that has been thoughtfully-curated to suit all reunions – from convivial family gatherings to cosy intimate affairs.
Crafted by Group Executive Chef Martin Foo and his fine team of chefs, the 2021 Lunar New Year selection encompasses new exquisite dishes for dine-in at Crystal Jade's lauded portfolio of restaurants, tantalising and varied set menus catered for small to larger groups, as well as convenient takeaway specialities; a notable addition this year is a special takeaway set menu for five packed in a beautiful customised gift box made for gifting or personal enjoyment.
Chinese New Year dining at Crystal Jade restaurants* will commence from 25 Jan 2021 (select outlets will be closed on 12 Feb 2021 – CNY Day 1) and set menus for up to five persons are available. Reservations can be made online via https://inline.app/booking/cj from 1 Dec 2020.
Festive takeaway goodies can be pre-ordered online at estore.crystaljade.com and outlets from 7 Dec 2020 to 28 Feb 2021, and available for collection at outlets from 25 Jan 2021.
Season of Wealth Golden Scallop Yusheng 金牛四季五谷庆
$168 for large | $108 for small
Backed by popular demand, Group Executive Chef Foo has conjured another wholesome and healthful 'yusheng' as the rendition last year was extremely well-received.
Toss to a brighter and better year with ingredients the likes of red dragonfruit and watermelon cubes, pomelo, burdock, quinoa, cherry tomatoes, pickled cucumbers, crispy rice and walnuts among others, with deep fried yam strips and Hsin Chu bee hoon as the final flourish.
Ikura or salmon roe and sweet scallop slices that are briefly torched crown this delightful ensemble that is paired with an olive oil-based dressing with flower blossom syrup and plum sauce.
Available at Crystal Jade Palace, Crystal Jade Golden Palace and Crystal Jade Dining IN for dine-in and takeaway from 25 Jan 2021. Available online from 7 Dec 2020 – 23 Feb 2021
CNY SPECIAL TAKE-HOME SET MENU 新春外卖套餐| $268 for 5 persons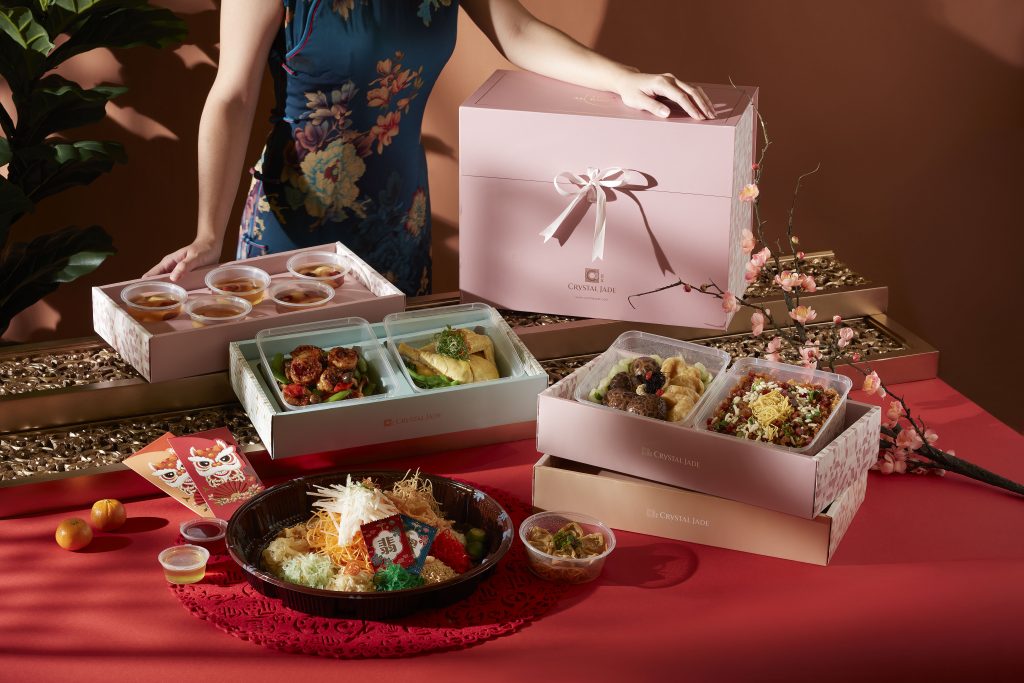 Given that more customers may like to dine at home this festive season, Crystal Jade has a scrumptious set menu for five in a lovely elegant gift box for takeaway. Available for ordering on the estore as well as at Crystal Jade Hong Kong Kitchen, Crystal Jade La Mian Xiao Long Bao and Crystal Jade Jiang Nan outlets, the sumptuous set consists of six winsome dishes ranging from starter to dessert.
These include Reunion yusheng with abalone 金牛贺春团圆鲍鱼捞起, Sautéed tiger prawn with shimeiji mushroom in superior chilli sauce 极酱翡翠灵芝菇炒老虎虾球, Braised fish tofu with shiitake mushroom and black moss in oyster sauce 发财蚝皇花菇扣鱼腐 and Fried glutinous rice and crispy rice with Chinese sausage 生炒腊味鸳鸯糯米饭 among others.
For more information on outlet locations, please log on to www.crystaljade.com
.