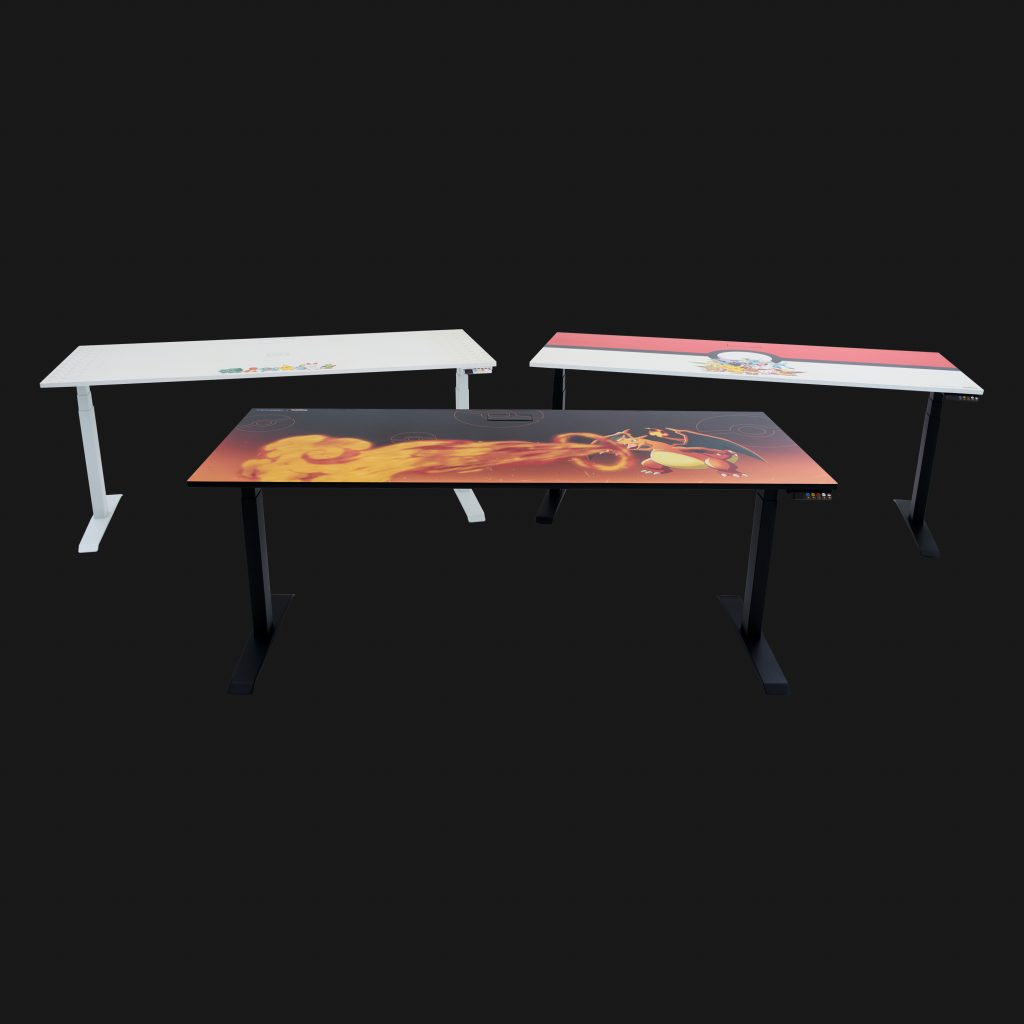 Home-grown, standing desk company Omnidesk is launching a series of Pokémon desks. The Pokémon Desks by Omnidesk are the latest additions to OMNIDESK™ PRO 2020, the company's flagship premium electric standing desk series.
First launched and available from 11th December in Singapore, the Pokémon collection by Omnidesk offers three statement-making ergonomic desk models to equip aspiring
Pokémon trainers, popular culture enthusiasts, and working professionals. "The Pokémon Collection by Omnidesk brings together some of the world's best-loved Pokémon with our line of Omnidesk Products. "This is the start of more exciting announcements to come, and we look forward to presenting more trend-setting products to customers in Singapore and the region," said Benjamin Huang, Omnidesk's Managing Director.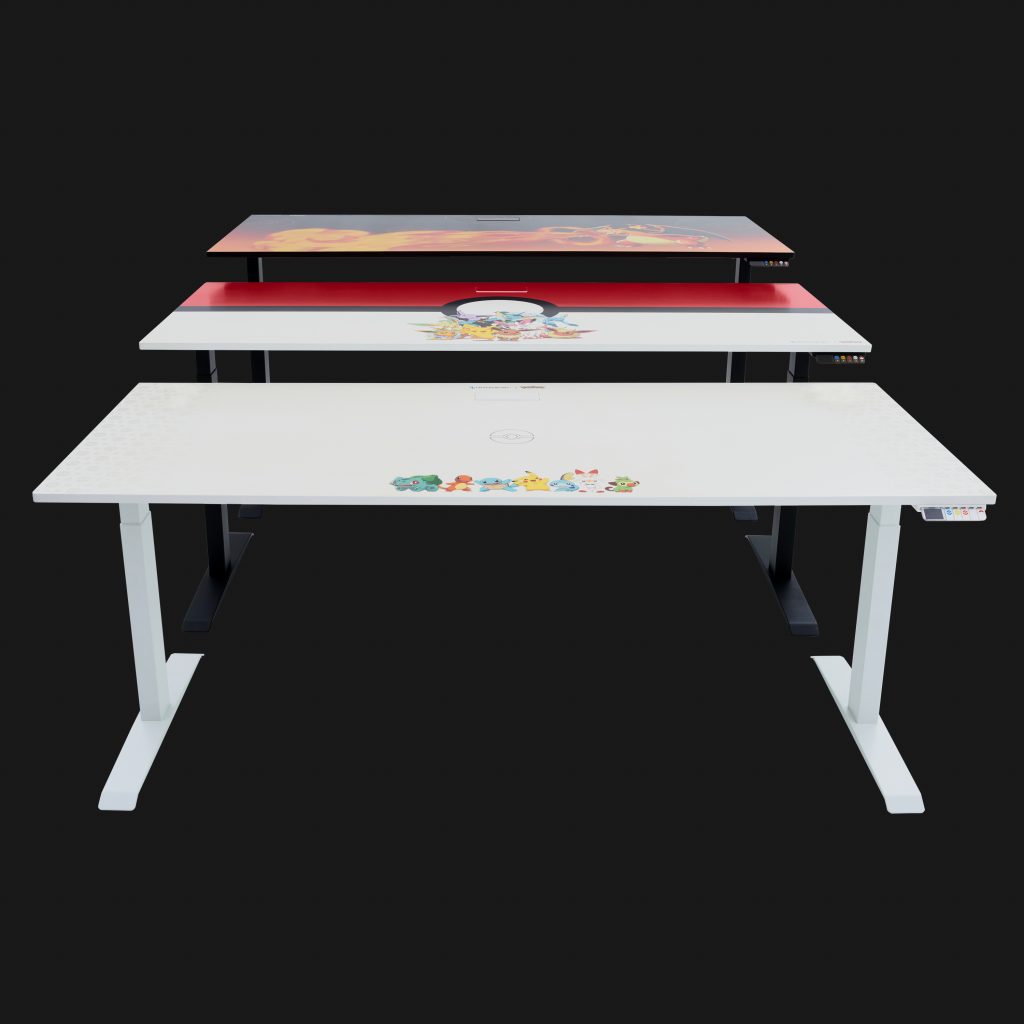 The release of this collection aligns with Omnidesk's strategy to expand its offerings of innovative products that cater to contemporary workspaces and home offices alike. "We are seeing a sharp increase in sales, and expect this to continue, as more companies allow their staff to work from home in the future. Even those who are back in their offices are starting to realise the importance of ergonomics on workplace performance," added Benjamin.
The OMNIDESK™ PRO 2020 – the Pokémon Desks by Omnidesk
Injecting a sense of adventure and camaraderie into your workspace, the Pokémon Desks by Omnidesk blends stylish aesthetics with top-of-the-line customisable functionality. Each desk comes with meticulously-crafted designs, from the table-top to its accessories.
The Evolution
Striking yet classic, the Pokémon Evolution table showcases the iconic Pikachu, as well as the well-loved Eevee and its eight evolutions on a red and white, Poké Ball-inspired table-top design. Poké Ball motifs decorate the desk's black legs and Cable Management Bar.          
The Classic
Wave a warm welcome to Pikachu and the starter Pokémon from the Kanto and Galar region on the elegantly classyClassic. The pure white tabletop, desk legs and Cable Management Bar are lightly adorned with Poké Ball motifs in light grey. 
The Icon 
Pay homage to everyone's favourite fire-type Pokémon, Charizard! The Icon desk brings to life the majestic power of the evolved form of Charmander, one of the first starter Pokémon. Shades of vibrant orange and black make this desk an instant centerpiece in any home office or workplace, while the Poké Ball motifs on the black desk legs exude understated luxe with a touch of whimsy. 
 The OMNIDESK™ PRO 2020 Difference Omnidesk's flagship fully height adjustable desk allows you to transform the way you work or play. The OMNIDESK™ PRO 2020 is a fully modular and upgradeable electric desk platform that offers infinite possibilities. With choices of accessories, size, shape and finishes, you can create a customised setup and achieve your ideal position, whether you sit or stand. Key features of the OMNIDESK™ PRO include:
Signature table tops: Made from the highest grade MDF wood and engineered for the best standing desk experience, the bevelled edges of the desktop allows for maximum comfort when standing or leaning with forearms on the edge of the desk.
Ergonomics made easy: OMNIDESK™ PRO's console features smart memory programmable presets to save up to two favourite profiles. With a highly sensitive anti-collision mechanism and a child-lock feature, switch to your ideal sitting, standing or even bean bag table positions easily at a touch of a button.
Customisable and Future-proof: Electric motors allow you to raise or lower the desk to your exact preferences. The extendable frame fits multiple sizes table tops from 42" to 74", allowing for future upgrades for larger and new table tops. Accessories and options, including monitor arms, cable management tools, PC holders and speaker mount capabilities allow you to upgrade your OMNIDESK™ PRO 2020 just the way you like.
Price point & Launch Promo
Starting from $950 (Usual Price: $1000) for the entire Pokémon collection by Omnidesk. Each desk comes with a specially designed cable management bar and controller. The price is inclusive of GST, Free flat-pack delivery, and an extended 5 years warranty.
Check out these desks online at Omnidesk's official website and in person at its showroom. Orders placed before 15th December will be delivered before Christmas. Subsequent orders will be shipped after Christmas. 
Discover 2021 and embrace a new world of work (and play) with Omnidesk's fully customisable system. The Pokémon collection by Omnidesk will raise your productivity while improving your health, and possibly deepen friendships with fellow Pokémon lovers.
http://pokemon.theomnidesk.com