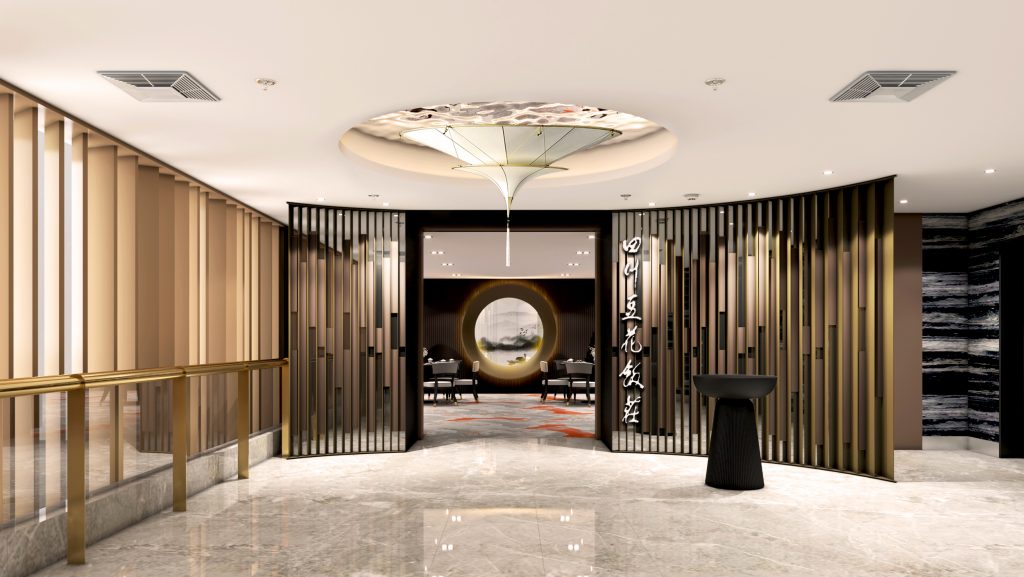 Si Chuan Dou Hua Restaurant at PARKROYAL on Kitchener Road as it reveals the first grand makeover under the helm of Executive Cantonese Master Chef Leung Wing Chung.
Guests will be delighted with a memorable selection of new Cantonese-style creations alongside comforting Sichuan favourites, and the familiar presence of a Tea Master who skillfully pours tea through a long-spout pot.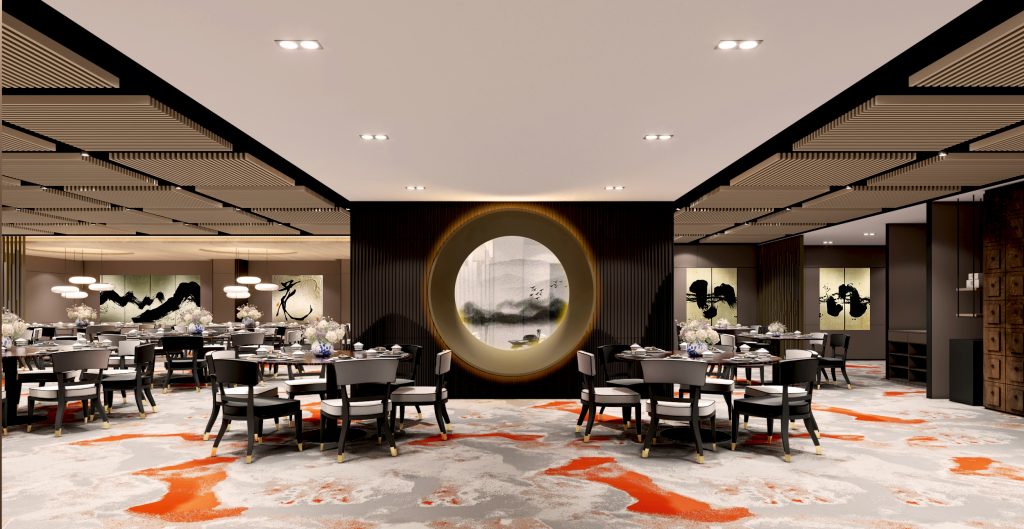 New A La Carte Dishes – an homage to heritage
Exotic Garden with Black Truffle in Osmanthus Sauce 养丰源捞生 (SGD98, 2-6 persons; SGD148, 7-12 persons)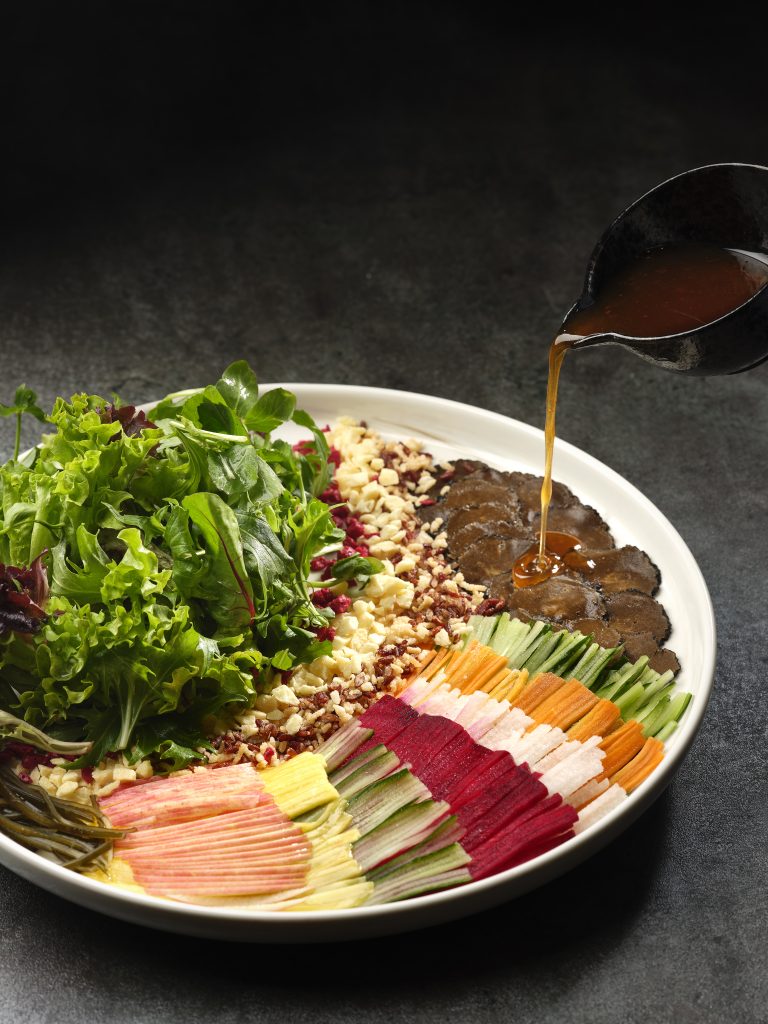 A dish with a story that is as colourful as its looks, this 'garden' was made popular as a lo hei must-have over the festive period. The dish is comprises white radish, carrot, cucumber, beetroot, mango, beansprouts, and salad greens – accompanied by a medley of truffle oil, black truffle sauce, osmanthus sauce, brown and white rice puffs, freeze dried pineapple as well as raspberry bits, cordyceps, black truffle, and the homemade crispy soybean crumbs. The last ingredient is Chef's pride and joy, made from the by-product of the restaurant's famed homemade beancurd. To commemorate its newfound home on the a la carte menu, Chef has jazzed up the presentation, serving it in a spinning ice bowl, complete with full gueridon (trolley) service.
Duet of Traditional Crispy Chicken stuffed with Glutinous Rice, Goose Liver and Waxed Meat 鸳鸯香酥糯米鸡 (SGD88, whole, good for 6-8 persons)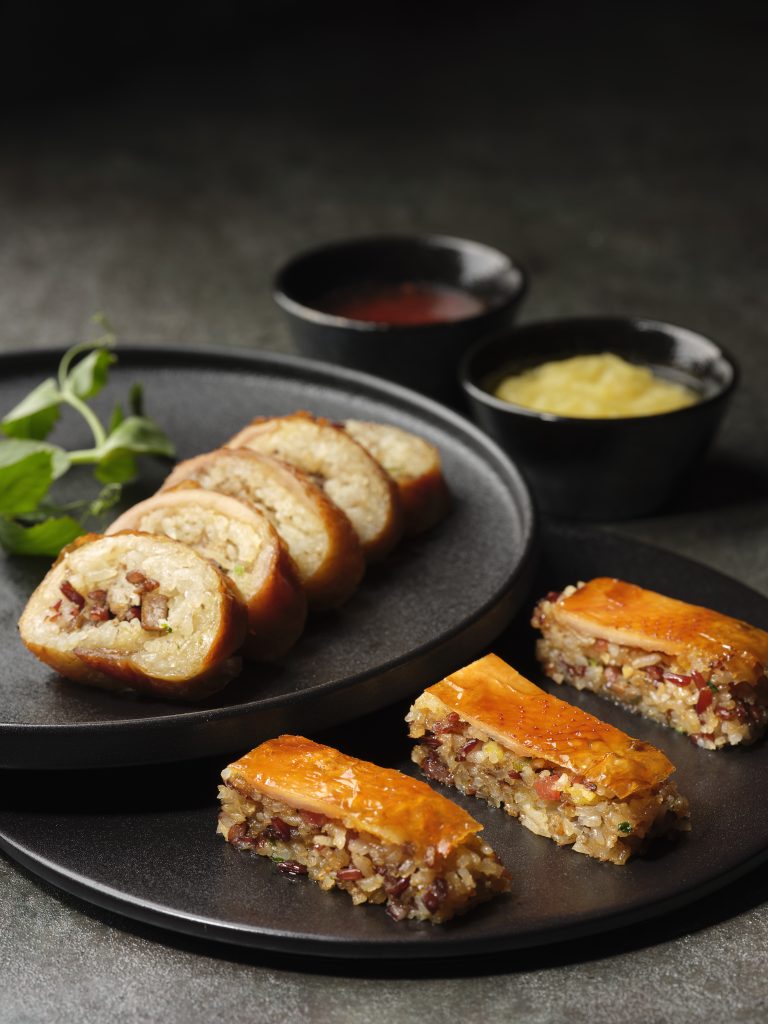 The 'roulade' is made by deboning a chicken and flattening it to leave only the skin and a wafer-thin layer of meat – itself an arduous process – then layering five core ingredients (glutinous rice, brown rice, pearl white rice, peanut and sweet corn), chicken, chicken liver and goose liver, before rolling, steaming, then air-drying for at least an hour. Complementing this rendition are neat parcels of the same five core ingredients and waxed meat – bringing to mind claypot rice. Here, the rice and meat mixture is compressed with chicken skin, then roasted. Both versions go beautifully with homemade pineapple puree and sweet-spicy sauce.
Steamed Eel with Pumpkin in Homemade Soya Bean Crumb with Dried Scallop, Sakura Shrimps and Prawn Roe Sauce 豆香金环蒸鳗鱼 (SGD22, good for 1 person)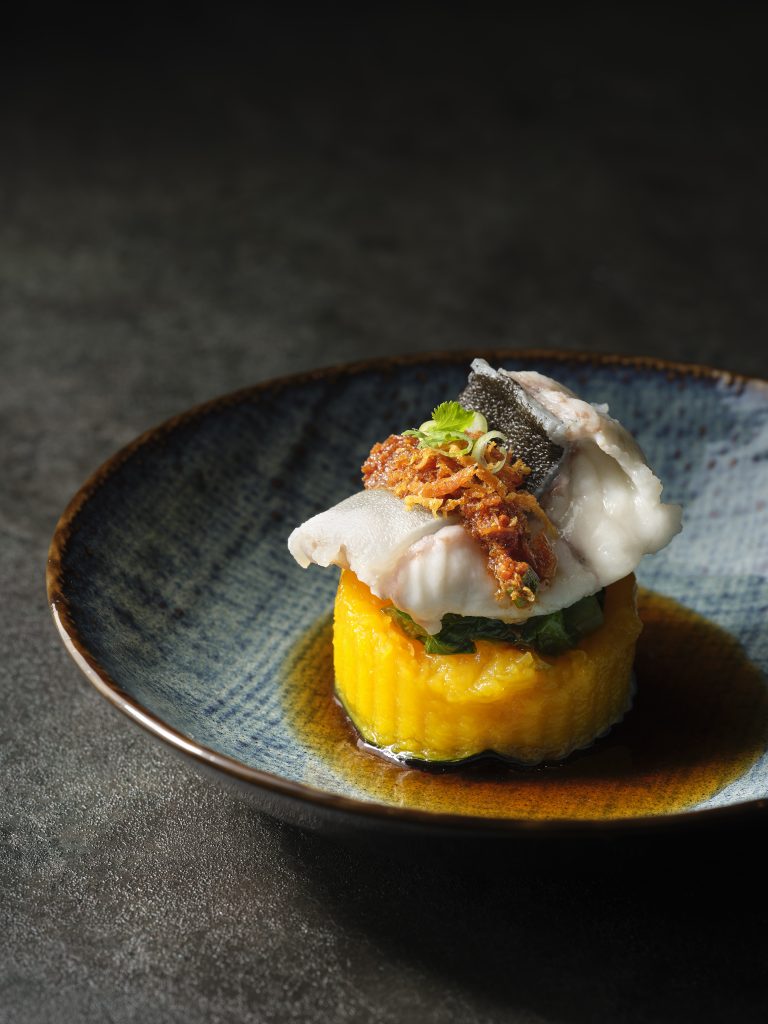 Opting for the uncommon eel for his version of a classic steamed fish, Chef ups the ante by perching it on top of a perfectly steamed pumpkin for a smooth texture dimension and pop of colour, and crowning it with a mix of homemade crispy soybean crumbs, conpoy, sakura ebi and ebiko (shrimp roe). The dish is then finished with superior soy sauce.
Crispy Brown Rice with Two-Head Abalone in Superior Stock 原粒鲍鱼五谷炸泡饭 (SGD78, good for 2-3 persons)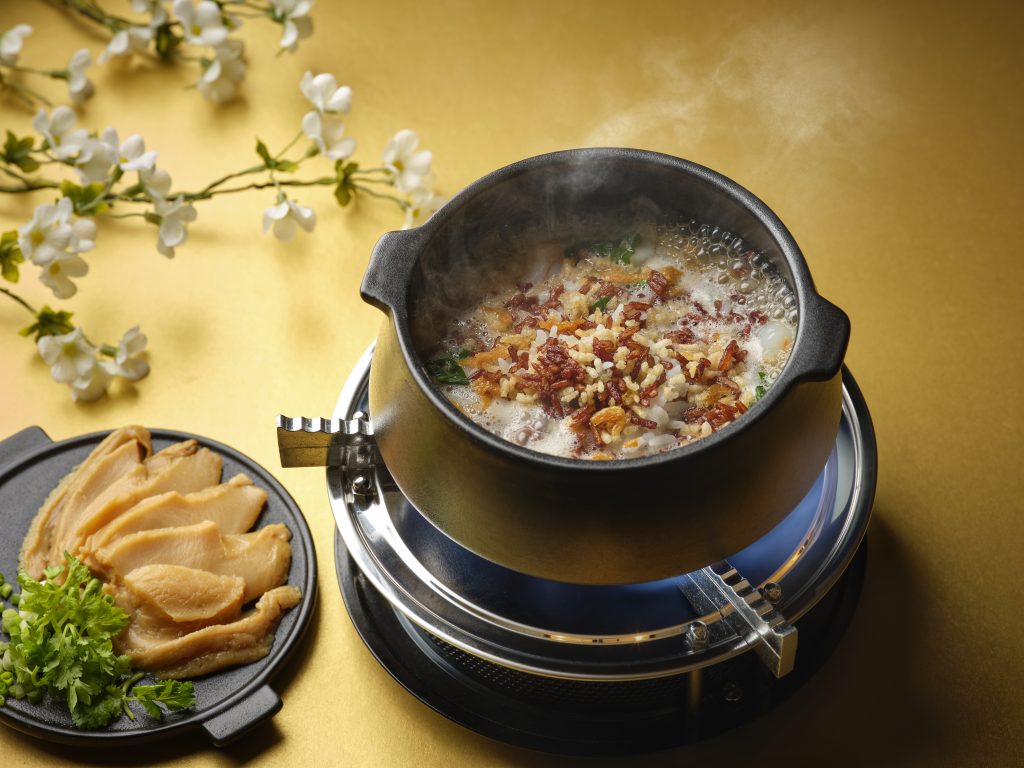 This lavish option finds a mix of brown, pearl and white rice puffs that sizzle once piping hot superior stock is poured over by staff at the table. Scallops, prawns, sakura ebi, conpoy, preserved vegetables, cooked white rice, coriander and spring onion are then added. This gratifying dish comes with slices of braised 2-head abalone.
Osmanthus Jelly with Almond 杏汁桂花糕 (SGD6.80, 3 pieces)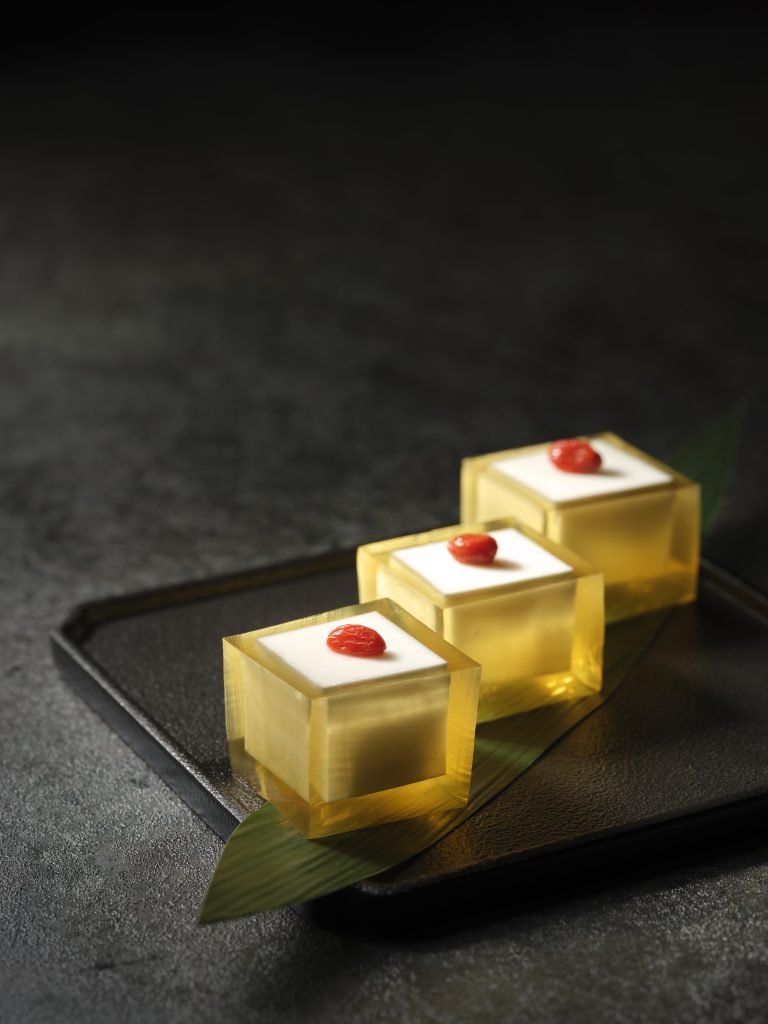 This exquisite looking dessert is an unexpected version of the popular almond beancurd, whereby it is encased within an osmanthus konnyaku jelly. An inspired take on the restaurant's classic is the Homemade Purple Rice Bean Curd with Red Bean 红豆紫米甜豆花 (SGD6.80, good for 1 person) that is a pretty-in-purple version made by steaming a mixture of soaked ground rice and soybean.
Nostalgic Dim Sum Feast
Tuesdays to Thursdays (Lunch) SGD46 per adult
Fridays to Sundays, and Public Holidays (Lunch) SGD52 per adult | Bundle offer at SGD188 for 4 adults
Minimum 2 to dine
From now until 31 January 2021
Up to 40 finely-crafted dim sum items, Chef's speciality premium dishes and desserts are available for one's dining pleasure. Highlights include Minced Fish Dumpling in Superior Stock 鱼汤饺子皇, Stir-fried "You Mai" Vegetable with Silver Fish and Garlic 银鱼金蒜油麦菜, Double-boiled Gingko Nuts, Beancurd Skin and Millet 黄 小米白果腐竹, Steamed Vegetarian Dumpling with Black Truffle 松露上素饺, "Siew Mai" with Diced Abalone 鲍鱼仔烧卖, and Steamed Chicken Feet with Beancurd Skin 枝竹蒸凤爪.