IKO, an all-new Mod-Jap restaurant and bar along the vibrant Neil Road. Officially opened on 22 April 2021, expect contemporary Japanese creations and mouth-watering Robata-grilled bites, as well as an exceptional collection of sake and Japanese-inspired cocktails, all accompanied by groovy music and good vibes.
IKO is an abbreviation for 'let's go' in Japanese, while its emordnilap (a word that becomes a different word when read backwards) refers to the word okinami (OKI), meaning 'offshore wave' – a nod to Japanese influence on the restaurant.
MOD-JAP CREATIONS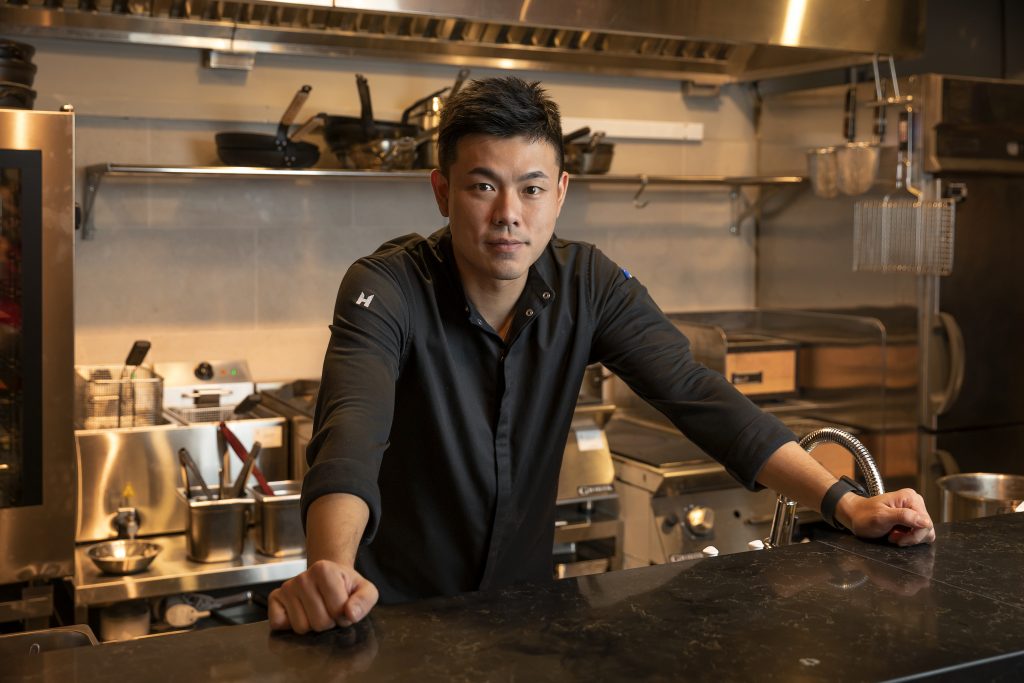 Singaporean Jeremmy Chiam, known for his signature European culinary flair and love for Japanese ingredients, helms the kitchen at IKO and has introduced a menu of trailblazing Mod-Jap creations. These beautiful dishes incorporate subtle hues of purple, pink and blue – a clever play on the brand colours.
The dinner menu is presented in six categories; Raw, Cold, Small, Robata, Rice and Noodles, and Sweet.
RAW
UNI ($28) is a gorgeous creation featuring a generous serving of purple cauliflower pudding. The vegetable is simmered in dashi broth on low heat to accentuate its natural nutty flavour, blitzed then combined cream. A layer of homemade dashi jelly made with a combination of kombu (kelp) and katsuobushi (bonito flakes) follows, topped with buttery bafun uni, making this dish a rich and gratifying pot of creamy goodness.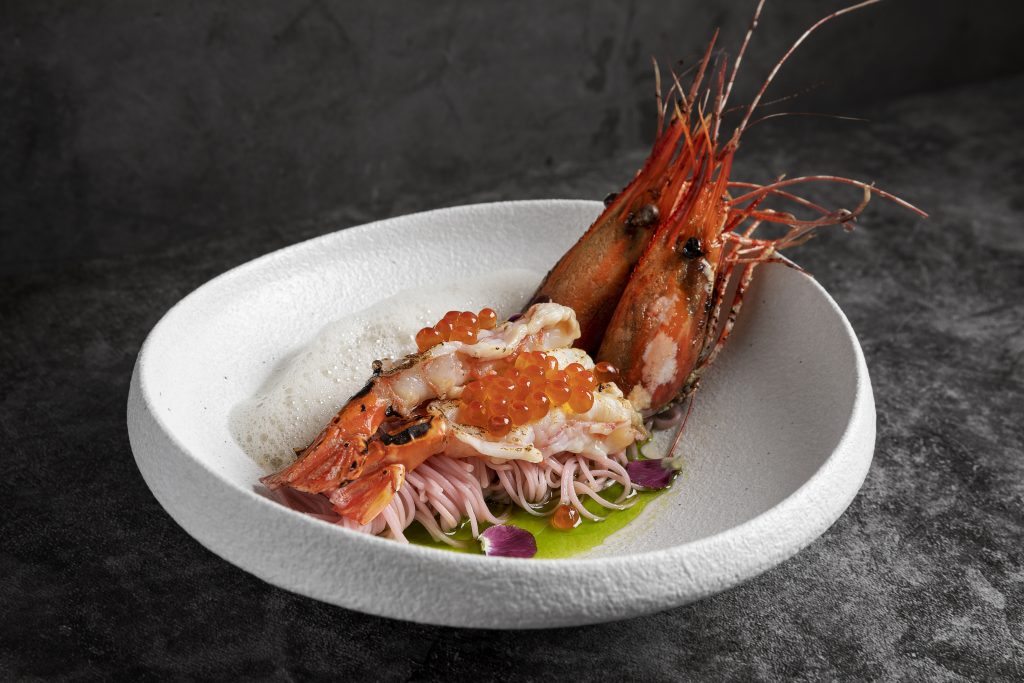 A dish that embodies the vivid colours of IKO is SOMEN ($29). Pink ume-infused Japanese noodle served in a light bisque foam; whole prawns are oven-roasted till caramelised, sautéed with mirepoix, dried Japanese scallops, dried shrimps and dried anchovies then simmered in stock for up to eight hours to create an aromatic base. The stunning dish is complete with green chive oil and shiso oil, two torched botan ebi, ikura, and purple viola flowers.
Another stellar choice is TAI "CRUDO" ($23) – fresh Tai (Japanese red snapper) is cured with salt and sugar, then served with a citrusy sauce made from ponzu, sudachi zest and shoyu. Aji amarillo paste (yellow pepper) is added for that extra punch, while shiso oil lends an herbaceous aroma.
SMALL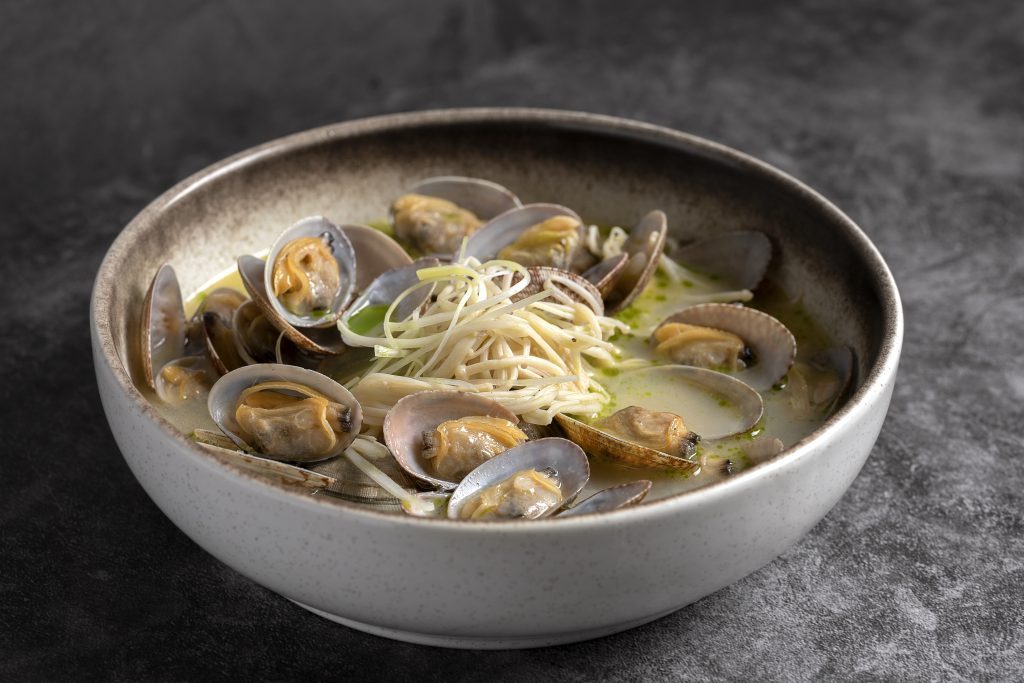 IKO's small plates exemplify simplicity at its best; every dish is meticulously prepared to accentuate the natural flavours of each ingredient. Favourites include EDAMAME ($8) – a savoury combination of torched edamame beans seasoned with sesame shoyu dressing and furikake, and ASARI ($18) a lip-smacking bowl of clams cooked in sake broth and dashi with enoki and butter.
ROBATA
The Robata section comprises prized seafood and meats that are chargrilled over binchotan; a traditional Japanese white charcoal that exudes high heat and requires deft skills on the grill to control.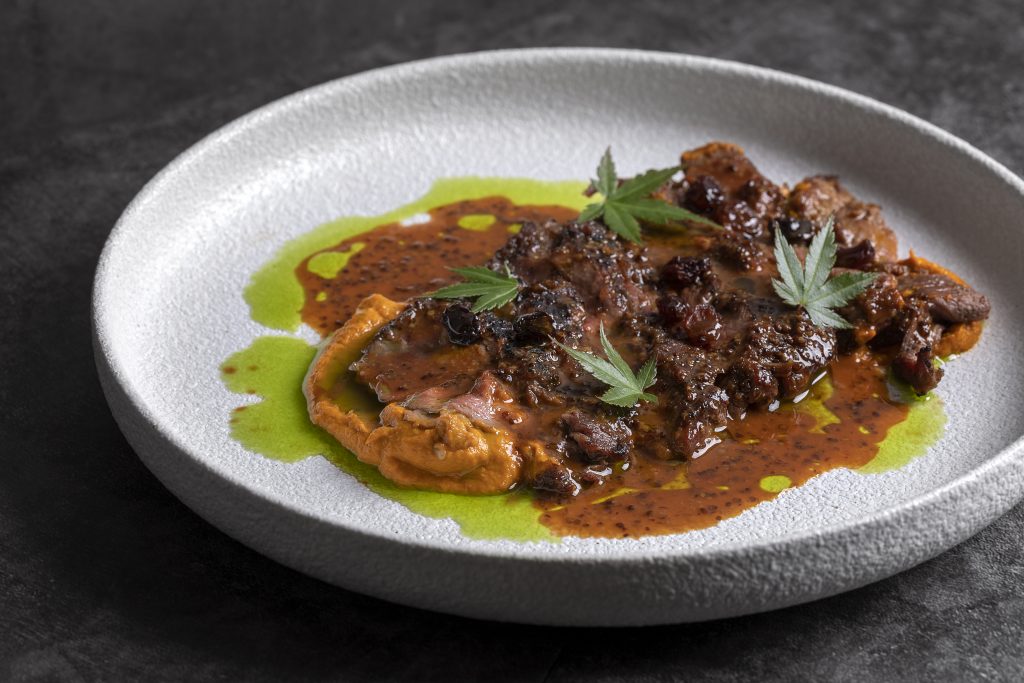 The IBERICO PLUMA ($36) is a glistening slab of pork loin served atop a bed of house-made carrot puree and raisin. Pluma refers to the special cut taken from the neck end of pork loin. The meat is grilled to a satisfying char, while retaining a tender and succulent interior. The fat rendered is reduced into a rich and flavoursome mustard jus, with a hint of heat to complement the prized cut.
Perfect for beef lovers, ANGUS SHORT RIBS ($38) features meat that is tenderised in kurozu black vinegar, then sous vide for up to 14 hours before resting in an ice bath. To serve, it is lightly charred on the Robata, then drizzled with port wine jus and garlic confit.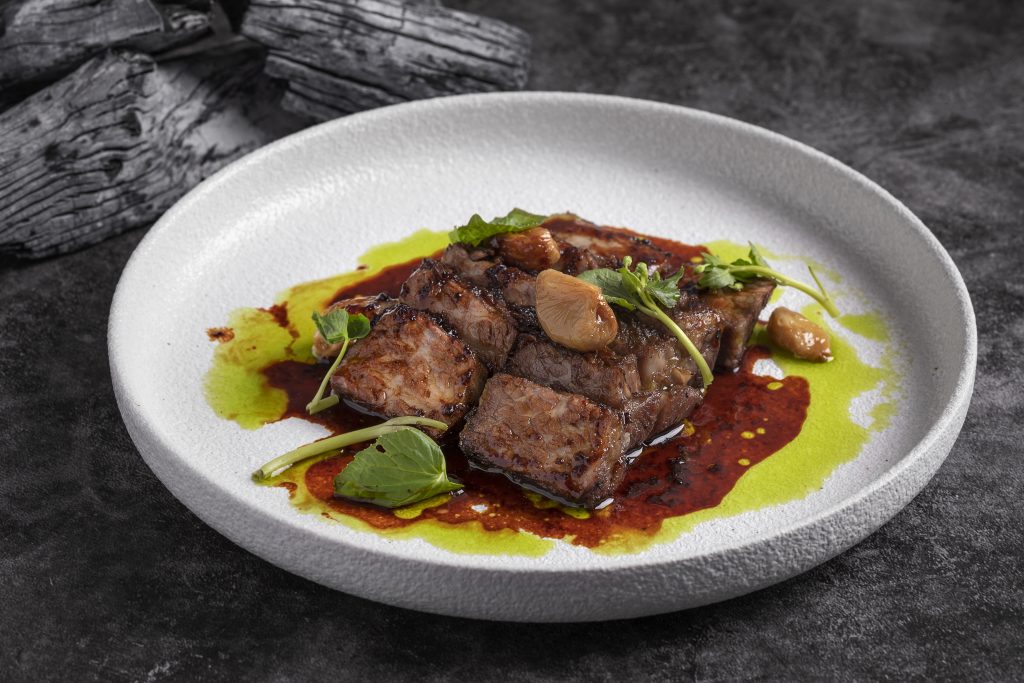 A prime example of IKO's Japanese influence, the JAPANESE BLACK COD ($38) comprises a thick fillet that has been meticulously cured in saikyo miso for up to 72 hours for maximum flavour, then grilled till tender and buttery; fresh sudachi zest brightens the dish.
RICE AND NOODLES
The comprehensive menu also features a variety of fusion noodles and traditional Donabe; meaning 'earthenware pot' in Japanese and refers to the use of claypots to slow cook rice over open flames. IKO's Donabe dishes are similarly prepared and finished in the oven.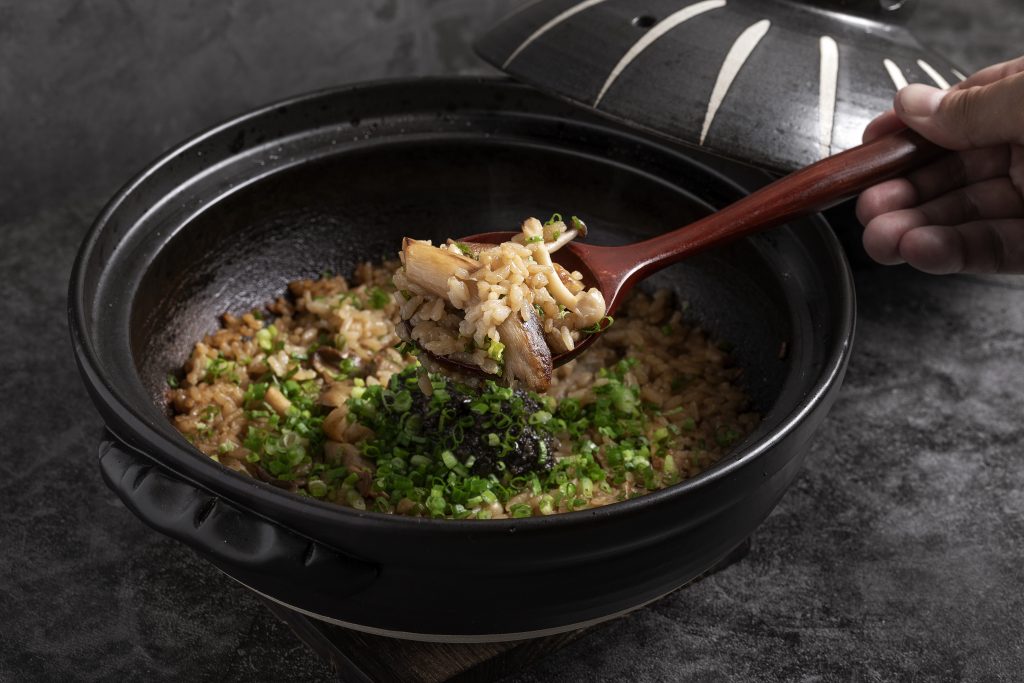 A noteworthy vegan-friendly dish is the MUSHROOM DONABE ($30); an umami bowl of velvety and silky Japanese rice cooked in shiitake broth with fresh shimeji and king oyster mushroom, served with a dollop of aromatic black truffle paste. The other variant is the SCAMPI DONABE ($46); Japanese rice cooked in house-made prawn bisque then served with sweet scampi and tobiko.
A SWEET END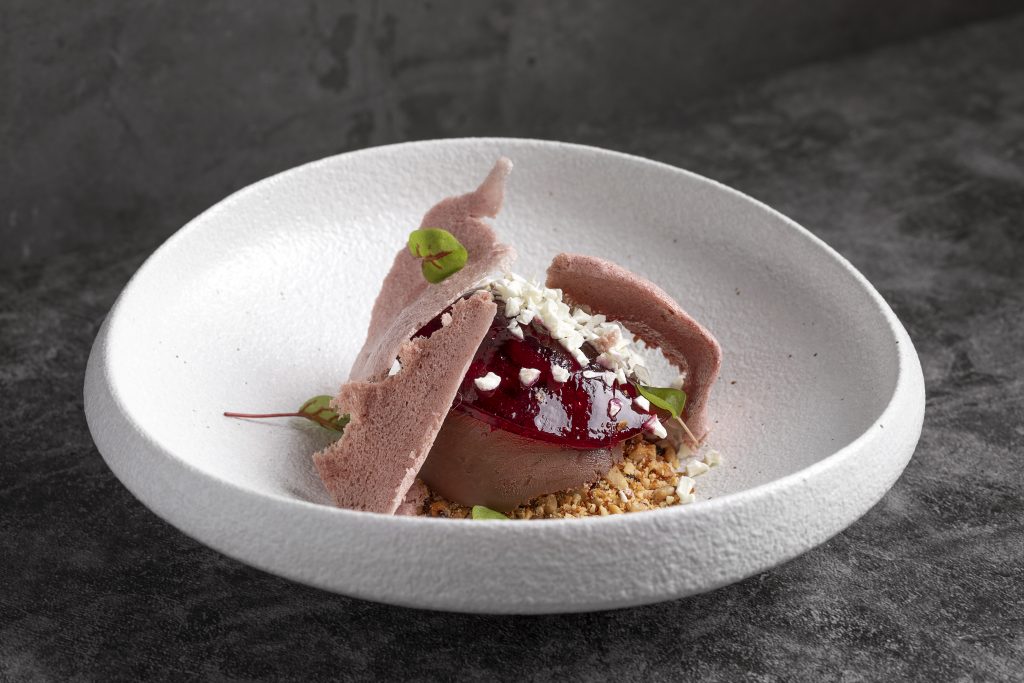 To complete the meal, diners can choose from a trio of desserts; COCONUT PUDDING ($15); velvety custard paired with matcha and freeze-dried raspberries, PINEAPPLE ($12); a zesty delight made with exotic fruits like yuzu and kumquat, and 74% DARK CHOCOLATE ($18); a pleasing treat of decadent dark chocolate cremeux, raspberry white chocolate meringue, beetroot jelly and freeze-dried yogurt bits, served atop crushed caramelised hazelnut.
LET'S GO TO IKO
Situated along the lively stretch of Tanjong Pagar, the 55-seater restaurant features textured concrete walls and cool black and grey steel frames, as well as decorative mirrors that line the length of the space, and stylish pendant lights. The iconic IKO logo is also featured in another ceiling panel which leads to the exit of the restaurant.
Guests can choose to be seated at the plush booth seats, tables with modern steel accents, or at the marbled counter bar on high stools. In the day, the restaurant is filled with natural light and transforms into a casual dining space.
IKO: 65 Neil Road Singapore 088897 | 8866 5218