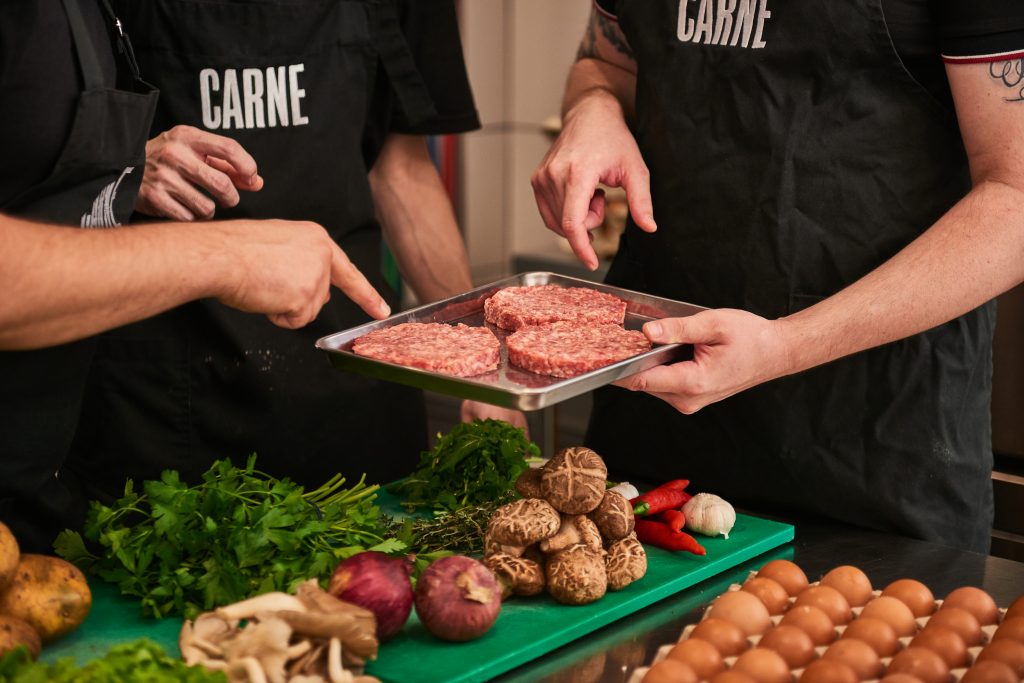 Collaborating with Chef Mauro Colagreco's R&D team of Mirazur — the current #1 restaurant on World's 50 Best Restaurants list — right here in Singapore, CARNE's new and improved sustainable burgers now pack even more of Mother Earth's finest natural umami flavours into its burgers.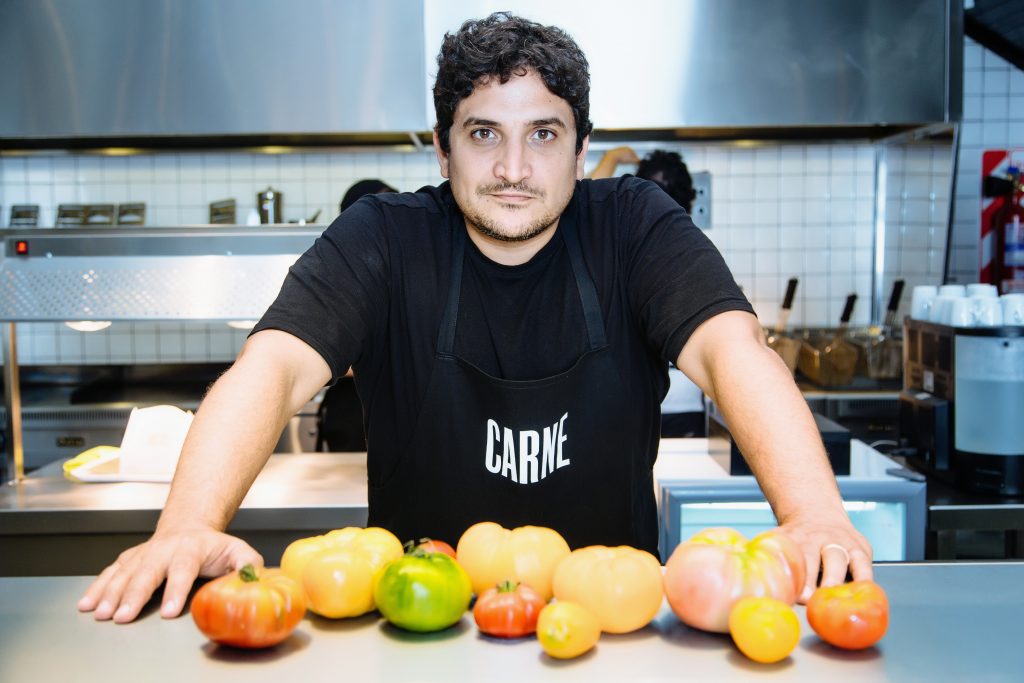 This is perfectly embodied in the new Singapore-exclusive Grilled Beef and Double Mushroom Burger ($23), which opts for delicious mushrooms grown right here from our part of the world. An absolute umami bomb, it comprises succulent shiitake mushroom cooked a la plancha in garlic-parsley oil, a fine duxelles of oyster and shiitake mushrooms mixed with sweet roasted onions, and an antibiotic- and hormone-free grass-fed beef patty, accented by savoury cheddar, a smear of confit garlic mayo, and pops of tanginess from pickled pearl onions.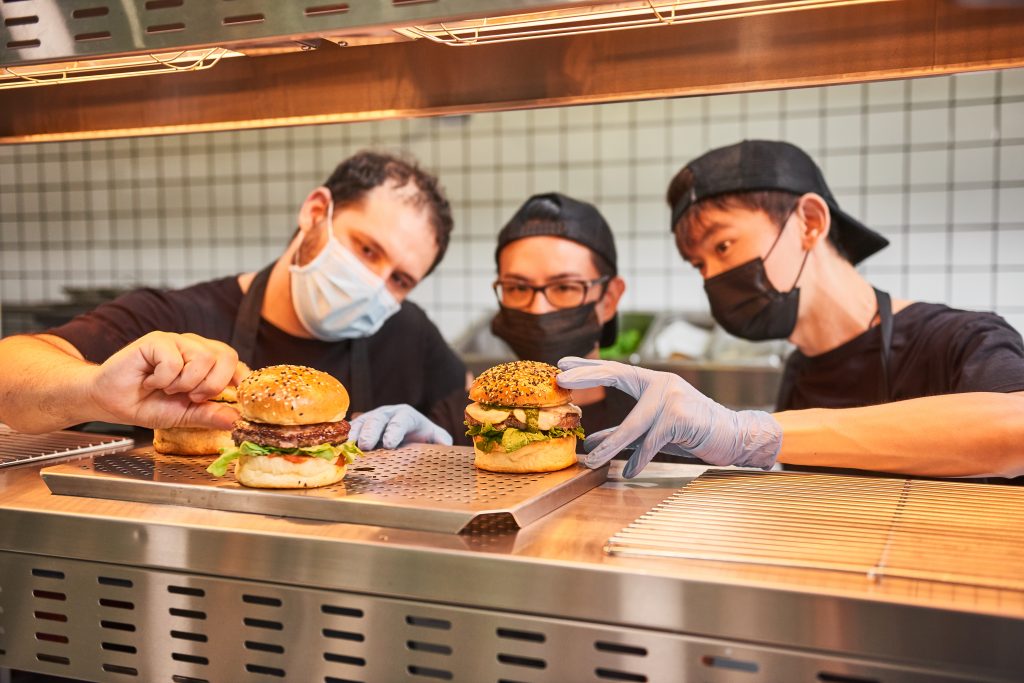 The Beef & Chimichurri Burger ($22.5) now boasts even more nuanced flavours, with the mouth-watering flavours of the chimichurri sauce – made of herbs, aromatics and a tinge of the South American aji molido chilli – meeting the bright-tasting notes of a classic Argentinian criolla salsa. The purist stack of CARNE's Classic Burger ($18.8) is loaded with even more flavours of nature; in between the fluffy brioche buns with grass-fed beef, local oak lettuce and red onion are fresh slices of glutamic acid-rich Heirloom Black Russian tomatoes grown in organic and chemical-free farms, and a housemade tomato tapenade for added tangy punch.
After months of piloting and "beefed-up" research on intensifying taste and lowering carbon footprint, CARNE's burgers now feature a beefy and juicy patty made from grass-fed, hormone-free beef from free-range cattle pasture-fed on some of the most pristine, untouched lands in Australia.
For a feel-good anytime snack or a sweet complement to every CARNE meal, the new Artisanal Cinnamon Churros with Duo of Dips ($6.8) brings all the deep-fried happiness without the guilt. Made from scratch, fried to golden perfection and coated with freshly-ground cinnamon, this classic Latin American comfort snack is served with luscious sauces like house-made dulce de leche, dark chocolate and lemon curd.
Exclusively on the menu for a limited time only is the Crispy Fish Burger with Kimchi Slaw ($22), that layers golden battered fresh snapper with tangy kimchi tartar, lime-coriander mayo, green mango and organic greens between two fluffy brioche buns. The special edition burger runs till 18 September, and is available in options of a la carte, buddy deal ($41 for two burgers), and combos, including a combo set for 2 ($69.80) that comes with two of the burgers, fan-favourite Triple Cooked Agria Fries and fresh lemonade, with a serving of Cinnamon Churros (five pieces).
Putting the Good in Good Morning
Here for you for all occasions, CARNE has extended its breakfast hours until noon daily and expanded its breakfast menu with more wholesome and nutritious picks, be it for weekend brunches with the family, on-the-go bites on hectic workday mornings, or even breakfast meetings with the team. Exclusive to Singapore are items such as a Keto Breakfast ($14) – a carb-free meal of grass-fed beef sausage, fried egg, local tomatoes, fresh avocado, and rocket salad, an Avocado Toast ($8.90) and a Mushroom Toast ($7.80) of roasted shiitake with tomato tapenade and rosemary.
Those looking to power up their day with a hearty breakfast can opt for the Beef Sausage BLT ($13.80), or build your own breakfast with CARNE's extensive list of breakfast add-ons (from $0.80) such as hormone-free bacon, grass-fed beef sausage, local cage-free eggs, roasted organic vegetables, and dips and sauces.
Starting 1 September 2021, CARNE will also roll out breakfast combos from $12, offering a complete and nourishing meal with a cup of its fair-trade coffee or tea.
CARNE is open for dine-in and islandwide delivery daily from 8 am to 10:30 pm (breakfast from 8 am to 12 pm, and all-day menu from 10:30 am to 10:30 pm). Delivery is free for orders above $50.