Little Damage, famous soft-serve brand from downtown Los Angeles makes its first foray outside the USA into the sunny isles of Singapore. Its first outlet is located in Wheelock Place with a second space slated for the last quarter of the year.
Known for its iconic soft-serves created from premium ingredients, handcrafted charcoal cones, and deliciously vegan options, Little Damage is the antithesis to all things whimsical with its goth-inspired creations. Launched in 2017 in downtown Los Angeles by Jenny Damage, whose love for ice cream and all things black collided to create these Instafamous desserts. Up till 2018, the brand's sole outlet lay on 700 Spring Street in L.A. – until now.
"We are beyond excited to introduce Little Damage to Singapore. Little Damage has garnered such a cult following in Los Angeles, and we are thrilled to bring our quality desserts out of America. With unconventional flavours such as Unicorn Tears and a multitude of toppings served in our homemade charcoal cones, we highly encourage customers to get a little adventurous and have fun with ice cream. Think back to your childhood sugar highs or bickering over the last bit of ice cream with your sibling. Remember, once you lick it, it's all yours [laughs]!" says founder Jenny Damage.
NATIONAL DAY SPECIAL

Just in time for Singapore's 54th birthday, Little Damage has created special red waffle cones ($2) impeccably paired with White Chocolate soft-serve and crowned with shimmery silver star sprinkles for a photo-worthy patriotic dessert. The red cones are in-stores from 5 – 11 August.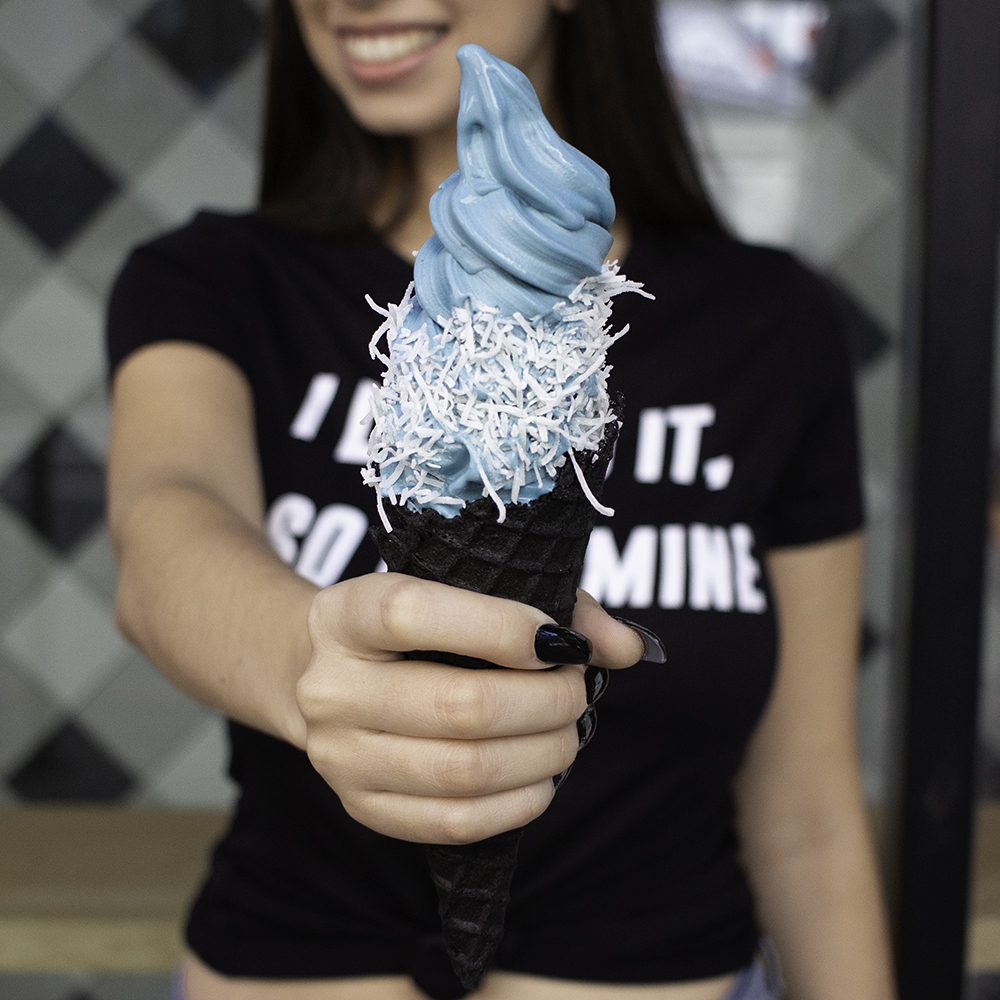 I LICKED IT, SO IT'S MINE!
Little Damage Singapore welcomes guests with pleasant aromas of its hand-rolled activated charcoal waffle cones, and four different soft-serves on rotation every two months, which features a vegan option at any one time.
For the month August, the outlet features flavours in three signature colours: Coffee Caramel (Black, $7), Unicorn Tears (Blue, $7), White Chocolate (White, $7), and a vegan option Chocolate and Peanut Butter Banana ($7.50). Made in small batches daily, the dairy options feature fresh milk that gives Little Damage soft-serve its rich flavour, and signature, velvety texture that lingers on the palate. The dairy-free option comprises either soy or nut milk substitutes, making it 100% vegan-friendly. Cones are available at a top up of $2.
Toppings like crunchy chocolate pearls, crushed Oreos, fruity pebble cereal and rainbow sprinkles are available for a spruced up, Instagram-ready soft-serve. The first topping comes free except for popcorn which is chargeable at $1. Additional toppings are also available at $1 each.
Soft serve lovers can look forward to mouth-watering flavours such as Churros, Earl Grey, and Strawberries & Cream in the months to come.
CUTE BUT PSYCHO…BUT CUTE
Located in the heart of the shopping district, Little Damage in Wheelock Place mirrors its parent store in Los Angeles with its slate grey and black gingham designed tiles and monochromatic décor.
Accent pieces such as skull motifs and black goth-inspired knick-knacks adorn the shelves alongside the brand's merchandise. Keeping to theme, Little Damage's adorable collectibles showcase charcoal tote bags ($12), tumblers ($25) and button pins ($6) with the brands' signature catchphrases.
Neon lights cheekily flashing 'Cute but psycho…but cute', 'I licked it, so it's mine!' and the in-store photobooth encourages documenting of soft-serve sessions with friends and family. Customers simply have to make a purchase to enjoy the photobooth to take home their very own Little Damage photo strip.
Little Damage Singapore is owned by parent company, Caerus Holding Pte Ltd.