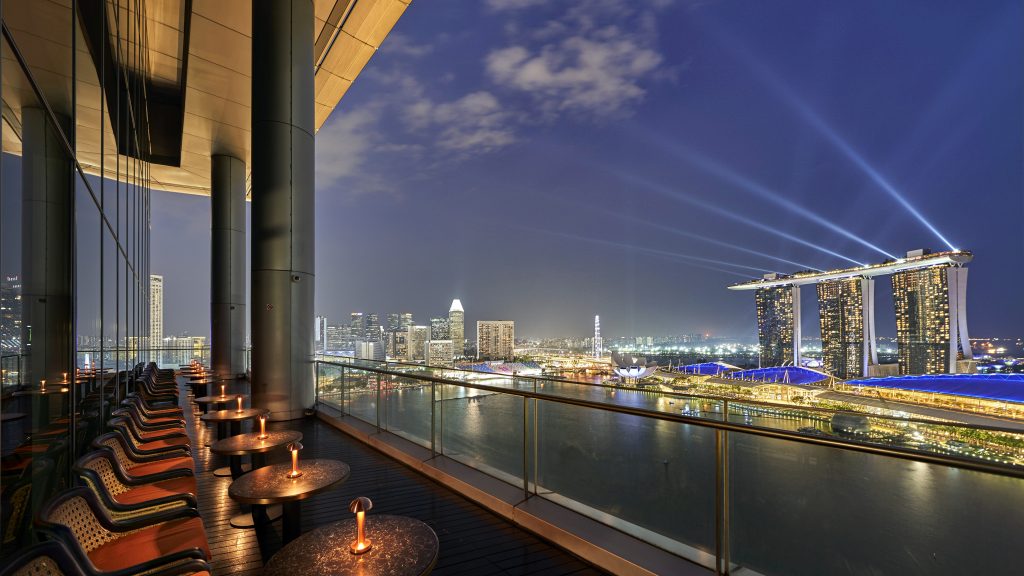 VUE is the next iconic rooftop bar and grill destination overlooking some of the most stunning vistas of Marina Bay and the Singapore skyline.
Located on the penthouse of OUE Bayfront on Collyer Quay, VUE presents a chef-driven menu that emphasises binchōtan-grilled specialities at the heart of its cuisine offerings, complemented by a versatile selection of wines. VUE is also home to Singapore's first rooftop spritz bar, further setting itself apart from other dining destinations around town.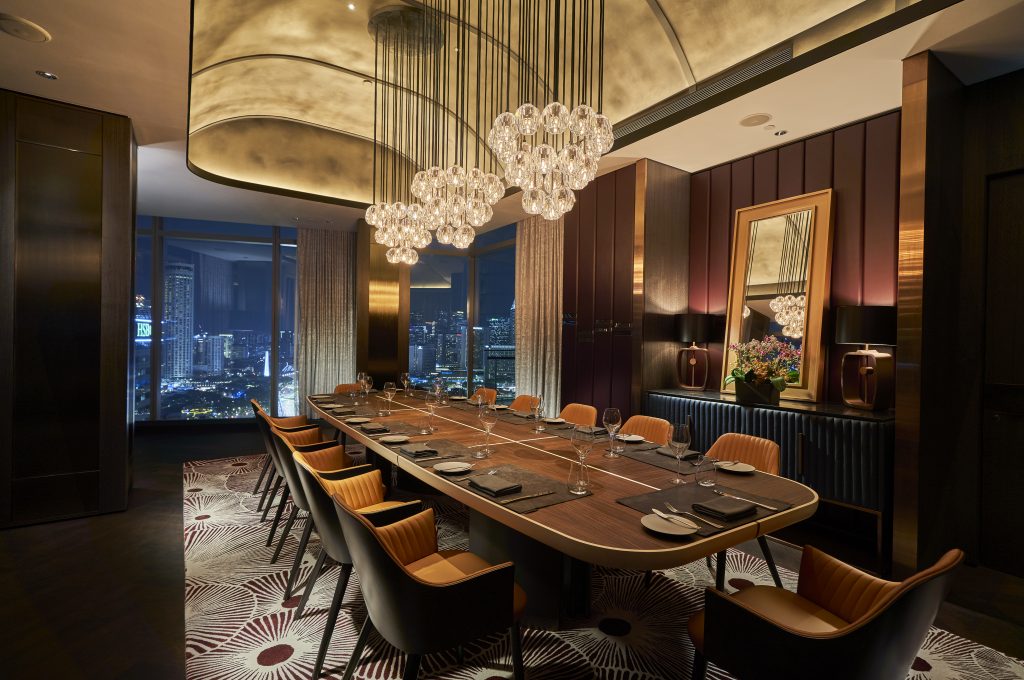 SIP: Toast to unparalleled sunset views from Singapore's first rooftop spritz bar
VUE serves up a vibrant and flavourful range of spritz cocktails—from popular favourites to innovative concoctions. The Basil Spritz keeps things classic and refreshing with its combination of dry gin, basil, and lemon; while the Reiwa Highball takes it more oriental with its base of umeshu and rum laced with shiso and mint. A guaranteed hit among the ladies is Ispahan, a fruity mix of raspberry-infused gin, lychee, and grapefruit; while the gents are sure to appreciate the bold flavour profile of the Iberian Burbuja from the blend of Amontillado sherry and white port. The star of the cast and a must try is the signature VUE Royale—a lively cocktail of Champagne and umeshu with a hint of bourbon. The spritz experience at VUE is highlighted by a show preparation of charcuterie and cheese boards by the culinary team. Over the sunset hours from 5pm to 7pm, spritz cocktails come with complimentary servings of canapés.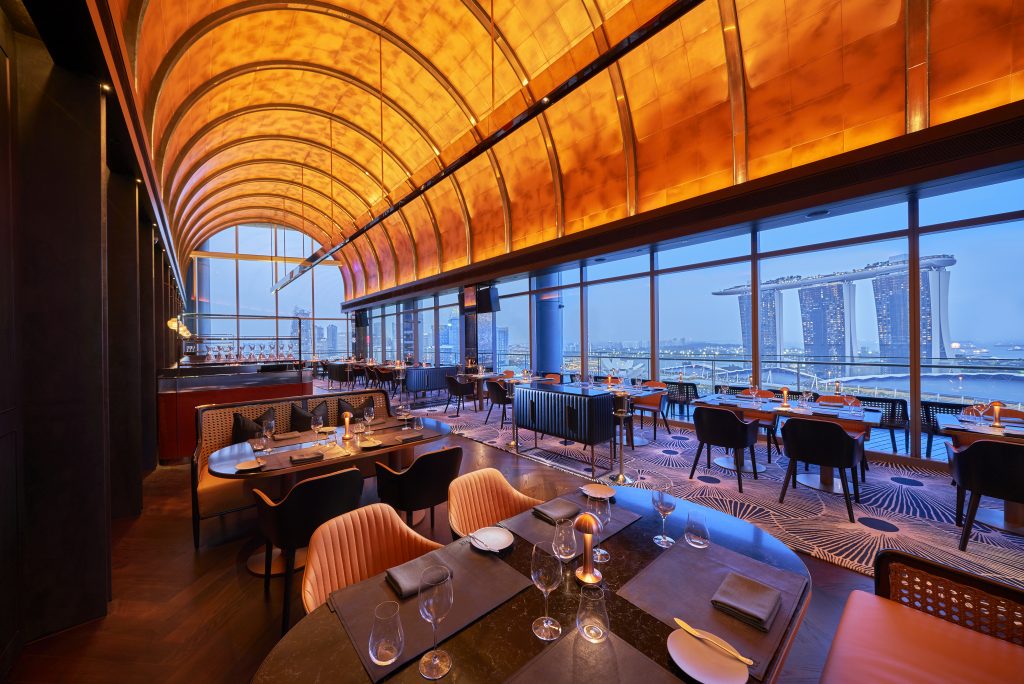 SAVOUR: Tuck in to a chef-driven menu that features binchōtan-grilled specialities
Executive Chef Sam Chin introduces his flair and creativity into menu offerings that shine the focus on specially sourced ingredients and peak-of-season yields in an eclectic fusion of East and West.
Dishes at VUE he cites as examples include the Norwegian king scallop—among the world's most environmentally friendly seafood—which he prepares au gratin with 18-month, cave-aged Gruyère De Grotte AOP; the free-range duck meticulously reared by House Burgaud in Challans—a highly sought-after delicacy that Chef Sam serves smoked and enhanced with tropical mustard dressing; and prime cuts of Wagyu beef sourced from the fertile lands of the Kumamoto Prefecture, smoked and then served with choice sides of vegetables grown by local farmers.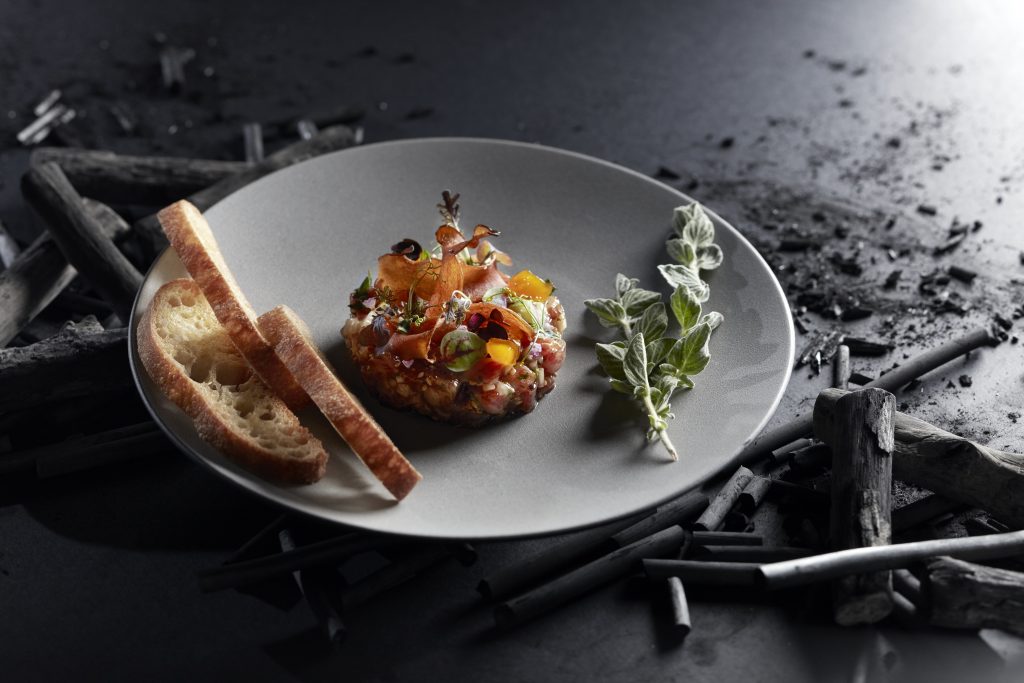 For lunch, top picks are the Kelp-cured Japanese Halibut, and the French Chicken and Duck Liver Mousse Tart. Dinner tempts with the likes of Amelia Park Lamb Rack, Crispy Scale-on Red Tilefish, Orient Clam Squid Ink Tempura in Smoke Eel Emulsion, and Grilled Maine Lobster Tail.
Tasty vegetarian options are aplenty, too, with Grilled Purple Cabbage, Jerusalem Artichoke and Vialone Nano Rice, and Black Truffle Risotto leading the line-up. For sampling portions of some of VUE's signature dishes and Chef Sam's seasonal recommendations, tasting menus are also available for dinner.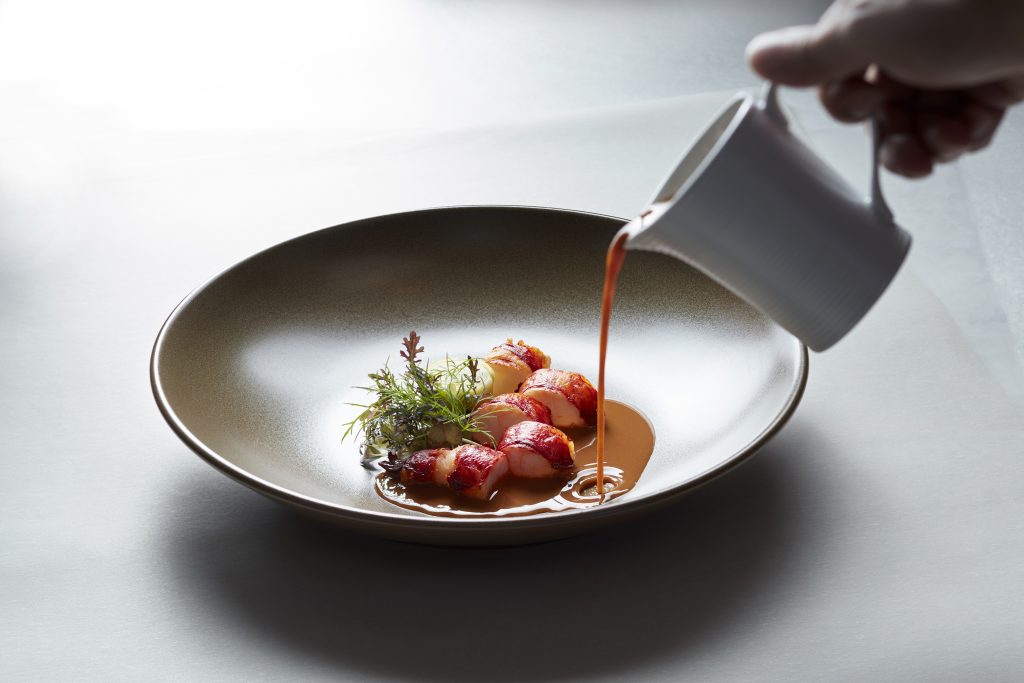 Underlining the specialities at VUE are premium meats and seafood grilled to perfection over binchôtan—kilned Japanese white oak that burns slower and produces virtually no flame and smoke, and considered to be the best type of charcoal for grilling because of the deep smokiness it creates sans the charred flavour.
Each day as the sun goes down, Chef Sam unveils his binchōtan-smoked Kokuou Wagyu beef—known as the pinnacle of Japanese beef—that is slow-roasted for over 20 hours and served with rice salt flake. Limited to some 20 portions per day using the choicest cuts, the sunset carvery at VUE is certainly not to be missed and gives preview to the gastronomic experience one can expect.
The wine cellar here is worthy of becoming a destination of its own, boasting over 1,000 bottles making the terroir-driven selection carefully curated by award-winning Sommelier, Joel Lim, and featuring back vintage wines alongside labels that follow world trends.

SEE AND BE SEEN: Immerse in a multi-zone experience when you wine, dine, and entertain
VUE is sectioned into three focal areas—the 60-seat main dining room, an al fresco pavilion with the spritz bar that seats 36, and a private dining room that seats 12.
Each versatile space at VUE presents the picture-perfect backdrop for gatherings large and small—from networking events and product launches, to celebratory dinners and wedding receptions.
VUE welcomes with a dramatic walk-way lined with black and gold mezzanine tiles, and opens up to a breathtaking, cathedral-inspired arched copper ceiling spanning the entire length of the main dining hall. Glass walls look out to unparalleled waterfront views of scenic Marina Bay, amidst interiors of dark wood, muted ambient lights, and sleek accents that add to the intimate and cosmopolitan setting at VUE. The space, sights, and smells all come together in an immersive gourmet experience one won't soon forget.
VUE is a concept by OUE Restaurants, the food and lifestyle division of SGX Mainboard-listed integrated property developer, OUE Limited.