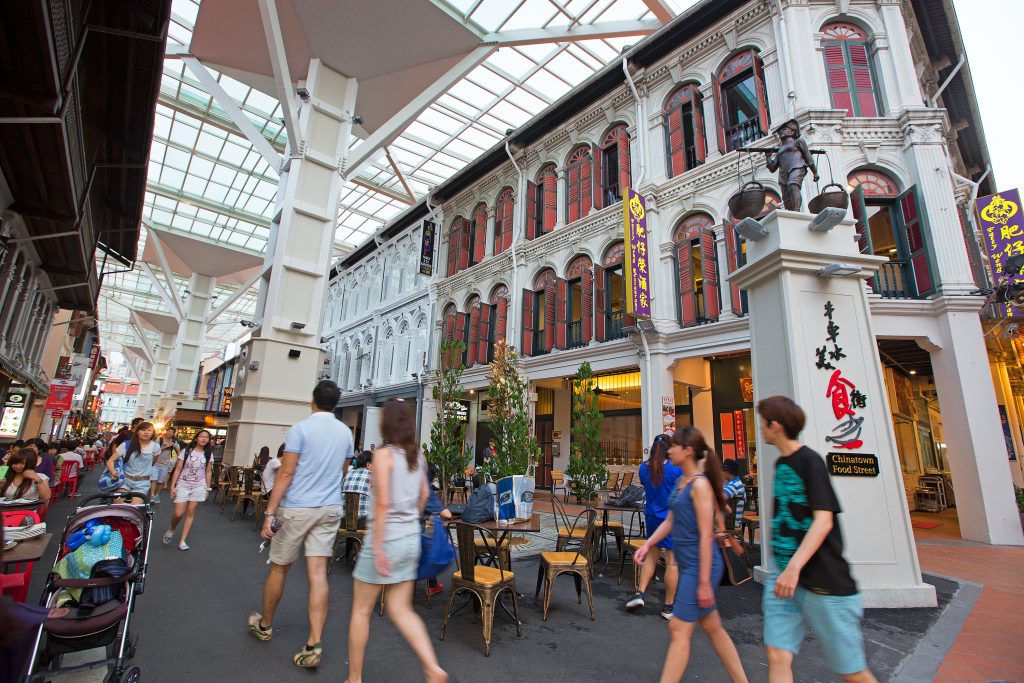 Chinatown Food Street is set to welcome Singaporean foodies and families back to the well-loved alfresco-style heritage food and dining spot as it reopens on Tuesday, 1 December 2020. With the introduction of six new steamboat and BBQ ala carte buffet concepts amongst the 17 reopened stalls that line the street, diners can expect to get more value with free flow dishes, like Sichuan wanton, poached Hainanese chicken and even Korean tteokbokki, alongside new thematic 'Always 99' offers.
The six new ala carte buffet concepts feature Singaporeans' most loved steamboats and BBQ cuisines, namely 老东北烧烤 Chinese BBQ, 牛车水叻沙火锅 Chinatown Laksa Steamboat, 舌尖上麻辣火锅 Mala Steamboat, Hongdae Korean BBQ, Nabemono Shabu Shabu and S88 Mookata Steamboat – priced from $19.90 to $23.90 nett per adult and $12.90 nett per child (aged 3 to 12), for a minimum of 2 diners each time.
Each concept offers signature soup bases and marinated meats, seafood, a wide selection of fresh vegetables, and various sauces and condiments. Choose from these Chinese-style cuisines to enjoy a sumptuous meal – tickle your fancies with the familiar rich laksa soup base, a peppery pork stomach soup or herbal chicken soup at 牛车水叻沙火锅 Chinatown Laksa Steamboat or experience juicy flavours oozing out and into your mouth with sizzling meats and sides from 老东北烧烤 Chinese BBQ. For those who dare venture a sensory-peaking adventure, dive into one at 舌尖上麻辣火锅 Mala Steamboat for a numbing-spicy experience made from Sichuan peppercorn and chilli pepper.
Spice things up at Hongdae Korean BBQ with signature marinated meats like black pepper beef short rib, original garlic pork belly and spicy bulgogi chicken. Diners can even add on a bowl of cheese at just $2 for dipping!
Take your pick from a sukiyaki, miso or even a soya milk soup base at Nabemono Shabu Shabu and a selection of Japanese oden, udon, leafy produce, dipping sauces and thinly sliced quality meats. Helmed by former fine-dining chef Daniel Lim, who was celebrated for his nimono and agemono at restaurants including Shinzo and Hinoki, his techniques for delivering the intricate Japanese flavour is one of many culinary finesses being introduced to the street in this reopening.
You can also choose the best of both worlds with the amalgamation of BBQ and steamboat at S88 Mookata Steamboat to satisfy any zany hunger-pangs. Choose your favourite meat from a box of proteins to share and grill prawns, pork, scallops and more in rich lard or cook them in the soup – it's up to you!
Customers dining at these steamboat and BBQ stalls can also look forward to mouth-watering, free flow dishes such as garlic fried rice with braised pork belly, poached chicken, Sichuan wantons, Korean tteokbokki (spicy rice cake), kimchi pancake, guo tie (fried dumplings) and steamed dumplings, amongst other items, served by the relevant stalls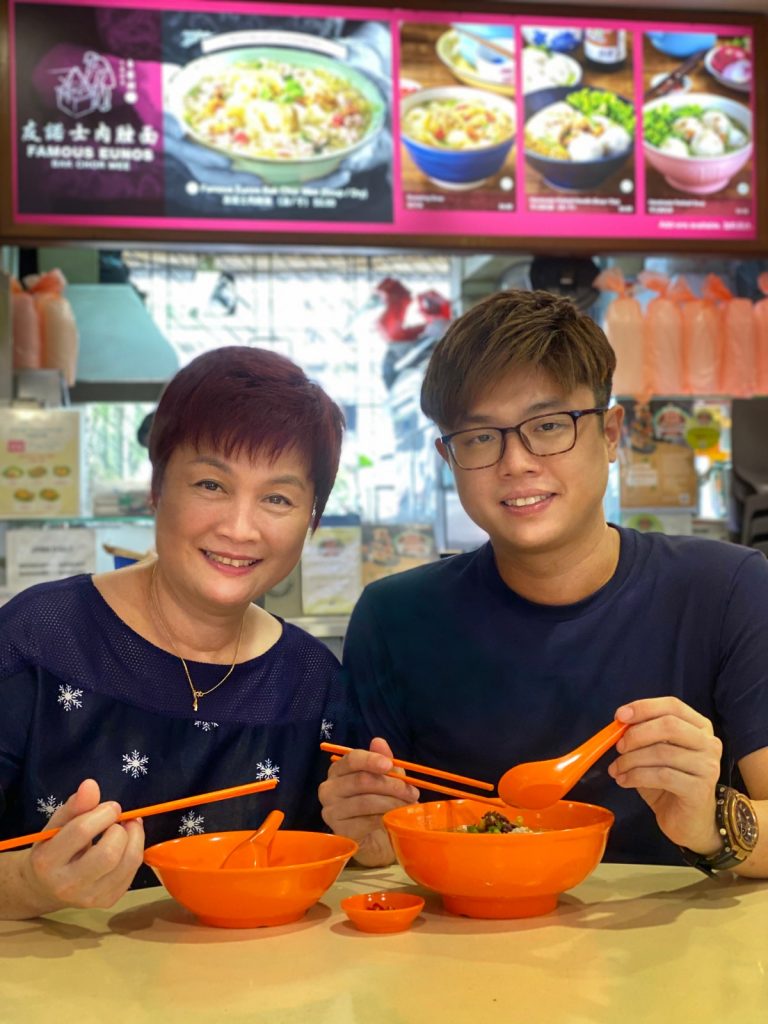 Alongside its rich history and delicious food, the street also serves the success stories of its tenants, including one from Famous Eunos Bak Chor Mee. Ex-banker Ler Jiewei (pictured below with his mum) is the 5th generation hawker for the stall which he took over from his parents, who are still operating their stall at Eunos Hawker Centre, and has went on to perfecting the recipe that was passed down to him from his great-great grandfather. The hardworking pioneer built his legacy by literally carrying his kitchen, charcoal stove and food on a bamboo pole across his shoulders back in the 1920s, selling his signature bak chor mee (minced meat noodles) in Kampung Chai Chee. Despite the changing times and tastes, the new generation hawkers remain faithful to the recipe and ingredients to allow their customers to relive memories through a bowl of traditional bak chor mee.
Other favourite local fare, such as chilli crab, roast meats, BBQ seafood and satay, as well as alcoholic and non-alcoholic drink towers are also available along this nostalgic food street to round off your dining experience.
'Always 99' Promotion Not-To-Be-Missed
Chinatown Food Street's new 'Always 99' is a thematic promotion for ala carte style items, going at $0.99, $1.99, $9.90 or similar price points across all of its reopened stalls between December 2020 and January 2021. Diners can look out for attractive promotions, such as the limited-time-only $9.90 deal for the first 30 customers at each of the new steamboat and BBQ concept during dinner times from 1 6 December 2020 and char siew rice from Tiong Bahru Meng Kee Roast Duck at just $1.99 (U.P. $5.00).