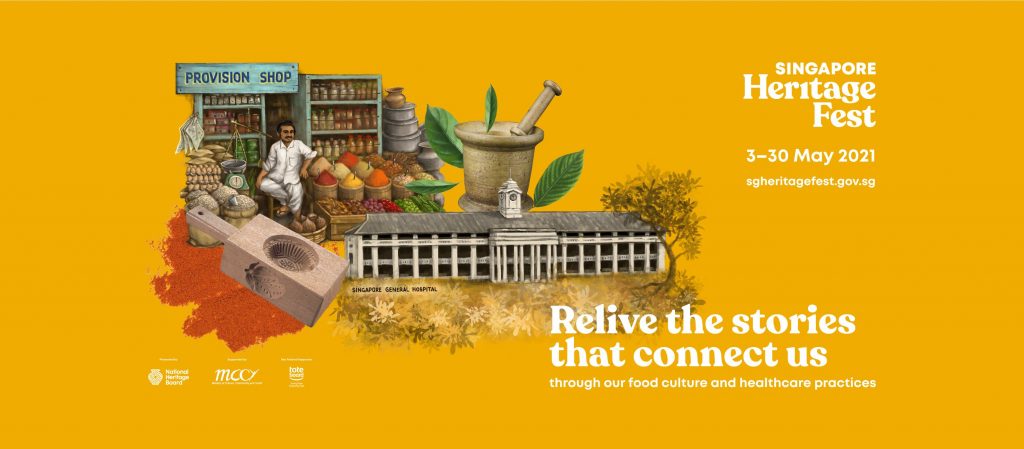 The annual Singapore HeritageFest (SHF) returns in a refreshed, hybrid format to uncover lesser-known aspects of Singapore's history. From 3 to 30 May 2021, members of the public can look forward to over 100 on-site and online programmes that invite Singaporeans from all walks of life to embark on an exploration of our healthcare history and food heritage, and to relive the stories that connect us.
SHF 2021 commemorates significant healthcare and food heritage milestones – the 200th anniversary of Singapore General Hospital (SGH), the nation's first hospital, and the inscription of our Hawker Culture on UNESCO's Representative List of the Intangible Cultural Heritage of Humanity – through a line-up of offerings that includes virtual tours, talks, photo essays and video documentaries, on-site tours and hands-on workshops. These programmes will reveal the stories behind the medical buildings of our past, delve into the history and benefits of Eastern healing practices such as traditional Chinese medicine and Ayurveda, introduce participants to foods of different cultures, and more.
An islandwide exploration of our shared history and heritage
The thematic approach of SHF 2021 differs from recent past editions of the festival, which focused on the heritage of specific neighbourhoods and precincts. This allows the Festival to move beyond the boundaries of the precincts to take a more holistic view of Singapore's history and heritage, and to focus on national milestones that connect Singaporeans as a community. The refreshed format for 2021 will reveal tales of our healthcare history and food heritage from all over the island. Some highlights include: 
Tours of historic buildings and monuments that bear witness to Singapore's medical history 
Visit SGH to learn more about the three National Monuments that lie within its compound – the College of Medicine Building, Tan Teck Guan Building and Bowyer Block – and discover the roles they played during the Japanese Occupation, as well as the stories of the communities who worked there. Festival-goers will also be able to go on digital tours of the former Communicable Disease Centre at Moulmein Road, and the former St Andrew's Mission Hospital for Women and Children on Kadayanallur Street to explore areas that are not normally publicly accessible, and discover the lesser-known facts about the buildings. For example, #DidYouKnow that the former hospital houses one of the oldest lifts in Singapore? 
Interactive workshops at local heritage businesses.
Enjoy a unique tasting session and workshop at local artisan soya sauce brewery Nanyang Sauce, and discover the difference between slowly fermented and factory-produced sauces, while also picking up tips on how to use different types of sauces in different dishes. 
A closer look at the food heritage of the Bras Basah, Bugis precinct 
Revel in the rich food culture of the Bras Basah.Bugis (BBB) precinct with a food trail that uncovers its hidden gems, and a three-part series of heartwarming short films, titled Behind Our Stalls, that chronicles some of the challenges our hawkers faced due to the COVID-19 pandemic, and how they overcame them. Another highlight is a food-themed photowalk, in which participants can enjoy a professional photography session of food-related buildings, sites and significant eateries in the BBB precinct.
This Is What We Eat At Home – A Photo Exhibition
Mealtimes at home are not only a time to eat. They are spent creating memories together, with knowledge and social traditions passed down from one generation to the next. Through documenting the food they eat at home, six children and youth from Tak Takut Kids Club discover their family history and multicultural community heritage. With households that are helmed by working parents, single parents, and ailing grandparents, the families face challenges preserving cultural heritage, but continue to safeguard the value of shared family meals as one of the last bastions of family connections. Visitors can expect to experience a sensory-charged exhibition where they can view food photography, hear stories of self-discovery, learn about ingredients used in Burmese, Chinese, Malay, and South Indian food traditions, and bring useful recipes to try in their own home.
Evolution of Volunteering in the Healthcare Sector
In some cases, you might need strong muscles to help lift patients. On other occasions, you might simply need to be a good listener. Hear stories from healthcare volunteers from the Institute of Mental Health, Kwong Wai Shiu Hospital and Tan Tock Seng Hospital and find out what it takes to meet the needs of patients in this live digital dialogue session. The volunteers will also detail the challenges and rewarding experiences associated with volunteerism.
Cinema Reclaimed: Medicine & Modernity in Singapore Cinema
Enjoy an array of locally-produced films that deal with the theme of medicine and modernity, as part of the inaugural edition of Cinema Reclaimed, a special collaboration between researchers Toh Hun Ping and Ben Slater. The film showcase will be accompanied by a virtual lecture by Mr Toh of SG Film Hunter, and Mr Slater, author of Kinda Hot: The Making of Saint Jack in Singapore, who will examine how local films have addressed medical themes and in particular, used hospitals as locations, from the Malay studio era of the late 1940s to the present day. 
Members of the public may visit www.sgheritagefest.gov.sg/ for more information on the programmes.